¡Música, comida, baile!: Spanish National Honor Society hosts return of Spanish Cultural Night
Spanish National Honor Society (SNHS) hosted La Noche Cultural, the annual event in which past and current Spanish students gather to celebrate the language and culture through dance, performances and food, on March 11 in the Auxiliary Gym from 5-8 p.m. 
The event began with a buffet at 5 p.m., and upper school Spanish teachers Diana Moss and Isabel García, along with SNHS members, plated the food for attendees. SNHS volunteers and Moss began cooking at 4 p.m. and prepared five variations of paella, a traditional Spanish dish. Attendees also had the opportunity to eat "tres leches" cake, a traditional Mexican dessert. SNHS students also volunteered in other committees that helped prepare for the event. 
"If you're part of Spanish National Honor Society like I am, you have to be here in order to fulfill your requirement, but it's more than just fulfilling requirements," SNHS member Jai Vir Mehta (11) said. "It's also coming to enjoy the food, the festivities, the dancing and of course, the awesome performances and the paella." 
In previous years, the entire event would take place in the Auxiliary Gym, but this year, attendees ate outside in the Quad and later proceeded inside for performances due to COVID-19 guidelines. SNHS did not host La Noche Cultural last year during remote learning. 
"Everybody had to be masked,  and it meant that we couldn't eat indoors," said upper school Spanish teacher and Department Head of Modern and Classical Languages Abel Olivas. "But we kind of liked the way that [it] worked. The weather was nice enough that it actually was an enjoyable evening to eat."
Performances began at 6 p.m. with Elena Weng (9) and Atharv Goel (9) performing a song titled "Corcovado" by Antônio Carlos Jobim on the piano and saxophone. Next, Ritu Belani (10) elicited laughs from the audience in her original comedy skit. Then, Marcus Blennemann (9) accompanied on piano as Ian Ogden (10) sang "Dos Oruguitas," a song from Disney's "Encanto." 
Following "Dos Oruguitas," upper school mathematics teacher Jeanette Fernandez performed a Mexican folk dance, an annual performance, to "Las Abajeñas." Next, upper school English teacher Beth Wahl sang "Asturiana," and Jackson Lara (10), Daniel Dorfman (9), Pranav Sukesh (9), Deeya Verma (9), Aidan Wang (9), Rohit Yalla (9) and Rithika Yamasani (9) performed the Macarena dance to "La Macarena." 
Next, Teresa Cai (12) performed a guitar rendition of "La Bikina" by Luis Miguel, and Clarice Wang (12) accompanied on guitar as Melody Yazdi (12) sang "Me enamoré" by Shakira. Following Clarice and Melody, upper school history and social sciences teacher Dr. Chuck Witschorik sang "Solamente Una Vez." 
Then, Nupur Gupta (11) and Sonya He (11) dazzled the stage with sparkly jackets as Nupur performed a solo to "X" by Nicky Jam and J. Balvin and both performed a duet to "Livin' La Vida Loca" by Ricky Martin.
"I hope the audience really enjoy[ed] it," Nupur said. "I hope they're energized by it. It's supposed to be super upbeat, super fun, and we hope they enjoy[ed] it."
Next, Cantilena performers Juhi Madala (10), Ava Arasan (11), Anika Pandey (11), Teresa Cai (12), Katelyn Hsu (10), Miki Mitarai (10), Ayla Apsey (11) and Anya Warrier (12) sang "Canto a Elegua" as upper school music teacher Susan Nace conducted.
AP Spanish Language and Culture students Ansh Sheth (10), Dylan Parikh (11), Bryan Xiao (10), Ryan Barth (10), Ethan Liu (10) and Isha Moorjani (11) performed a skit in the style of the television program "Caso Cerrado," a courtroom show in Spanish that the students typically watch in class. 
Following "Caso Cerrado," Ritu, Olivia Xu (10), Ava, Arthur Kajiyama (12) and Ethan sang "La Carretera" by Prince Royce and projected the lyrics onto the wall, encouraging the audience to sing along. Audience members turned on their phone flashlights and swayed from left to right, creating a sea of lights.
"
I felt included because there are people from all different types of Spanish and then the event was still accessible to everyone and no one spoke in a way that anyone would not understand."
— Sam Parapudi (9)
To conclude the performances, Jazz Band Members Varun Fuloria (10), Ritu, Will Lee (11), Rishi Cherukuri (11), Atri Banarjee (11), Jia Parikh (11), Camilla Lindh (12), Simren Kochhar (12), Masha Velikhovskaya (10), Kai Burich (10), Elizabeth Shchegrov (12), Saumi Mehta (12), Vishal Rohra (11), Aaron Tran (12), Robert Zhang (11), Grace Eassa (10), Jack Yang (10) and Jonathan Mo (11) performed Blue Bossa, and Malar Bala (12), a vocalist for the Jazz Band, joined in for a performance of "Chega de Saudade," or "No More Blues." 
"I felt included because there are people from all different types of Spanish and then the event was still accessible to everyone and no one spoke in a way that anyone would not understand," Sam Parupudi (9) said. "So I guess it was pretty authentic, but at the same time, it was easy for me to understand."
After the performances, attendees participated in the annual salsa dancing competition in which people in pairs can dance the salsa on the dance floor, and teachers eliminate contestants until a select number of finalists are left. The audience watched as the finalists competed on the dance floor, and at the end, Laszlo Bollyky (12) and Arthur were declared as the winners. 
"[I hope students take away] just the life and energy and power of the Spanish and Latin American culture," Olivas said. "Just the enjoyment that it is to be able to stay connected to the culture and to enjoy the language and to enjoy each other."
Additional Reporting by Sriya Batchu, Olivia Xu and Sabrina Zhu. 
About the Contributor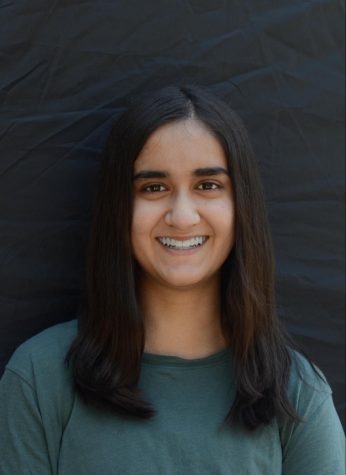 Isha Moorjani, Aquila Co-Editor-in-Chief
Isha Moorjani (12) is the co-editor-in-chief of Harker Aquila, and this is her fourth year on staff. This year, Isha is excited to manage Aquila's coverage...