Varsity boys volleyball decimates Menlo-Atherton in three straight sets
The varsity boys volleyball team crushed Menlo-Atherton High School in three sets 25-13, 25-14, 25-20 at home on Tuesday.
After a pre-game chant, the home opener game for the varsity boys volleyball team began. Spencer Mak (11) scored the Eagles' first point, notching his first kill and bringing the score to 1-1. As the game progressed, the Bears missed a series of swings and called a timeout when trailing 9-3. Adrian Liu (11) kept up a streak of strong jump float serves. Harker continued to dominate through the end of the set with only a small amount of difficulty due to Menlo-Atherton's serves, and Zachary Blue (11) scored the last point for Harker with a kill, closing the set at 25-13.
"I think we were able to try out and experiment [with] a lot of things that we tried at first in practice but [had yet] to implement in the game," opposite hitter Johnny Kuehnis (12) said. "This [game] was good, but it also had a level that allowed us the leeway to really stretch ourselves and try new things."
The second set began with the Eagles taking the lead, pulling forwards to 3-0. After Harker furthered their lead with multiple kills and float serves by Johnny, Menlo-Atherton called another timeout at 14-8. Harker continued to lead 16-9, and Kyle Johnson (11) sealed the match 25-14 with two kills and two aces.
To start off the third set, the Eagles and the Bears sparred through formidable blocks from both sides, but Harker slowly gained a lead at 11-4 with a cut shot kill by Zachary and two more aces from Kyle. However, Menlo-Atherton caught up to 18-18 through long rallies, difficult serves and some missed hits from Harker. In the end, Harker pushed to the front with three kills in a row from Edis Mesic (11), finishing the set 25-20 and adding another win to their record.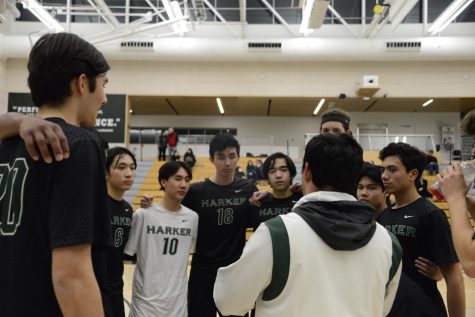 "The last couple years we were a really young team and now we're upperclassmen, and it's really nice to see all of us grow and work together," Edis said. "This year and next year [is] our time to shine, so I'm really looking forward to that. We have so much more to still improve throughout the rest of the season, and I'm just enthusiastic to see where that can lead us."
The varsity boys volleyball team now stands at an overall record of 5-3, and they next play Cupertino in an away game on Wednesday at 6:45 p.m.