Humans of Harker: Symphony of spirit
Sawyer Lai unites the school community with joy
As Sawyer Lai ('23) swishes the baton, the music of the orchestra softens, and the audience erupts in applause, the claps reverberating through the theater. The orchestra stands up, and Sawyer, with a proud smile stretching across her face, bows from the conductor's podium.
An associate concertmaster and assistant conductor, Sawyer conducted "Sleigh Ride" during Harker's 2022 Big Assembly Day (BAD). Sawyer, a violinist since the age of 4, now leads and guides the younger members in her violin section, helping them with difficult portions and teaching them how to fix their mistakes.
Close friend and fellow orchestra member Jacob Huang ('23) values how Sawyer serves as a leader and mentor to her fellow violinists, guiding them through their parts in pieces when playing songs such as "Montgomery's Banner," a piece they played in BAD.
"I would describe her as a leader in orchestra," Jacob said. "As a senior, she's really stepped into the role of being one of the elder fingers in the orchestra, and she helps with taking care of the younger members."
Upper school instrumental music teacher Jaco Wong finds Sawyer's responsibility and cooperation with other students a great asset of hers, especially in her role as president of the Harker Tri-M Music Honor Society club, dedicated to music and performance.
"Sawyer works very collaboratively with her folks and with her colleagues," Wong said. "She's [also] extremely responsive and responsible, a very organized kind of person. With the club, for example, I never have to worry about [it] because she takes care of them, and it remains good."
In addition to violin, Sawyer explores the world of music through singing. After joining the iSing Silicon Valley Choir in fifth grade, she practiced and gradually improved her singing skills, joining the top level when she was in seventh grade and staying there ever since. Sawyer enjoys forming great memories with the other members and recording albums, then seeing the hard work they put in condensed into a record. 
"Last summer, we went to this church somewhere up in Napa, and we recorded our most recent album," Sawyer said. "It was really gratifying to see all of our hard work being put in over the entire year encapsulated in a one hour album."
Sawyer also sings in Harker's Downbeat, which she joined in her senior year. Initially, Sawyer felt hesitant joining the choir, since it strayed from her typical style she preferred, but after receiving encouragement from friends, she decided to audition.
"[Downbeat] is different than what I'm used to, because I've been doing classical music all my life," Sawyer said. "[It] is much more like pop or jazz, or more well known songs. That was a big shift for me, it changes the way I approach things."
Sawyer cares deeply about the impact her music has on people and hopes to create positive change and raise awareness for current issues with her songs, letting people know and care about such issues.
"One of the most important things for me about performing is its transformative power," Sawyer said. "There was one concert where we were singing this commission about gun violence, followed by a piece about climate change, a piece about the Holocaust. Watching the audience's expressions and how they reacted to the music we were singing was the first time that I was like, 'Whoa, music has the power to change lives and engender positive change.'" 
Along with her leadership in music, Sawyer also helps lead spirit. On the Harker Spirit Leadership Team (HSLT), she acts as president and helps coordinate all of the schoolwide spirit events. After joining in sophomore year, Sawyer wanted to work more on competitive events, communications and media. 
"Before [I joined], I had participated in the events and stuff," Sawyer said. "But I wanted to get more involved in the actual creation of events, and [to be] able to share my love for spirit with the community more."
Upper school community service coordinator and activities director Kerry Enzensperger frequently works with Sawyer on spirit-related activities and appreciates her responsibility and eagerness in planning them.
"During the pandemic, she got involved with spirit and was doing media, but she put herself out there when she did," Enzensperger said. "She came up with the idea of a baking competition, and she baked with her father and created a video and shared it with everybody, along with the recipe. She wouldn't ask anything from anyone that she wouldn't put herself into and do as well." 
Though she takes on several projects, Sawyer ensures she completes them all and credits her motivation for allowing her to participate in the activities she does.
"When I put my mind to something, I work tirelessly to get it done," Sawyer said. "That's what lets me juggle everything I do. Performing arts and spirit and all of my extracurriculars would not be possible without that kind of drive."
In the numerous activities she does, Sawyer's main goal is simply to bring joy to others. In her music and spirit, she tries to make a difference and bond with others, putting her heart and soul into organizing fun, light-hearted spirit activities that bring the community together while giving students the chance to relax and take their mind off of their studies.
"What's really rewarding for me is seeing how much excitement and joy what I do brings to the community, at least for me," Sawyer said. "And knowing that the effort I put in was worth it."
About the Contributors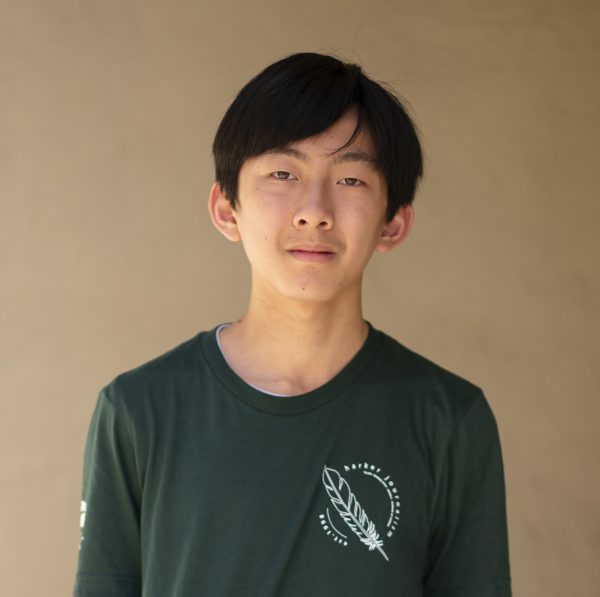 Charlie Wang, Reporter
Charlie Wang (10) is a reporter for Harker Aquila, and this is his second year on staff. This year, Charlie Wang hopes to improve his photography and writing...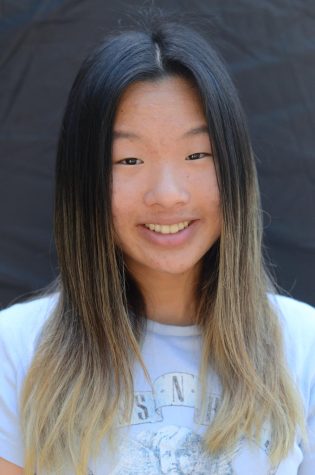 Tiffany Chang, Humans of Harker Editor-in-Chief
Tiffany Chang (12) is the editor-in-chief of Humans of Harker, and this is her fourth year on staff. She's looking forward to telling the story of the...