The cross-country team competed in the De La Salle Nike Invitational race in Concord to begin the season on Saturday.
The course spanned three miles around Concord's Newhall Park, including long flat stretches and steep climbs. A mile into the race, runners ascended a hill with 353 ft of elevation before they looped around a pond into the final stretch.
44 runners from Harker competed across the boys and girls varsity, junior varsity (JV) and frosh-soph teams. Hannah Levanon (11), the sole representative in JV girls, completed the course with a time of 25:10, and Kai Nishimura (9) led the competing JV boys team to a 22nd place finish with his time of 18:55. Marcus Blennemann (11) led the non-competing JV boys team with a time of 22:58.
Ava Alvarez and Veyd Patil achieved the fastest times on the girls and boys varsity teams, clocking in at 21:55 and 16:37 respectively. The girls team finished 25th, while the boys team finished 30th.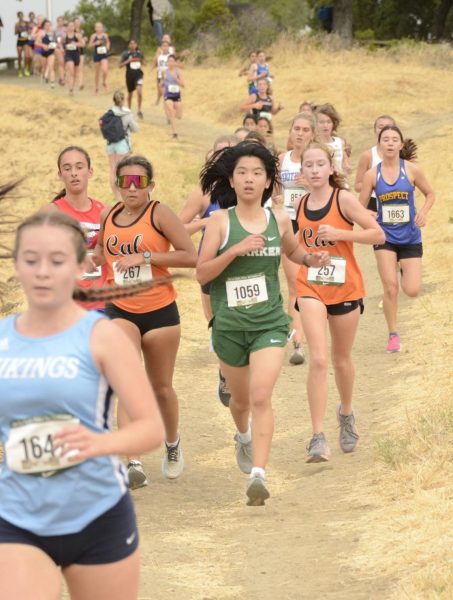 Ava felt satisfied that the work she put in culminated in a noteworthy performance. She found the conditions to be ideal for racing and also felt proud of the team's results as a whole.
"I thought [my first race] went really well, and I feel really good," Ava said. "My gameplan [going into the race] was to not be too hard on myself but still challenge myself, and I think that worked out well."
Haofang Zhu (9) led the frosh-soph boys team to a 22nd place finish with a time of 15:13 across the two-mile course, and Stella Yang (10) ran a time of 16:44 for the frosh-soph girls.
Many returning members of the cross-country team also ran their personal best times on the course, including Emily Bryan (10), Robert Fields (11) and Harris Miller (11). Varsity boys team co-captain Adam Sayed (12) was another athlete who attained a personal record (PR), running the course in 19:59.
"I think some people definitely gained a lot of confidence from PR-ing, and people get more experience racing," Adam said. "A lot of the varsity team hasn't raced here before, so it's good to get them some experience for the future."
Fellow captains Emma Gao (12) and Veyd also led the team for the first time this season, while Laurel Davies (12) was absent due to injury. 
The cross-country team will attend a total of four more meets this season, with the potential for qualifying at the CCS (Central Coast Section) Finals and CIF (California Interscholastic Federation) State Championship. Looking ahead to upcoming races, cross-country head coach Kevin Oliver has high hopes for the team.
"They were running probably a little more fatigued than they will for the rest of the races this season," Oliver said. "Being able to adjust to that [and] run when your legs are feeling heavy and tired — it's a good skill to get used to. I'm hopeful that we'll be feeling a little fresher for the future races."