Weekly recap: Upper school sports drive ahead of competition
Volleyball
Having finished their four game season, the varsity girls volleyball team achieved a 3-1 record, with three wins against Notre Dame, Castilleja and Mercy after suffering a loss in their first game to Menlo. The girls won on Senior Night against Notre Dame on April 9, notching a sound 3-1 victory. 
Seniors Emma Dionne, Dylan Williams, Shreya Srinivasan, Meona Khetrapal, Anvitha Tummala and Michelle Ning were honored in a pre-game ceremony by their coaches and fellow teammates. The seniors' parents attended the ceremony through Zoom and showed their appreciation for the athletes when projected on a screen in the gym.
"Because everything was online this year, we really had no idea of what [senior night] would be like. It completely exceeded all of our expectations," Emma said. "They had our families projected on the wall so that we could still have our senior night in front of them. Even though there was no crowd, the JV team, Coach Brighid and Coach "Smitty" made it feel like everyone around us was still there."
Water Polo
The varsity girls water polo team competed in their first match of the season on April 13, falling to Archbishop Mitty 3-6.  The team will play their first league game against Homestead at 4:30 pm on Tuesday in the Singh Aquatic Center. Their season will consist of 16 games, finishing on May 27.
"It's great to practice with everyone in person again. We have four freshmen this year, and it's been really nice to get to know them," Sinaya Joshi (11), a member of the team, said. "I'm really looking forward to playing league games again. In our first game, we lost, but it was a really fun game because we got to play together again after a really long time."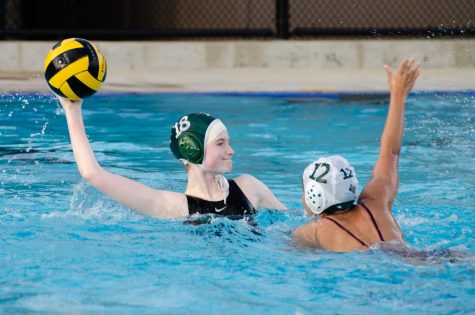 Basketball
The varsity boys basketball team kicked off their season with home victories against Andrew Hill and Silver Creek before falling to King's Academy on Monday. The team currently has a record of 2-1, with 11 league matches still left to play on their schedule. They will face off next against Crystals Springs Uplands today at 6:00 p.m. at the Athletics Center.
"It's been a breath of fresh air. I don't take any minute of practice or prep for granted because we weren't able to do any of it [for the past year]. The [team] is having fun, I'm having fun, and the other coaches are having fun," head coach Butch Keller said. "We haven't had the typical summer league or preseason, so every day the growth is so much more incremental than it is normally."
The junior varsity boys basketball team began their first season with two well-fought victories, winning the home game 69-58 against Silver Creek High School and an away game 40-29 against King's Academy. The team has a record of 2-0, with nine league matches left. They will face off next against Pinewood School in an away game on April 27 at 4:30 p.m.
"Getting the win was great," said Vardan Ghai (9), who plays on the junior varsity basketball team. "I really had a lot of fun. It's really exciting to be with the guys, and I've been really looking forward to today."
Baseball
The varsity baseball team lost 8-11 in a close match to Woodside in their season opener but bounced back quickly with blowout victories against Silver Creek and Crystal Springs. The boys then fell 2-3 to San Mateo over the weekend before defeating South San Francisco High School 16-1 in a resounding victory on Tuesday. They look to extend their win-streak in their rematch against South San Francisco High School tomorrow. The match will be held at 4:00 P.M. at the Blackford campus.
"Our biggest strength has definitely been pitching. We have three or four really good pitchers, and we're also trying to develop some new pitchers and catchers, and I think we have found a couple people who do those things really well," Andrew Chavez (12), captain of the team, said. "Hitting has also been really solid so far. The team has been really good at taking walks and just capitalizing off what's available."
Golf
The varsity girls golf team wrapped up their regular season last Monday with a 199-278 victory over Sacred Heart Preparatory School, bringing their record to an undefeated 6-0. The girls' CCS playoff season is set to begin in early June.
"We have to stay at least three feet apart and keep our masks on at all times, and we are always reminded to spread out," Natalie Vo (12), captain of the golf team, said, of how COVID-19 has affected the golf season. "I think it's pretty similar to years past because golf is not a contact sport, so you don't really stand next to each other anyways."
Softball
The girls softball team fell to Castilleja, Mercy Burlingame and Notre Dame in their first three matches of the season. They look to bounce back on Tuesday in their away game against King's Academy.
"We had our first two games last Thursday and Friday, and they weren't the best for us, but it was still a lot of fun. We have a lot of new players this year who have never played softball before," Natasha Yen (12), captain of the team, said. "Our softball team is always super supportive of each other, and so even though we have lost, everyone is still very optimistic about the rest of the season."
Additional reporting by Alysa Suleiman.