Weekly recap: Upper school sports teams continue to dominate their competition
Soccer
The varsity boys soccer team fell to King's Academy in their season opener on April 20, but bounced back in a big way two days later, dominating Crystal Springs Uplands 6-0. This past week, the team lost consecutive matches to Menlo, Priory and Sacred Heart, and they look to make a comeback on Tuesday in their away re-match against King's Academy at 4 p.m.
The girls soccer team defeated Pinewood 6-0 in their season opener, before falling to Crystal Springs Uplands, King's Academy, Castilleja and Nueva in their next four matches. The team will play Crystal Springs Uplands again on Tuesday at 4 p.m. at home, with five matches still left on their league schedule.
"I think we're honestly just going to enjoy every moment of it," Ashley Barth (11), a member of the team, said, of what they are looking forward to most this season. "It's such a short season, and we only have about three and a half weeks left. I think we're just gonna enjoy each other's company, enjoy bonding as a team and just keep working towards improving those goals on and off the field, so that we can do well in our games this season, while also working towards developing players for the next couple years."
Water Polo
The varsity boys water polo team fell to Menlo-Atherton in their season opener but bounced back with resounding victories against Fremont and Santa Clara in their next two matches. After a 16-9 loss to Los Altos on April 23, the team dominated Monta Vista 24-9 four days later. With a 3-2 record thus far, the boys look to continue their winning streak against Cupertino on Tuesday at 5:45 p.m. at home.
After falling to Archbishop Mitty, Homestead and Los Altos in their first three matches of the season, the varsity girls water polo team defeated Mountain View 13-11 during overtime of a nail-biter game last Tuesday. The team will face off next against Los Gatos at home at 4:30 p.m. on Tuesday, with 12 matches still left to play on their league schedule.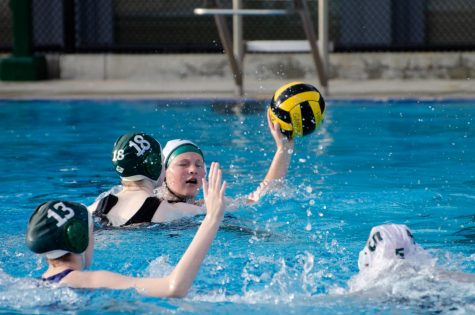 Boys Volleyball
The boys volleyball team fell to Monta Vista, Saratoga, Homestead and Mountain View in their first four matches of the season. Battling through injuries and other setbacks, they look to end their losing streak and earn their first victory against Lynbrook on May 6.
"Our season has been off to a little bit of a rough start, but we have definitely been playing better as a team, and we have improved in each of our games," Tyler Beede (10), a member of the team, said. "I am really looking forward to our team being completely healthy, since we have dealt with injuries all season long and haven't been able to play with our complete roster for any of our games.
Basketball
The junior varsity basketball team remain undefeated with a 4-0 record, following a close 42-41 win against Priory last Thursday. Meanwhile, the varsity boys basketball team defeated Crystal Springs Uplands 50-44 on April 21, before falling to Pinewood 72-75 in overtime this past Tuesday. Both teams will face off against Sacred Heart at home this coming Wednesday, at 4:30 p.m. and 6 p.m., respectively.
The varsity girls basketball team kicked off their season with resounding victories against Evergreen and Santa Teresa. The team then fell to Crystal Springs Uplands last Wednesday and look to get back in the win column against Notre Dame at home at 6 p.m. this Thursday.
"Our team's biggest strength is that we are very positive and supportive of each other. The underclassmen and upperclassmen all talk outside of practice, and we're just very close, both on and off the court," Alexa Lowe (11), a member of the team, said. "One area where we need to improve is setting the pace of the game and not allowing our opponent to dictate that pace. Overall, we need to be mindful of what we're doing, instead of just being reactive."
Boys Golf
The varsity boys golf team defeated Crystal Springs Uplands 201-229 in their season opener and then faced off against Sacred Heart and King's Academy, notching victories in both matches. The boys look to preserve their undefeated 3-0 record in league against Crystal Springs Uplands this Wednesday.
"I think we have a really well-rounded team this year. We have a lot of strong seniors and a really strong freshman class of golfers as well, which is super exciting because we get to pass down the mantle to them through the years, so the golf program continues to flourish," Gabriel Yang (12), a member of the team, said. "It's just a lot of fun seeing everyone improve alongside each other, and of course, beating the other teams and being undefeated is just the cherry on top of all of that."
Baseball
The varsity baseball team dominated South San Francisco 24-4 on April 24, before losing to Pinewood 12-6 the next day. The team then notched an impressive 29-0 victory against Jefferson, bringing their league record to 6-3. They look to secure another win on May 4 at 4 p.m. at home against Westmoor.
"We feel pretty great right now. This year, we are the best team in our league by far, but that being said, we still need to stay focused before games, we can't be goofing off and get behind early, since that is what happened the couple times we lost this season," Marcus Anderson (12) captain of the team, said. "Overall, we are just hoping to get a CCS berth, since we just got confirmation on Tuesday that there will be CCS playoffs."
Tennis
The varsity boys tennis team fell to Bellarmine, Sacred Heart, Menlo and Crystal Springs in their first four matches of the season. They look to notch their first victory against Pinewood at 4 p.m. on Thursday.
Additional reporting by Muthu Panchanatham.