Baseball team comes back from 5-14 deficit in final inning to win CCS Championship
Down 5-14 with two outs in the seventh and final inning of their CCS Championships matchup against Stevenson on June 19, the varsity baseball team staged an incredible comeback, scoring 11 consecutive runs on a single out to put themselves up 16-14. But the game wasn't sealed quite yet for the Eagles: now down 15-16, Stevenson had their bases loaded with two outs when pitcher Ian Williamson ('21) struck out the final Stevenson batter in dramatic fashion to secure the CCS Championship for the Eagles, the first in baseball program history.
"Before I threw the final pitch, I could hear the crowd, but I tried to tune the noise out, and at that point, I just focused on myself and my catcher," Ian said. "My mindset was just to attack the batter with the best pitch I could throw, and I was confident that he wouldn't be able to get a hit. That confidence led to me throwing a good pitch and getting that final game-ending strike."
Due to COVID-19, the baseball team was unsure whether or not they would have a league season this year, let alone the CCS playoffs. In light of all this uncertainty, the baseball team continued to persevere and stay focused, as noted by Head Coach Mike Delfino, who describes the feeling of being able to cap off this "emotional rollercoaster of a season" with a CCS Championship as "overwhelming and almost indescribable."
"[Considering the circumstances] of this past year, to win the league title, then advance to the CCS finals and finally win it, with the type of comeback we had, it was just overwhelming," Delfino said. "I don't think it's all fully sunk in yet, and it might not for a while, but [it is] just a tremendous feeling of accomplishment."
Surreal as the victory was, things didn't go so smoothly for the Eagles early on in the game. By the end of the penultimate inning, the Eagles were down 5-14, and at that point, with just one inning left to play, their chances to win looked slim to none, but according to Delfino, the players "refused to quit." Slowly, the momentum slowly shifted, and the tide began to turn in favor of the Eagles.
"The other team had a big lead and was one out away from winning. But then we got [a couple hits] and they walked a few batters, and suddenly, it was like a snowball running downhill—they couldn't get any of our hitters out," Delfino said. "It was just an incredible effort overall by the players. Comebacks of that magnitude are just extremely rare.  In my 45 years as a player [and coach], I haven't seen anything close to that kind of comeback.  The players deserve all of the credit."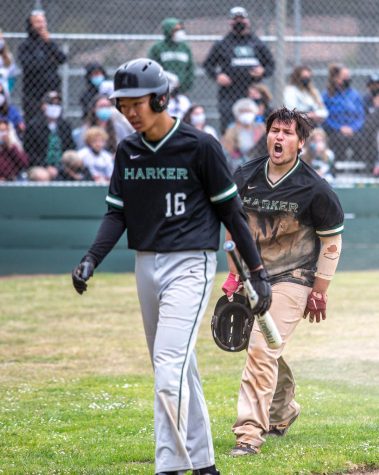 Adi Jain (9) attributes that drastic shift in the team's play in the seventh inning to a change in mindset, spurred about not only by the players and coaches, but also by the fans in attendance.
"Everyone was pretty beaten up and down on themselves going into the seventh inning, but then, people started to hit and get on base, and we put up a couple runs, and that helped change our mentality," Adi, one of three freshmen on the team, said.
Adi credits the coaches and seven seniors on the baseball team this year for welcoming the underclassmen with open arms and helping them develop as baseball players.
"Personally, I feel I improved a lot this season due to their guidance and advice," Adi said. "Without them, I don't think this team would have been where it is right now, and I think you could say the seniors carried this unit with their energy and passion for the game."
Ian, on the other hand, is grateful for the opportunity to mentor the underclassmen on the team, who he feels made noticeable improvements to their game over the course of the season.
"As for the newer guys, I definitely think that we were able to teach them a lot. Not only actual lessons about hitting and pitching, but also about our mentality and just the way we play the game," Ian said. "All of the underclassmen are really good learners, and seeing them develop was a really fun thing to watch. I know our team will be in really good hands next year."
Delfino echoes Adi's thoughts, calling the seven seniors, who graduated in early May, "the heart and soul" of this team. 
"I can't say enough about this senior class – every one of them. Most had been starters since their freshmen year, so they were well tested and experienced by the time they were seniors," Delfino said. "They were also tremendously coachable.  They would embrace new things and were determined to always get better.  Every coach should have a group like that at least once in their tenure."