Varsity girls basketball team defeats Lincoln 51-19
The varsity girls basketball team beat Lincoln high school 51-19 at home on Dec. 6 to bring their league record to 1-2. 
The Eagles opened with a strong start, shutting down Lincoln's offense and ending the first quarter 13-0. Lincoln opened the second quarter with four consecutive points, but Gemma Chan (10) hit a three-pointer that dismantled Lincoln's run and put the Eagles up 18-4. Isabella Lo (10) hit a three-pointer to end the first half 27-11. 
Both teams traded points at the beginning of the third quarter, but Harker pulled out ahead with several momentum-gaining plays. Co-captain Leisha Devisetti's (12) three-pointer brought the score to 35-13. The team pushed harder, finishing the third quarter 39-15. 
The Eagles dominated the final quarter, opening with a ten point scoring run including an assist from co-captain Claire Miao (11) and a layup by Leisha. Two free throws by Isabella and another three-pointer from Gemma contributed to the boost. After a brief comeback by Lincoln, a rebound and conversion by Lexi Nishimura (12) ended the game 51-19.
Varsity assistant coach Rick Riebhoff noted the team's efforts at passing between all players on the court. He expressed his hopes for developing the team's communication with each other.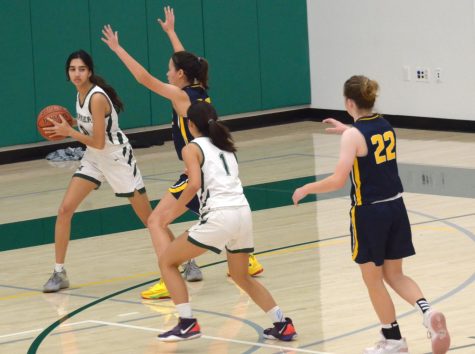 "[The girls] were really unselfish," Coach Riebhoff said. "They always looked for open scores and shared the ball really well. [We could work on] communication defensively, calling out screens, fighting through them. We're improving every day."
Team member Emily Mitnick (10) also emphasized the team's focus on building strong connections with each other. Her goal for the team is to function as a cohesive unit. 
"I want us to become a really strong team, not just skill wise, but also with our connection," Emily said. "I want us to be able to basically read each other's minds and know what we're doing and not just be 10 or 11 individual players, but one coordinated team."
Co-captain Claire highlighted the team's past successes, where last year they won second in the Central Coast Section (CCS) tournament and reached the second round of Norcals. In the face of roster changes, she and her teammates have stepped into new leadership roles. 
"We lost some of our key players, but I just want to keep that same level of success within our team," Claire said. "A lot of people have to step up. I just hope as a team, we're able to build bigger players as bigger roles for each individual player. For me [personally], I want to have a lot of assists to share [with] the team and involve all my teammates."