Varsity girls soccer team loses to Notre Dame-Belmont 1-3 in hard-fought match
The varsity girls soccer team lost to Notre Dame-Belmont 1-3 on Tuesday after a tough and hard-fought match.
The game began with Harker moving the ball downfield, with Cynthia Wang (11) taking an on-target shot at the opposing goal from the penalty box. Unfortunately, a counterattack starting with a forceful drop kick by the Tigers' goalie allowed Notre Dame-Belmont to break through the Eagles' defense and score the first goal of the game.
Both sides continued to create back-and-forth chances, with numerous promising attacks by Harker forced out of bounds by the opposing defenders. Seven minutes into the first half, the Tigers managed to clinch another goal, setting the score at 0-2.
Notre Dame-Belmont proceeded with a barrage of shot attempts, all of which were stopped by Eagles team goalie Kylie Anderson (10). Harker kept possession of the ball in Tigers' backfield for several minutes, with striker Claire Anderson (10) attempting a shot at their goal. 
With less than 14 minutes left in the first half, senior Cassie May managed to dribble past the Tigers' defense and landed a powerful shot into the upper left corner of the opposing net for Harker's first goal.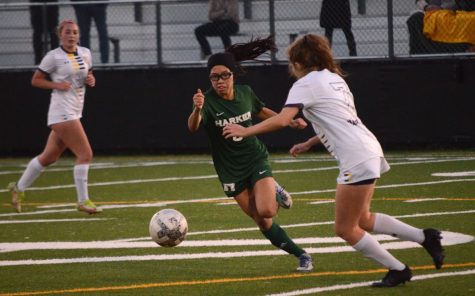 In the second half of the game, more back-and-forth action occurred on the field, as both teams managed to stop opposing strikes, with Lexi Wong (12) attempting to run the ball toward the Tigers' goal for a Harker attack. And 20 minutes into the second half, Notre Dame-Belmont solidified their position in Harker territory, but efforts by midfielder Anya Chauhan (11), paired with strong defense, allowed the Eagles to fight back against the Tigers' pressure. 
"In the first half, we got pretty lucky. During the first time in their half, Cassie converted it into a goal," Anya said. "In the second half, we had more chances — sometimes we convert, sometimes we don't."
At the 17 minute mark, a sudden high kick by the opposing team's midfielder soared into Harker's goal for Notre Dame-Belmont's third goal. To try to change the course of the match, in the final 15 minutes of the half, the Eagles vigorously fought for control over the ball. Possession shifted between both teams, but neither team scored another goal before time expired.
With the varsity girls soccer team's recent division promotion, competition has become much tougher. Head coach Jeff Baicher hopes that this defeat will help the team grow and improve.
"The girls are facing a lot more resistance after moving up a league, and the other teams are much stronger," Coach Baicher said. "The team needs to improve in ball possession. But if we can do that, we can keep games close and hopefully win a few."