Spring sports hit the home stretch
Swimming:
The varsity swimming team recently competed in the WBAL Championship Finals and the CCS Championship Finals, earning accolades in a wide range of events.
At the WBAL Championship Finals on April 27, which followed the WBAL Championship Trials two days prior, the boys relay team of Matthew Chung (10), Rhys Edwards (10), Ethan Hu (11) and Jason Kwok (10) earned first place in the 200-yard freestyle and the 400-yard freestyle. Furthermore, the boys 200-yard medley team of Andrew Chang (10), Arnav Joshi (11), Andrew Lu (10) and Alexander Yu (12) and the girls 200-yard medley team of Sophie Durn (10), Nikela Hulton (9), Katie Li (10) and Betsy Tian (10) both scored fourth.
Matthew took first in the boys 200-yard freestyle individual event and broke the previous record with a time of 1:38.94, while Rhys followed in second. Ethan also made a WBAL record, winning the boys 200-yard individual medley in 1:48.60, and he was 7 milliseconds away from beating his previous record in the boys 100-yard butterfly, which he also earned first place in. Finally, Jason took first in the boys 100-yard breaststroke, Alexander first in the boys 500-yard freestyle and Nikela third in the girls 100-yard butterfly.
Additionally, the boys team also had a strong performance in the CCS Championship Finals on May 4, in which students who qualified in the CCS Championship Trials on May 3 competed in.
The boys medley and freestyle relay team earned first and second respectively in the 200-yard events, and they broke a 2014 record in the medley race with a time of 1:30.93. Ethan also beat records in the 200-yard medley individual event, earning first place with a time of 1:44.62, and in the 100-yard butterfly, passing his own record and turning himself into a three-time CCS champion in the event. Furthermore, Jason took second in the boys 100-yard breaststroke, and Matthew placed third in the 500-yard freestyle.
This week, the team prepares for the State Championships on Friday, May 10, and Saturday, May 11, at Clovis West High School, their last meet of the season.
Baseball:
Over the last two weeks, the varsity baseball team has earned multiple wins, improving their overall record to 13-8 and their league record to 7-4, as they approach the end of their regular season with just two more games left.
After beating Del Mar High School 10-8 on April 23, the team lost against Jefferson High School on April 25 and against Independence High School on April 26 with scores of 7-2 and 5-4 respectively. The next week, the players came back, defeating Crystal Springs Uplands 15-4 on April 30 during their senior night, before enduring a tough 7-3 loss to South San Francisco High School on May 2.
Currently third in their league, the Eagles hope to improve their standing this week when they play Westmoor High School on Tuesday, May 7, and host Thomas More School on Thursday, May 9 at 4:00 P.M.
Golf:
After being forced to forfeit in the Aptos Tournament on April 22 due to lack of players and having lost their match against Valley Christian Schools by 210-227 on April 24, the varsity golf team was still able to end the week on a strong note, defeating Menlo 179-184 on April 25 in their senior night game and earning their sixth consecutive league championship.
Bryan Zhang (10) received his first career medalist honors, shooting a personal best of one under par, and was followed by Ashwin Rammohan (12) and Jaimin Bhagat (11) shooting par 35. The Eagles also earned third place at the WBAL Championships last week on May 1, qualifying them to play in CCS Regionals on Tuesday, May 7.
"The game [against Menlo] was a team effort, and everyone played really well because we all had to shoot some of our best scores in order to beat them," Bryan said of the match. "That was really important for our entire team, and coming together to shoot so low was really impressive for all of us."
Additionally, the JV team played their last game on April 23, defeating Menlo-Atherton High School 236-271, which marked the end to an undefeated season.
Lacrosse:
After winning the last four games they played, the varsity girls lacrosse team ended their regular season with a league record of 9-1 and an overall record of 14-3, placing first in their division and earning the title of league champions.
The girls beat Salinas High School 16-9 on April 23, Carlmont High School 13-12 on April 26, Notre Dame High School 18-3 on April 30, which also happened to be their senior night match, and Woodside Priory 17-7 on May 2.
"Although some of our games have been challenging as well as very frustrating, we've still managed to stay at the top of the league and win nearly every game," attacker Callie Mayer (9) said. "Working hard together has only made our team stronger and closer to one another, and we are looking forward to the [playoff] games."
This week, the Eagles host Aragon High School on Tuesday, May 7, at 5:00 PM in the WBAL quarterfinals. If they win this match, they will move on to play in the semifinals on Thursday, May 9, and potentially in the championships on Saturday, May 11.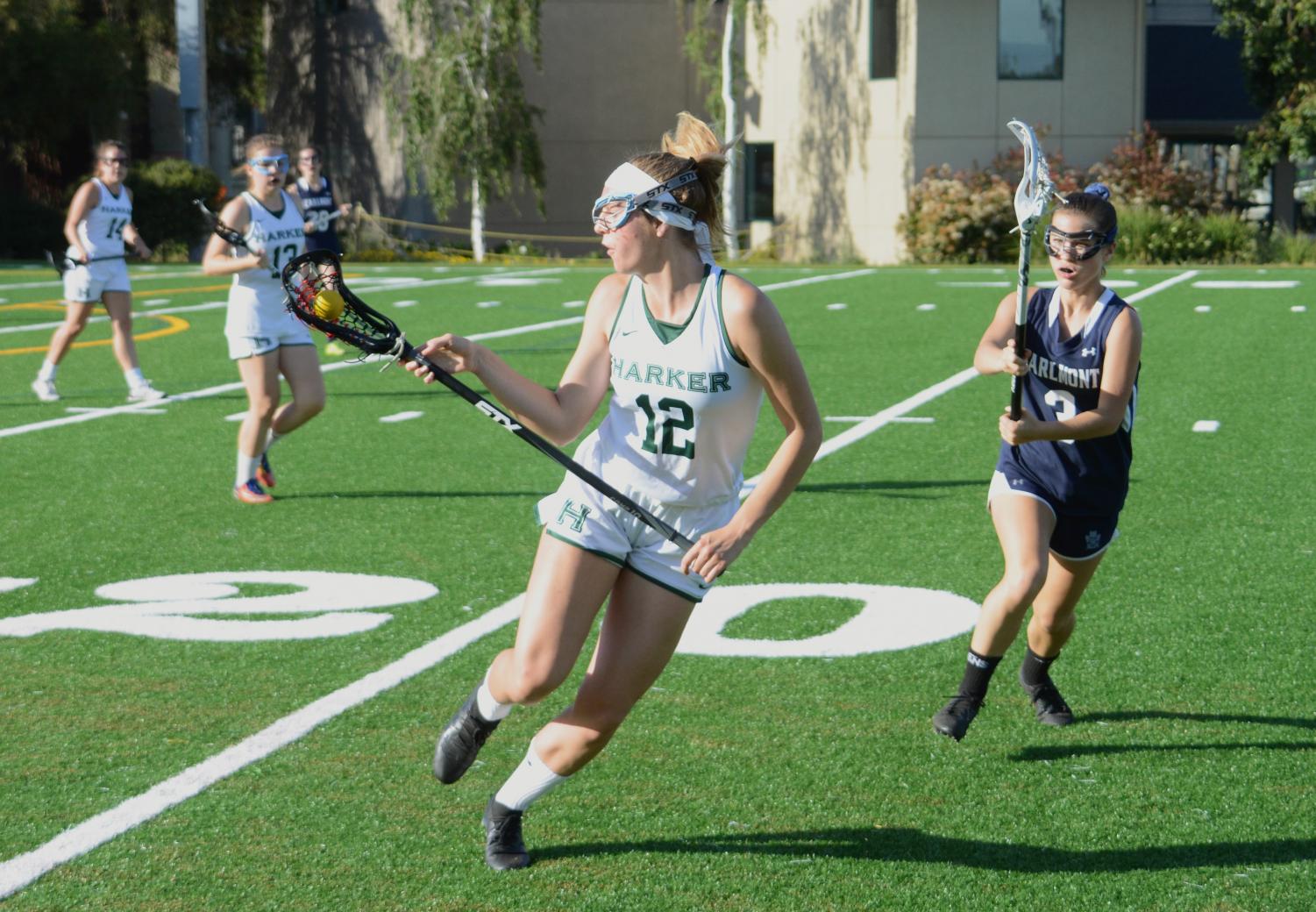 Softball:
Despite a few tough games in the past two weeks, the varsity girls softball team earned two more wins, improving their league record to 4-7 and their overall record to 6-12.
After losing to Pinewood School 11-1 on April 23, King's Academy 18-2 on April 25 and Fremont High School 23-1 on April 29, the girls won their next two matches, defeating Mercy High School 17-0 on April 30, and Crystal Springs Uplands 1-0 on May 2 after the other team forfeited due to lack of players.
"At the beginning of the season, we were learning how to work as a team, and now that we've bonded and gotten more connected, we've been doing a lot better team-wise and in our games," Natasha Yen (10) said. "With the season ending, I'm really looking forward to senior night and celebrating our six seniors, who have all been playing with us for all four years in high school."
This week, the team plays their last league games of the season, facing Mercy High School on Tuesday, May 7, and hosting Notre Dame High School on Thursday, May 9, at 4:00 P.M., where they will also celebrate their senior night.
Tennis:
After losing 7-0 in a tough match against Menlo School on April 22, the varsity boys tennis team ended their regular season 12-2 in league, second to only Menlo.
In the final round of the WBAL Individual Tournament on April 24 and 25, the doubles team of Mihir Sharma (11) and Ramanand Vegesna (11) fell to a Menlo team in their third set, despite making a strong comeback during the match, and have qualified to compete in the CCS Doubles Championship on May 14 next week. In the singles division, Jack Hansen (11) made it to quarterfinals in the tournament before losing to a player from King's Academy.
At the CCS Championships last week, the varsity team defeated Aptos High School with a score of 7-0 in the first round on May 1 but were defeated by Menlo 7-0 in the second round. Next week, the boys also play in the CCS Individual Tournament on May 14 and 15.  
Meanwhile, the junior varsity tennis team finished off their season on a strong note, beating Menlo 6-1 on April 22, their last match of the season. Undefeated with a record of 9-0, the boys are league champions, having been first in their division.
"With our strong teamwork, willpower and determination, we were able to muster off a 9-0 league championship," William Chien (9) said. "I just want to shout out all my teammates, because we really started to work together and support each other, and that led to us playing better and playing for the team instead of for ourselves."
Track and Field:
Maintaining their solid performance this season, the varsity track team had a strong showing at the WBAL Championship Trials on April 30, in which several athletes qualified for the WBAL Championship Finals held on May 3 last week.
In the boys 400-meter relay, the team of Andrew Chen (9), Mitchel Granados (12), Anton Novikov (10) and Giovanni Rofa (11) earned fourth. Anton also placed fourth in the finals of the boys 100-meter dash, and Ayush Vyas (12) took second and fourth in the shot put and discus events.
Additionally, Giovanni earned fourth in the long jump and second in the triple jump, with Andrew closely behind at fifth and fourth respectively. Natasha Matta (9) placed third in the girls 100-meter hurdles, followed by Kismet Singh (11) in fifth place and Zoey Rosa in sixth, and Alexa Lowe (9) was the league champion in the triple jump, earning first place.
"I think that overall the track season went really well," Sara Min (12) said. "As a team, we've truly improved greatly this season, earning new season and personal records and becoming closer to our teammates, and I hope that continues in our final meets."
This week, the team competes at the CCS Championship Trials on Saturday, May 11, and those who qualify will attend the CCS Championship Finals next Friday on May 17.
Volleyball:
After beating Los Gatos High School 3-0 on April 24, the boys varsity volleyball team faced a tough 3-0 loss on April 30 against Monta Vista High School, who are seventh in the nation and first in CCS. However, after defeating Los Altos High School 3-0 on May 1 last week during their senior night, the boys improved their league record to 14-2 and their overall record to 29-5.
Currently twelfth in the nation and second in CCS, one behind Monta Vista, the team looks to win the CCS champion title in their division. The team first plays Sacred Heart Prep on Tuesday, May 7, this week in quarterfinals, and if they win this match, they will advance to semifinals on Thursday, May 7, and then potentially to finals on Saturday, May 11.
Meanwhile, the junior varsity team recently finished their season on a strong note, despite facing a 2-0 loss against Monta Vista on April 30. In the past two weeks, they earned their second and third league wins, beating Los Gatos 2-0 on April 24 and Los Altos 2-1 on May 1.
"I think the games [this week] went really well and were a good end to the season," Raymond Xu (9) said. "Although we have not gotten many victories, all of us have learned a lot from each other and are very close friends by now."