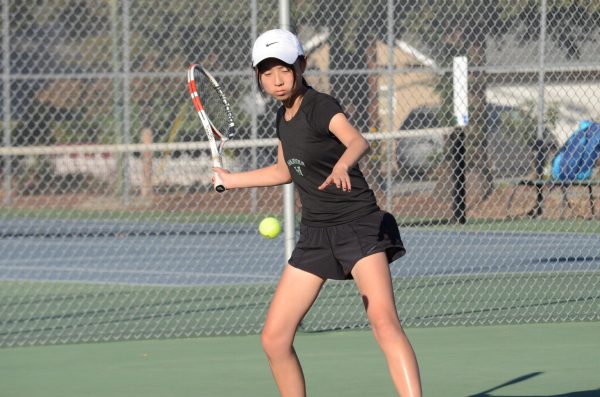 The varsity girls tennis team succumbed to Castilleja 3-4 in their final "team night" home game at Blackford on Oct. 24.
The Eagles jumped to a start, with their first and second singles players Pavith Khara (10) and Olivia Guo (11) taking their first sets 6-1 and 6-0. Pavith and Olivia maintained their momentum, gaining initial 3-0 leads in the second sets and securing the victory with 6-0 and 6-2 match scores, respectively.
"I feel I started off pretty strong, but towards the end I got a little tired and didn't play as well as I could have," Olivia said. "Overall, I think I did well. My strengths were definitely my forehand and I was able to place my shots around the court."
Frosh Claire Xu played at the third singles spot, notching a swift two-set victory. With controlled strokes and consistent focus, she defeated her opponent in a dominant 6-1, 6-2 showing.  
At the fourth singles spot, Elaine Zou (9) fought well with several accurate serves and rallies but lost the first set 1-6. She mounted a comeback in the second set, taking three points off her opponent, but eventually suffered a 3-6 loss.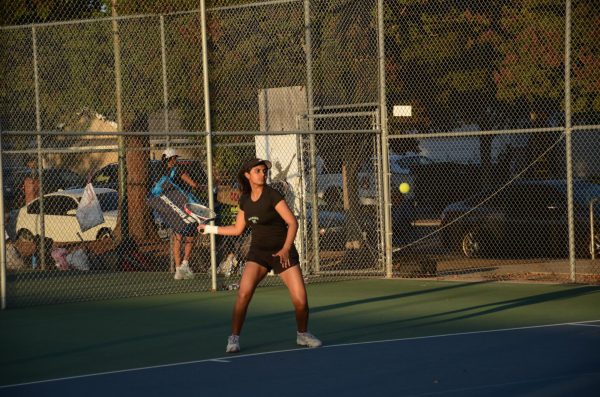 In the first doubles match, Anika Akkiraju (10) and co-captain Jessica Wang (11) also battled to rebuild their momentum, bouncing back after a 3-6 defeat in the first set to the tiebreaker rounds in the second set. After a delay involving a score debate, the Eagles pair fell just short of the win in a tight 5-7 battle. Castilleja also beat Harker's third doubles pair, frosh Nancy Chen and Jessica Chen, taking the first set 0-6. Although the Eagles gained an early 1-0 lead at the start of the second, they eventually lost in a 3-6 showing. 
Tied at 3-3, players from both schools cheered on their teammates in the final match of the game, led by co-captain Charlize Wang (11) and Nyssa Kansal (9). Despite building up momentum after a 2-6 first set loss and taking four points off a strong Gators pair, Charlize and Nyssa fell short of the win 4-6 in the second set. Castilleja took the game with a final score of 3-4.
Nancy commented on the team's small roster this year, and its impact on the team's lineups. In tennis, each match contains a series of individual games between players, allowing the players and coaches more flexibility to assign each spot.  
"It's great having a smaller team," Nancy said. "With a smaller team, you move around a lot more, and you are able to accommodate everybody better."
Co-head coach J.P. Fruttero remarked on the girls' improvement as their regular season came to a close. With only three upperclassmen on the roster, Fruttero highlighted the team's growth, as many players transitioned to high school athletics this year. 
"The girls improved quite a bit this year," Fruttero said. "We have a very young team this year, so a lot of it has been getting experience. A lot of girls came in this year not knowing what it's about, and high school tennis is so different from middle school tennis, so it's important for them to get that experience."
The team lost their final game against Menlo on Thursday to finish with a 3-7 season record.