Humans of Harker: Taking center stage
Lucy Feng explores her identity through creative expression
Sitting in the lobby of the Rothschild Performing Arts Center (RPAC), a smile spreads across Lucy Feng's ('23) face as she fondly recalls her first experience in an upper school theater production, playing Glory in "Almost Maine" as a freshman. 
"That was the first time that I truly felt the things that my character feels," Lucy said. "During the run of that show, I didn't need to think – everything came to me the way that it should. It just felt like I was stepping into the world and holding the hand of my character as I was walking along, and I had so much fun onstage. It was lovely."
Lucy's journey in performing arts began from a young age, when she took acting classes with the encouragement of her mother. In the fifth grade Spring Musical at Harker, the first production where she performed in a lead role, she experienced the world of theater in a more professional light, and from there, her love for the arts only grew. Lucy explains that aside from the vibrant community and the pure fun of being onstage, she values theater for its unique power to communicate a message to an audience. 
"As an actor, I'm able to say things in a way that nobody else can," Lucy said. "If I want to convey a message, being on stage and being a character and telling this story the best way that I can is my preferred method of communicating my ideas with you. So whether that be social justice or family issues, I can really say whatever I want, by being whoever I want. I think it's a really cool way to communicate with people."
The secret to this process, Lucy explains, is her ability to infuse pieces of her own identity with the identities of the characters she plays. Although some directors may dislike this quality, she believes that the specific combination of her own beliefs and choices and those of the characters she plays makes her performances special. 
"I'm not good at acting; I'm good at being," Lucy said. "If I play a character, I can't really play that character without me playing that character, if that makes sense. If all actors were just going to play the character without some part of themselves being added and adding that sort of third dimension, then we just have a bunch of disposable people. It's the fact that every actor has their own unique take, and something about them bleeds into the character, and makes everybody a very worthy and nondisposable person."
From the Queen of Hearts to Mary Poppins to Beatrice from Shakespeare's "Much Ado About Nothing," Lucy treasures the endless possibilities that lie within playing a diverse range of characters. Over the years, she has grown to appreciate theater not only as a form of communication but also as a catalyst for personal discovery and growth. 
"I discover things about myself the most when I'm not being myself," Lucy said. "When I'm playing a different character, different things will resonate with me. They could be good things, they could be bad things. It can be physical tics or quirks, or it can be the way that I think about things emotionally. That all gets dug up and discovered when I'm trying to be a different character." 
Lucy's exploratory nature shines outside of the theater as well. Upper school physics teacher Lisa Radice admires Lucy's compassion and enthusiasm in the classroom. 
"That upbeat, energetic personality, it's infectious," Radice said. "People get excited about things because she's excited about things. And especially within physics, she's really passionate in terms of just wanting to understand how the world works."
Radice taught Lucy in her freshman year in Honors Physics and again in AP Physics 2. She treasures the deep passion Lucy holds for learning and exploring new material that interests her.
"If a topic interests her, she takes a deep dive, she really wants to understand it," Radice said. "She would come to office hours almost every day and ask questions and bring me articles about things she was reading or show me simulations that she thought were interesting. She is this epitome of what I love about students who really care about learning." 
This passion and care translates into her friendships, as well. Whether it be through home cooked meals or picnic dates, Lucy finds countless ways to express her care for friends. Close friend Aastha Mangla ('23) fondly remembers one particular day when Lucy made her a bowl of tomato and egg over rice from scratch. 
"Lucy's really good at making people feel like they're important and special," Aastha said. "Just the fact that she made me a whole meal from scratch, [and] she didn't just pull something out of her fridge – she cares a lot about people, she cares a lot about the things she does, and I could see that she really cared for me."
Also Lucy's fellow actor, Aastha observes and collaborates with her in several productions, including this year's Fall Play "You Can't Take It With You," where the two played husband and wife. Through all these productions, Aastha notes one common theme: an endless passion for everything she does. 
"Every time she gets a role, or she does a performance, you can see that she cares deeply about everything," Aastha said. "For someone with so many talents, I feel like it would be hard to care about all of them. But every time, Lucy puts in her full effort, and she's always trying to get better."
Lucy's creative expression shines through her love for music, which has been an integral part of her life from a young age. Lucy immigrated to America three days before her preschool graduation and first felt isolated in the unfamiliar environment, having lost contact with many of her friends in China. One of her first experiences after moving was with Crystal Children's Choir, which helped expand her love for singing and connect herself with others. 
"Music has really grown up with me," Lucy said. "Music is the universal language, not just to humanity, but to everything. When I first came to America, I had a lot of language barriers, and music really helped me understand things that I would not have been able to [otherwise]."
From there, she expanded her choral experience, joining acapella and chamber choirs like the upper school groups Downbeat and Cantilena. Lucy treasures choir for the lessons she learned while working in a group where collaboration was key.
"You by yourself, you are one voice," Lucy said. "But in a choir, it's multiplicative goodness. There's also a lot of trust involved. You have to trust the people to sing their part, and you sing your part. You trust that that works together, and you trust the conductor. You make a lot of good long term lifelong friends in choir."
Whether in the realm of performing arts, the classroom, or just in day-to-day interactions, Lucy strives to leave a positive impact on others. No matter the size of her contribution, she tries her best to improve the state of the world and the people in it.
"If net joy in the world can increase through my actions, why not do them?" Lucy said. "If I can help out a little with my volunteering, [if] I can make somebody laugh when they were having a hard day—that's net happiness going up. As a child I wanted to have the grandiose dreams of making an impact on the world and leaving a dent because I will have done something; I don't think I need that anymore. I just want to have been conducive towards somebody else's joy."
About the Contributors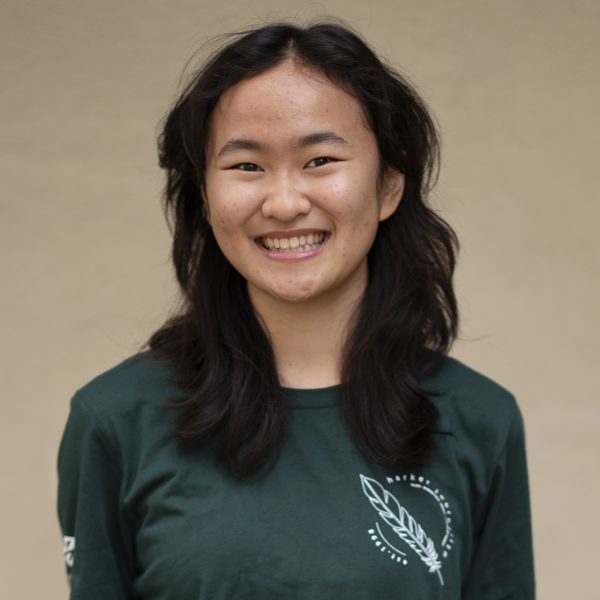 Selina Xu, Aquila Co-Managing Editor
Selina Xu (12) is a co-managing editor for Harker Aquila, and this is her fourth year on staff. This year, Selina hopes to hold engaging conversations...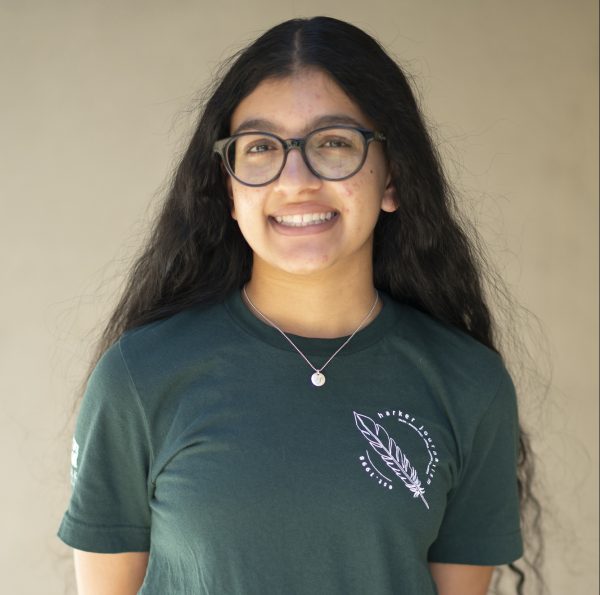 Sidak Sanghari, Humans of Harker Co-Managing Editor
Sidak Sanghari (11) is a co-managing editor for Humans of Harker, and this is her third year on staff. This year, she hopes to write many Humans of Harker...