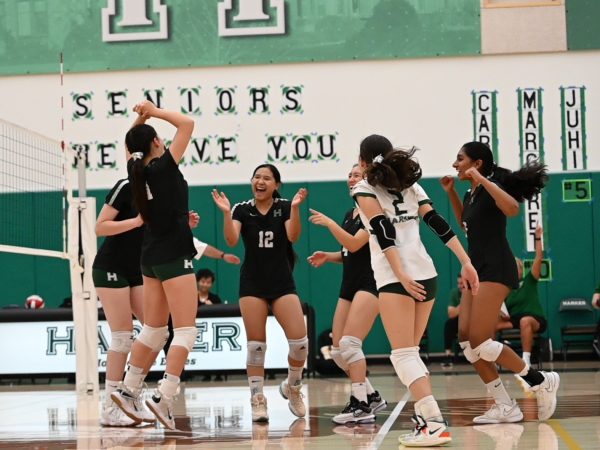 The varsity girls volleyball team crushed Priory 25-9, 25-7, 25-8 during their senior night game on Oct. 24.
Harker celebrated seniors Margaret Cartee, Juhi Madala and Carol Song in their final home game of the regular season. The ceremony began with head coach Theresa "Smitty" Smith introducing each of the Harker seniors and sharing stories of their first season together, which was cut short by the COVID-19 pandemic. 
All three players were part of Harker's volleyball program for all four years of their upper school careers. Wearing shirts with phrases like "We love our seniors," Varsity teammates presented Carol, Margaret and Juhi with flowers and gift baskets, while crowning them with tiaras. Attendees offered posters with notes for the seniors and parents had cutouts of the seniors' faces.
"[Senior night] feels surreal," Juhi said. "I never thought it would be my senior night, especially because my freshman year was a COVID year. It feels like I should definitely get another year playing volleyball."
Following the ceremony and warmups, Priory began the match. Harker sided out immediately with the guidance of co-captains Margaret and Juhi. A spike by outside hitter Divya Buphathi (9) put Harker up 3-0, and the two teams battled for the next few points. However, the Panthers soon tied the Eagles 6-6, and the two teams engaged in a long rally. Middle blocker Emily Mitnick (11) recovered the Eagle's momentum with a tip. Margaret went on a six ace streak, putting the Eagles ahead 20-7. Harker won the first set 25-9 off middle hitter Juhi's serve.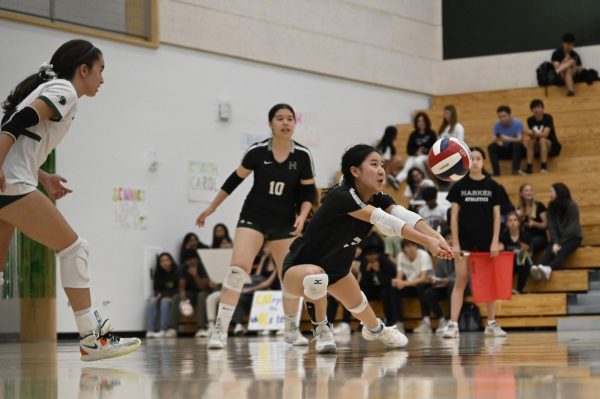 Varsity girls volleyball assistant coach Stephanie Coleman notes that although the team has room to improve, they excelled at serve receiving and starting sets solidly.
"Serving [and passing the ball] was a big strength of ours tonight," Coleman said. "We can improve on calling the ball. Serving was a big strength of ours because communication is a big part of the volleyball game."
Defensive specialist Carol served the ball to start the second set, and Harker dominated the plays once again. Opposite hitter Nat Tan (10) gave the Eagles a sixth point with a kill. Teammates and audience members alike broke into a roaring cheer, chanting "A-C-E!" at setter Keira Chang's (10) ace after she gave Harker a 9-3 lead over Priory. Harker took the second set swiftly, ending 25-7 with a final kill from Juhi.
The Eagles gained the advantage with several critical kills in the third set. Opening with three kills, Juhi helped carry the momentum from the second set to the third. Carol earned Harker the win, 25-8, with two final aces.
Carol is proud of the team's performance and chemistry. She reflects on the past four years with Harker volleyball and the tight bonds she's formed.
"We did really good," Carol said. "Our score is a reflection of how we did. All of us just had a lot of fun. And it's very bittersweet because it's senior night, and I'll miss my team very much. They're very much like my family."
Having watched the seniors mature over the past four years, Smith reflects on their success both on and off the court. 
"All three of them stepped up on a big night for them," Smith said. "The support of their teammates shows what kind of people they are. Everybody loves them and is super invested in making sure that tonight was special for them. They earned that respect and that love and admiration."
Though the regular season is over, the postseason still awaits the varsity girls volleyball team. The team finished third place in the Skyline Division, advancing to the Central Coast Section (CCS) playoffs.
"I'm looking to bring the hustle [to CCS]," Juhi said. "Our team is doing a really good job of being aggressive right now. Everybody was covering their spots and bringing the energy. I hope we fight as hard [in CCS] as we did in this match."
Varsity girls volleyball finished the regular season with a 9-3 league record. They defeated Carmel 3-1 in their second round of CCS playoffs Tuesday.