by Tiffany Wong, Aquila News Editor
The speech team hosted their annual Speech Showcase today during long lunch from 12:35 to 1:25 p.m. in the Nichols Auditorium. Speech coach Marjorie Hazeltine and debate coaches Greg Achten and Jenny Achten greeted attendees at the door. Today's ...
May 26, 2017 • No Comments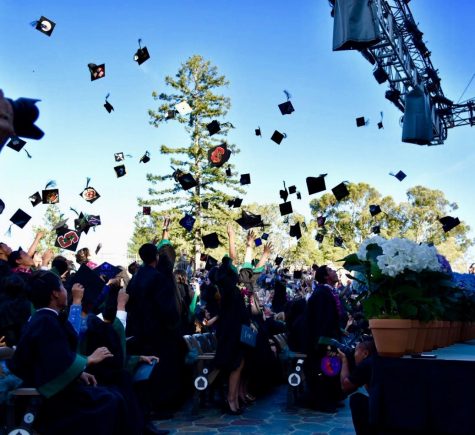 Class of 2017 graduates in Saratoga Mountain Winery ceremony
May 19, 2017
The class of 2017 graduated in a ceremony at the Saratoga Mountain Winery yesterday from 5 to 7 p.m. T...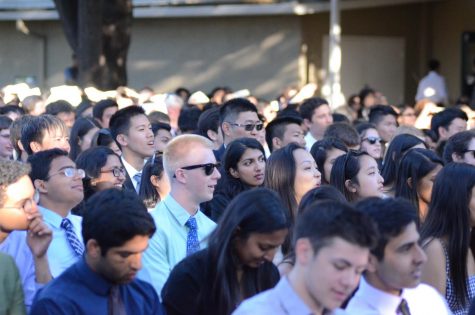 Seniors and juniors attend 2017 Baccalaureate ceremony
May 17, 2017
The classes of 2017 and 2018 attended the Upper School's annual Baccalaureate ceremony today in the Quad from...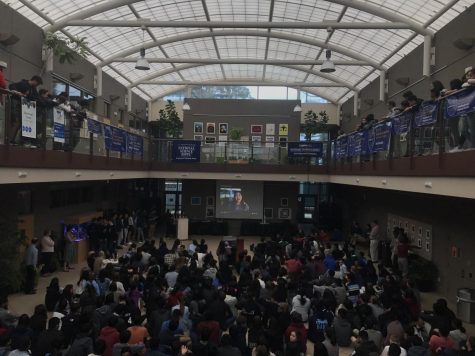 May 16, 2017
Assistant Head of School Jennifer Gargano announced the Recognition Program. Teachers will each nominate one...
View All »
by Rashmi Iyer, Reporter
Being born into a Catholic family, faith has always been an important part of Alex Youn's ('17) life, but his religious journey only truly started when he visited Medjugorje in Bosnia-Herzegovina where Catholics come from around the world to grow ...
May 29, 2017 • No Comments
Good Fortune Friday: Our interpretations of what sits inside a fortune cookie
May 26, 2017
I have a rather distinct and perhaps uncommon view on fortune and luck. First, I believe thinking about good/ bad ...
Humans of Harker: Molly Wancewicz speaks out through debate
May 25, 2017
Always with a bright, joyous smile on her face, Molly Wancewicz (12) is not afraid to speak out. Standing confidently in fr...
Humans of Harker: Alex Mo's perception of the world stems from his interest in photography
May 24, 2017
Ever since Alexander "Alex" Mo (12) learned how to use a camera in the 7th grade, his perspective of everything around...
View All »
by Michael Sikand, Aquila Asst. News Editor
On April 22 and Earth Day 2017, thousands of scientists and their supporters across the country donned their lab coats not to conduct research, but to march on Washington, DC,...
May 15, 2017 • No Comments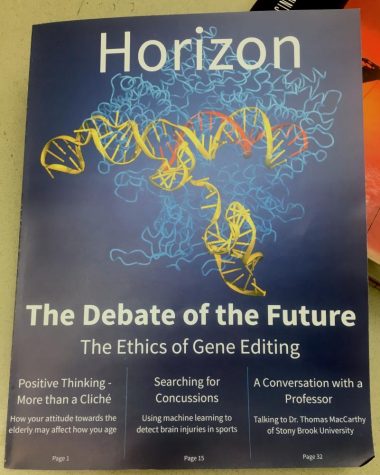 Student-run science magazine Harker Horizon releases first issue
May 10, 2017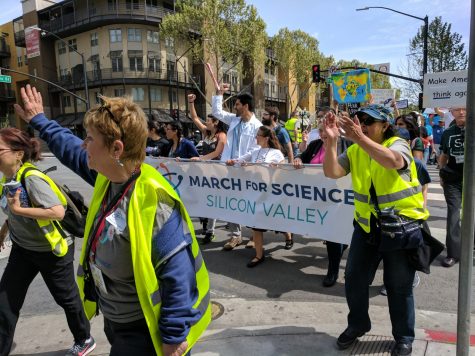 Marches for Science held across US and world
April 22, 2017
Students react to United Airlines incident
April 21, 2017
View All »
Recent Sports Scores
Friday, March 17

Varsity Boys Volleyball

Harker 25, 22, 25, 25 - Los Gatos 23, 25, 19, 21

Thursday, March 16

Varsity Boys Baseball

Harker 15 - Crystal Springs Uplands 1

Thursday, March 16

Varsity Boys Tennis

Harker 7 - Priory 0

Tuesday, March 14

Varsity Girls Softball

Harker 4 - Castilleja School 0

Tuesday, March 14

Varsity Girls Lacrosse

Harker 13 - Sacred Heart Cathedral Prep 8