Humans of Harker: Community and competition
Tara Ozdemir fosters teamwork and tenacity through volleyball
Tara Ozdemir (12) smiles as she recounts the rush of euphoria as Harker's varsity girls volleyball team scored the winning point in the Central Coast Section (CCS) tournament finals. Sacred Heart's team served, the ball arcing over the net and diving towards the ground. Tara passed the ball back into the air as their teammate ran and jumped, dumping the ball over the net. The densely packed crowd erupted into wild cheering and yelling, and Tara's teammates swarmed around her in a frenzied group hug. Despite being the underdog, Harker's team managed to beat Sacred Heart in three straight sets.
Tara has always been close with her team. She and the rest of Harker's girls volleyball team traveled to Hawaii during her sophomore year, the same year they won CCS. Tara and their teammates became close friends with Lahainaluna High School's volleyball team, learned about Hawaiian social cues, went snorkeling and barbecued. Most of all, the team spent time together and bonded.
"That team was really special to me," Tara said. "I was very close to everyone on it, and I'm still friends with people that graduated from the program from those years. Being able to bond with them was really amazing."
Tara believes that teamwork and a strong sense of community are crucial to not only playing volleyball well but also enjoying the sport.
"If you look at it in terms of 'I have to play well,' and if you're only focusing about your own play time or your own wins, it won't help you perform to the best of your ability," Tara said. "Whereas if you're motivating yourself to play well for your teammates and to allow them to have a chance at winning as well, it feels so much better when you do win, and it helps you play a lot better."
Upper school history and social science teacher and Tara's adviser Katy Rees admires how Tara's communication and teamwork skills have helped them become a strong leader and advocate.
"Tara is really fun and has the kind of personality that draws other people in," Rees said. "She's somebody who rallies her teammates and keeps spirits up and speaks up when people need someone to speak up for them."
However, when lockdown began and in-person events were canceled, Tara struggled with not being able to play volleyball, especially during the first five months of the pandemic. When she returned to practice, however, she persevered in regaining her volleyball skills.
"My first practice back was awful," Tara said. "We couldn't even pass the ball. It was hard because [even after] all the work I put in for years, I [couldn't] play volleyball anymore. That was while I was trying to get recruited too. It was a rush. We had to get back to our skill as fast as possible … I had to practice every day for hours."
Close friend and co-captain of the girls volleyball team Liza Shchegrov (12) believes Tara's hours of practice are an example of the determination and diligence that are the keys to their success.
"She's always been surrounded by volleyball," Liza said. "It's her number one passion. Seeing how dedicated [Tara] is and how much she's grown as an athlete is exceptional. It's really inspiring to see how much time and effort she's put in and how much it has paid off."
Leyla Artun (12), another close friend of Tara's, describes how their positive outlook in the face of adversity allows them to shine.
"Our volleyball team had some struggles during the games, but Tara would always do her best and not give up despite the score," Leyla said. "She would always try and get balls off the ground: she'd always be diving."
During their senior year, many of Tara's previous teammates graduated. She had to adjust to the new team, as well as her new role as co-captain.
"Since a lot of [the team members] were new to varsity, I did have to be more authoritative at times to enforce the team culture that was a part of our program for years because I wanted to honor the seniors that graduated and all the work that they put in," Tara said.
Liza adds that despite having to be authoritative, Tara used her position as co-captain in order to bring the new volleyball team closer.
"[Tara] always made sure that the team was brought together and made sure to include everyone," Liza said. "She immediately got to know the freshmen, because it's difficult when there's different grade levels of a team. She made sure to talk to everyone."
Tara officially committed to playing Division 1 beach volleyball at Stetson University at the beginning of her senior year and plans to major in psychology. They were drawn to psychology out of a desire to help others and plan on becoming a specialized therapist in behavioral analysis, which they were fascinated by after taking a social psychology class in their junior year. However, psychology has not been without its struggles.
"I absolutely bombed the first test of the year, and I was like, 'Oh my god, this is the field that I want to major in,'" Tara said. "But I looked past that, and then I did really well on every single test for the rest of the semester. I focus more on learning the material instead of the grade."
Rees asserts that Tara's persistence and compassion for others, which have aided her in her passions for volleyball and psychology, are some of her greatest strengths.
"When she sees a problem or is struggling she will put in the time necessary to figure it out or work her way through it," Rees said. "She utilizes the tools around her and is genuinely interested in others."
Tara works diligently to solve problems not only within her classes, but also within her community. At the beginning of their senior year, they saw that their classmates were also upset at the dress code's increased enforcement. Tara emailed administrations about her dissatisfaction with the dress code and encouraged her teammates to do so as well.
"My freshman [and] sophomore year, my body was very small, but as I grew more and developed more, clothes did not look the same on me as they did for other people," Tara said. "I found that it was more people with my body type that were being targeted by the dress code. I found that unfair because it's not something that I can control or other girls can control."
Tara continually strives to advocate for and strengthen their community, whether it be through volleyball or reforming the dress code. She hopes to leave a lasting impact on the Harker community, even after she graduates.
"When I'm leading something, I want to make sure that everyone is heard and represented," Tara said. "If someone were to think of me after I'm gone, I would hope they would see me as a good person who made an effort to make the community better … I wanted to provide the underclassmen with a better learning environment like I had as they go through high school."
About the Contributors
Lindsey Tuckey, TALON Co-Conservatory Editor
-Lindsey Tuckey (11) is the co-conservatory editor for the TALON Yearbook, and this is her third year on staff. This year, she hopes to explore people's...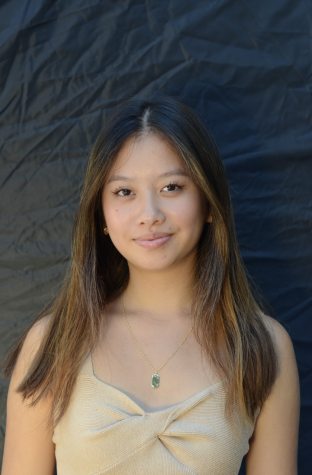 Sabrina Zhu, Winged Post Co-Editor-in-Chief
Sabrina Zhu (12) is the co-editor-in-chief of the Winged Post, and this is her fourth year on staff. Sabrina hopes to capture more campus life through...