Humans of Harker: Finding equilibrium
Catherine He approaches life with balance and creativity
Flipping through this past year's issue of Equilibrium, the upper school's economics magazine, Catherine He ('22) reminisces on the production as the co-Editor-in-Chief, reflecting on the design, illustrations and, of course, the student writings.
"I've found that economics stretches into every corner of how society works: the institutional level, behavioral level, the rational human being," Catherine said. "Like game theory, it's a really interesting way to analyze the decisions being made on multiple levels, and it also helps me not make impulsive decisions that I would be making otherwise."
While her involvement in economics and Equilibrum stemmed from her desire to branch out from her STEM-heavy courses and extracurriculars, Catherine also found a means to explore another interest: graphic design, which she further developed through other opportunities in organizations such as DECA and the Women in Stem (WiSTEM) club. 
Her work, whether it be a sweatshirt design or an informational Instagram post, all goes through the same process. Catherine first develops a color scheme, then blocks in shapes and creates vector images, and finally, she will "just let it flow."
"In terms of graphic design, I've grown to love whitespace more," Catherine said. "My work before was very cluttered because I wanted to fit everything in. But now, I really do think less is more, and that extends to all parts of life as well."
Victoria Han ('22), Catherine's DECA partner and close friend since middle school, notes that Catherine's creativity extends beyond the canvas, reaching into her interpersonal and presentation skills.
"She's definitely the more creative one," Victoria said. "She thinks of cool ideas, including in her role plays, like acronyms and graphics. She's so good at thinking on her feet during roleplays."
Close friend Syna Gogte ('22) emphasized Catherine's personal growth from a relatively shy person in middle school and freshman year to a more confident leader who also makes time to enjoy moments with friends, despite her commitments. 
"Now, she can be very outspoken and is good at leading a large group of people, especially when it comes to communicating," Syna said.
After returning to in-person learning at the beginning of the school year, Catherine's adviser Mark Janda noticed a marked difference between her sophomore and senior self. 
"She grew confident in her voice," Janda said. "When she started here, she was pretty quiet. She is not quiet anymore. And it's not that she's just suddenly social or anything. It's that I think she feels secure in her own skin."
Janda commends Catherine most notably on her ability to find an equilibrium between her rigorous academic and extracurricular workload and a normal high school experience. 
"She's someone with amazing grades but a great sense of humor and never too stressed," Janda said. "She held everything in balance and is so happy-go-lucky. She can also mix it up and giggle with anyone. She's never going to be the kind of person who attracts a bunch of attention to her. She is going to be in the mix and lowkey silly."
About the Contributor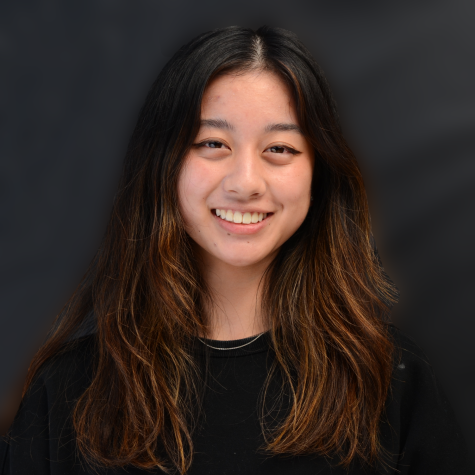 Emily Tan, Winged Post Co-Editor-in-Chief
Emily Tan (12) is the co-editor-in-chief of The Winged Post. This is her fourth year on staff, previously serving as the Winged Post features editor, and...