From kayak polo to archery, students and faculty get involved in niche sports
Harker students reflect on their experiences and growth with uncommon sports
When upper school chemistry teacher Andrew Irvine played kayak polo for the first time 11 years ago, as per his wife's landlord's recommendation, he wasn't expecting to find a passion that would lead him to try out for the US men's kayak polo team, attend national tournaments and participate in world championships. Now well-known to his students for his devotion to the uncommon sport, Irvine has become a kayak polo sensation.
"I am one of the best kayak polo players in the United States because I am one of the only kayak polo players in the United States," Irvine said. "You, too, can be the best at something no one else does!"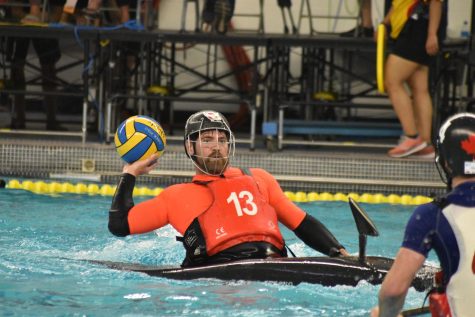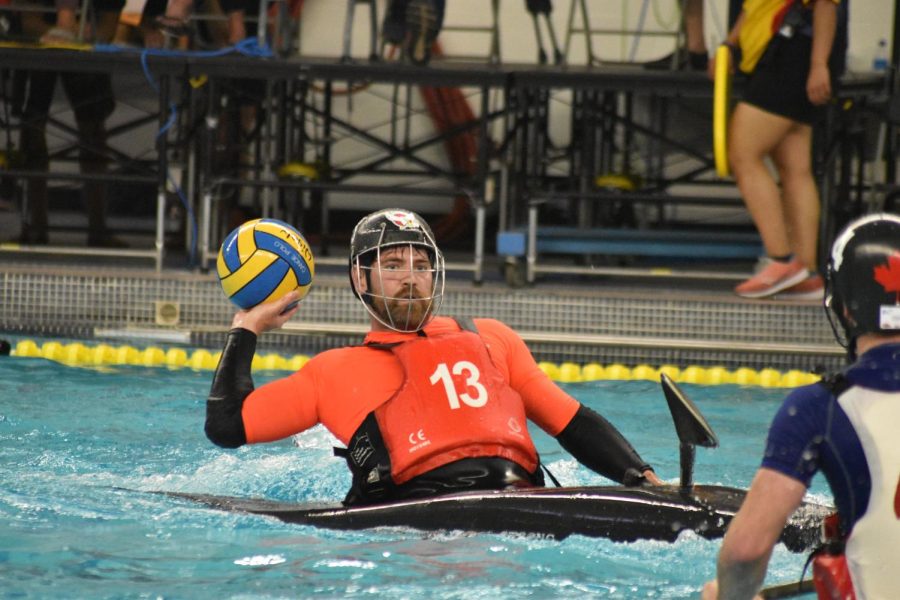 Kayak polo, a combination of water polo, kayaking, basketball and lacrosse, is certainly not as ubiquitous as other sports such as football, basketball and soccer. Despite his hesitancy to pursue the uncommon sport at first, Mr. Irvine is now pleased with his athletic career in kayak polo because of the impact it has made on his life and reflects on how he has grown mentally as a result of kayak polo.
"Tournaments stretch me individually," Mr. Irvine said. "I like stretching myself and giving myself the experience that tournaments give me so that I can hopefully compete on the more broad international level."
Many students have followed the same path as Mr. Irvine in pursuing their passions for unique sports, whether it be a hobby explored over the pandemic or an interest stemming from childhood.
Sarah Mohammed (11) started archery when she was in fourth grade, drawn to the sport because of its slower pace and its emphasis on technique. She felt intimidated and challenged by the more popular sports played in P.E. yet still wanted to be an athlete. In search of a sport that would allow her to progress on her own at her own speed, she found archery.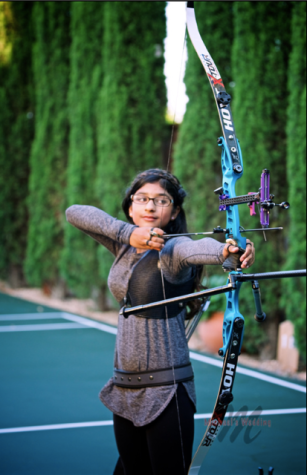 "Because not as many people do it, I feel like I can train on my own level and go as slow as I need to and that really helps me," Sarah said. "I like the idea of being able to do a sport by myself and cheer on the people and teams around me but where I can feel like I'm competing against myself and not letting down teammates."
Sarah now does archery three to four times a week for practice at the Stevens Creek mountain range. She appreciates how archery has made her reflect on her wellbeing and understand how to feel balanced, calm, and at ease.
"It makes you think about your mind and your body," Sarah said. "It makes you think, how can I be in control of myself? With archery, you can't train a lot and expect to do well automatically, it takes a balance of physical and mental training."
Like Sarah, Shounak Ghosh (12) enjoys the individuality of his sport and the fact that he can progress at his own pace. Shounak used his downtime during the pandemic to explore his interest in street bicycle motocross (BMX) riding. Teaching his sister how to ride a bike rekindled his love for the sport.
"You're trying to better yourself and get better at the discipline," Shounak said. "You progress at your own pace and you get better by just trying and trying again, so it's about how much you want to put into it. If you get really invested into it, you can progress really fast."
Provided by Shounak Ghosh
Also on the water polo team, Shounak compares biking's freedom and convenience to water polo. Being able to bike at his own time and pace makes it especially enjoyable for him, and Shounak thinks of it as a fun hobby.
"It's something that I can do in my driveway," Shounak said. "I don't need to go anywhere special. I play water polo as well. I don't have a pool at home, and you need a team for that. [BMX biking] is something I can do on my own."
Provided by Shounak Ghosh
Through BMX biking, Shounak has also been able to give back to his community by volunteering at The Silicon Valley Bicycle Exchange in Palo Alto, a non-profit bicycle donation exchange organization. He started volunteering there in January of this year and spent a lot of time at the warehouse over the summer. Shounak reflects on how participating in niche sports can open up opportunities to help others.
"Initially, I went [to the bicycle donation exchange] to learn how to repair my own bikes, but then I got more involved in volunteer efforts," Shounak said. "The cool thing you can do with niche sports is you can also become more involved in the community because it's smaller, and you can have more of an impact that way."
Rowing, a team sport which Dominick Piscione (11) participates in, piqued his interest because of the teamwork and synergy needed to be successful in the sport. Dominick originally did a rowing summer program and found the sport exciting, so he decided to join Norcal Crew this season. 
"[Rowing] is not one of those typical sports that everyone thinks of like soccer, basketball or football," Dominick said. "It's a lot more team-oriented with working together and synergizing well, and I think one of the most important things in rowing is the trust you and your teammates have to have."

Dominick's want for a change from his previously played more common sports sparked his interest in rowing, and he now finds more benefits from rowing. He is also a fan of the fact that not as many people row.
"I originally did karate and cross country and a lot of the school sports throughout my athletic career, but I was looking for a change in pace, something I could excel at that there wasn't such a huge market for," Dominick said.
Dominick reflects on a recent race in Seattle where he spent time bonding with his teammates. Although it was only his second race and he was new to the team, they still placed second. Through rowing, Dominick has made lots of memories with his teammates and appreciates the new friendships he has formed through rowing.
"Being with my team in Seattle and how much fun they are to be around correlates to how well our team does," Dominick said. "Having fun is really important."
Tiffany Chang (11) has also made lasting friendships through her sport. Tiffany began playing squash in fifth grade after her parents recommended the sport, and, through the experience, met new people. Although she stopped playing in freshman year, she stays in touch with them.
"There were a couple of other Harker kids playing squash and I got to meet some people who I still talk to," Tiffany said.
Aside from meeting new people, Tiffany also came to appreciate squash's convenience over the years. Tiffany played squash at the Bay Club, which is located near her house, making it easy for her to attend lessons after school. She also appreciated that squash is an indoor sport, as she values the comfort of being able to play in all types of weather. 
Tiffany largely chose squash because of its low time commitment and lesser competition. Although squash still has tournaments, it wasn't as geared toward competition as other sports are. 
"I think a lot of those other sports had extremely high time commitments," Tiffany said. "I thought [squash] was going to be a sport with less competition because it's less common, and that's kind of what drew me towards it. It wasn't a sport that was entirely focused on the competition aspect of it."
Badminton, a sport involving using rackets to hit a shuttlecock across a net, piqued Emma Milner's (9) interest three years ago, and she now plays badminton nearly everyday and looks forward to playing tournaments. Though wildly popular in Asian countries, badminton is not as frequently played in the U.S. or at Harker. Emma originally started because her mother, who plays badminton recreationally, recommended the sport, but she continued because of badminton's fast pace and its balance of physical and mental strength.
"It doesn't really get much attention, but I like it because it's a very fast-paced sport," Emma said. "It's the fastest racket sport, and I like how you have to be physically but also mentally strong at the same time."
Provided by Emma Milner
"
Make the initial investment and put your all into it, and you'll never know where it takes you. I've become a significantly different person through this experience, and I was lucky enough to have more than enough time to devote to it. If you think you'd be sufficiently interested and you'd be willing to commit to it, I'd definitely say go for it.
— Shounak Ghosh
When Tiffany first began squash, she recalled her initial apprehension of facing possible judgement from other students for doing an uncommon sport. 
"It might be weird or uncomfortable when you're like, 'I have to go to squash after school' because a lot of people aren't going to have an idea of what it is," Tiffany said. "No one really knows what the sport is and how it works or what it's about. But if you find it fun, still do it!"
Despite the fact that niche sports certainly have smaller communities and are not as well known as other more popular sports, the positive outcomes they produce should surely be reason alone to start.
When reflecting on his experience, Shounak is grateful for having pursued his interest in BMX biking because of the impact it made on his life and recommends other students who are interested in starting a less popular sport do so.
"Make the initial investment and definitely try it out, and put your all into it, and you'll never know where it takes you," Shounak said. "I think I have become a significantly different person through this experience, and I was lucky enough to have more than enough time to devote to it. If you think you'd be sufficiently interested and you'd be willing to commit to it, I'd definitely say go for it."