Writers and readers celebrate National Poetry Month
A poet sits in a silent room, a notebook open to a fresh page perched on her lap. A pen is poised in her hand, hovering inches above the blank sheet of paper. She has so much to say, but she doesn't know where to start. Suddenly, an idea pops into her mind, as if a cartoon lightbulb illuminates over her head. She begins to write, the words of her soul flowing out in black ink, contrasting sharply with the white emptiness of the paper. Her hand is an extension of her heart.
Poets and readers across the globe commemorated poetry this April, which marked the twentieth anniversary of National Poetry Month, the largest annual literary celebration in the world. The Academy of American Poets (AAP) founded National Poetry Month in 1996 after witnessing the success of February's celebration of Black History Month and Women's History Month in March.
The Academy of American Poets encourages students to join the organization to show their year-round support for poets and poetry. Vivian Nguyen, a sophomore at Evergreen Valley High School in San Jose and a member of AAP, shared her favorite part about being involved in the world of poetry.
"I love how, when I analyze the content of poems, I can see how much they apply to my own life," Vivian said. "It's really fascinating, and being a part of AAP enables me to be more involved in the world of what I love."
While the Academy of American Poets coordinated various poetry festivities this month across the country, bookstores everywhere organized their own events to celebrate National Poetry Month.
"We put several poetry collections on display for our customers," said Erik Nielson, a customer service associate at Barnes and Noble. "In several locations, guest poets were invited to perform pieces. While celebrating NPM, we hope to encourage more readers and writers of poetry."
Along with the efforts of AAP and national bookstores to continue the legacy of poetry, the English department at school promoted Poem in Your Pocket Day on April 21. English teachers distributed short poems to students and a billboard in Manzanita made poems available to all members of the Harker community.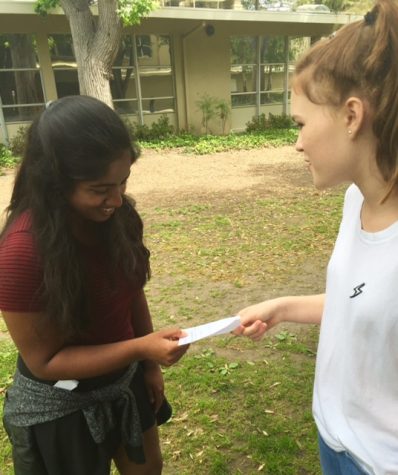 Despite poetry being recognized in English classes, each day, fewer and fewer people read poetry for leisure and truly appreciate the creative inspiration that it has to offer. Amelia Huchley (9), a subscriber to poetry forums and a reader through websites such as Wattpad and Ao3, expressed her thoughts on why poetry is the "invisible horse" of literature.
"I think that the reason why people don't pay much attention to poetry is because it's difficult to grasp the underlying feeling," Amelia said. "Poetry is condensed and very figurative in how it expresses things, so I think people tend to choose prose or music instead because they don't require as much thought in terms of what it might mean."
Despite poetry being less recognized than other mediums of creative expression, writers, readers, teachers and celebrations like National Poetry month ensure that the legacy of the art will be perpetuated.
This piece was originally published in the pages of The Winged Post on May 4, 2016.