Varsity girl's basketball defeats Crystal Springs Uplands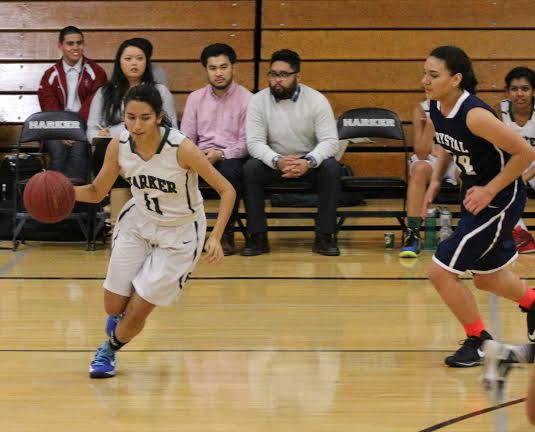 Hang on for a minute...we're trying to find some more stories you might like.
The varsity girls basketball team won against the Crystal Springs Uplands School's Gryphons 54-11 at Blackford on Friday.
Harker maintained a lead throughout the whole game. The first quarter was mostly defensive. Harker scored eight points, while Crystal Springs scored two. In the next quarter, the eagles increased their score by 20 points and Crystal Springs by 4, taking the score to 28-4 at halftime. Harker dominated the second half with 26 points as compared to Crystal Springs' six points in the third and fourth quarters, resulting in a final Harker victory of 54-11.
This win brings them to an 8-3 record.
Alfredo Alves, the team's  head coach, commented on the teamwork that led them to win.
"The girls were a little loose coming off our first win on tuesday. I think the girls had good momentum, and they understood the game plan and they played together." he said, "the key to winning was just having determination."
The game's highest scorer, Jordan Thompson (10) shared a similar sentiment.
"I think it went really well because today we really played like a team, and most of our baskets were off of assists."
She scored 26 points throughout the game. The second highest Scorer was Satchi Thockchom (9) who scored 12 points.
The varsity girls basketball team's next game will be on Tuesday against Mercy High School.