Boys tennis loses against Menlo on second senior night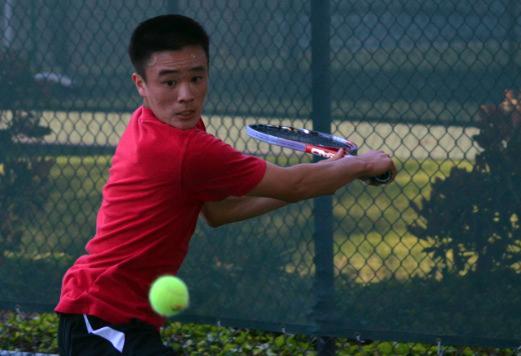 Hang on for a minute...we're trying to find some more stories you might like.
Continuing its senior night celebrations from Tuesday, the Varsity boys tennis team played against Menlo today and lost 0-7 in its last home match of the season.
Despite seeing Menlo as a "Godzilla of tennis teams," a name it acquired because of its number one title in the division and number two title in the nation, head coach John Huebner encouraged the boys to visualize success and play their bests. The players took the opportunity to put aside competition and enjoy themselves.
"We're expected to lose, which is why most of us focus on having fun as the underdogs," Justin Yang (12) said.
Assistant coach Umesh Gadasalli recognized doubles team Timothy Luong (12) and Killian Burke (11) for playing a particularly strong match, which they lost 4-6, 4-6. The Menlo coach personally congratulated the pair for their effort.
Justin played with fellow senior Rahul Desirazu. The two were the sole team to win against Crystal Springs on Tuesday but could not continue their streak against Menlo.
"I think we played pretty well," Rahul said. "We were up 3-2 in the first set, and then they kind of took off and got momentum and won after that."
Despite the team's losses, coach Huebner was satisfied with the players' performance on and off the court.
"Just like every match, my guys played their best and tried their hardest. That's just the people they are," Heubner said. "They win with class and take defeat the same way. You can't ever tell when they walk off the court if they've won or lost."
After the game, the team put aside its defeat and turned to senior night celebrations. Anticipating today's loss, the team had decided to have most of its festivities on Tuesday, following its match against Crystal Springs. As new Upper School coaches, Huebner and Gadasalli depended on team manager Preeya Mehta (12) to organize the event. She asked the team to come to school in formal attire, organized a fan group, and came equipped with balloons and candy necklaces.
Due to the Decathlon Club's distance from school, the team greatly appreciated the extra cheering and encouragement that their peers provided on Tuesday.
After the Menlo match today, coach Huebner handed out rose bouquets to four of the five seniors; Josh Bollar (12) was home sick.
The seniors each took turns, half-jokingly, suggesting plans for the future of the team. Senior Pranav Bheda insisted on continuing the nickname tradition, Timothy urged for a stricter attendance policy, and coach Huebner contributed with a proposal for a tennis grade to carry weight in a student's GPA.
Although there are no more home matches, the seniors still have more time to play: the team qualified for CCS and Rahul and Timothy qualified for the WBAL tournament. Practice will continue through next week.
About the Writer
Neha Sunil, Talon Social Media Editor and Seniors Editor
Neha Sunil (12) is the Social Media Editor and Seniors Editor for the TALON yearbook. She has been part of the publication for four years and was previously...