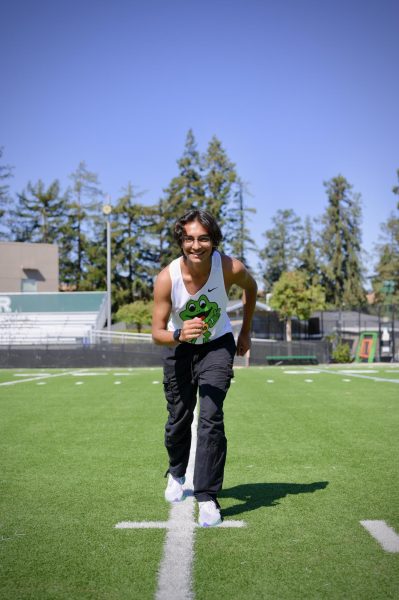 The sun's first rays break through the morning mist, and an electric anticipation fills the air. Hundreds of determined athletes gather at the starting line, their breaths synchronized, their hearts pounding in unison. At this moment, on the precipice of a cross country race, time seems to stand still. The line represents not just a division between competitors, but a threshold into a world of endurance, determination and the purest form of athletic grit. This is where the journey begins, and there are miles ahead where anything is possible.
Time and time again, Veyd Patil (12) conquered the world of running. He started racing competitively in seventh grade and, since then, has set multiple school records for long-distance running. Now, as a senior, Veyd aims to break his own records before graduation as a way to leave the underclassmen on the team with goals to strive for.
"I hope to have all the school records for distance running and make them untouchable," Veyd said. "That way, it's a goal for my current teammates, who always say that they're going to break it."
Despite his talent, Veyd started to train seriously only in high school. Although he struggled at first to persevere through exhaustion, he gradually began to love the rewarding feeling of running, and he now takes on the role of encouraging his teammates to work harder and push themselves past their limits.
"If you don't feel like doing something, you should do it," Veyd said. "I've had way too many days where I didn't take running as seriously. Every time I didn't want to run, I wouldn't run, and that was really bad. But now, when I don't want to run, I'll end up going on a run, and it works out so much better than if I didn't."
One factor that hooked Veyd on running is the "runner's high" that he and other runners experience when racing. It's one that all runners feel, but none can describe. 
"It's a feeling that's just different," Veyd said. "It's a very out of body experience, and I love the fact that I can get that feeling anytime, anywhere." 
Veyd dedicates immense time and effort into improving his form and speed, which pays off through his role as a senior captain this year. Before this year's cross country season, he approached cross country coach Kevin Oliver with practice plans and ideas to optimize their team's potential and to put Harker in the running for CCS Champion. 
"The combination of the standard to which he holds himself along with the passion he has and the investment he has in his teammates is hard to come by, and Veyd's got it," Oliver said.
Like with running, Veyd prioritizes achievement in academics. He works hard to maintain the balance between school and athletics, and his efforts stand out to the people in his life.
"Once Veyd sets out to do something, he goes 110% and does it," close friend Vardaan Ghai (12) said. "[Whether] it's schoolwork, track, or anything else, he'll put in his full effort. If he doesn't understand something, he keeps going until he figures it out or until he achieves it or succeeds at it."
Veyd always tries to lend a helping hand when he can, and he makes sure to be there for his friends. Emily Kwan (12), one of his friends, remembers when he once offered to drive to her house to help her when she was feeling sad, even though it was late at night. 
"Veyd's devotion to his academics and sports shines through in other aspects of his life, like his relationships," Emily said. "He's a very good listener and devoted friend who will be loyal to you, and who will always be there for you."
As Veyd works hard to achieve his own goals in running, he also makes time to help his teammates and friends overcome their challenges. Although balancing academics and athletics is a demanding job for anyone, Veyd's ambition and drive helps him surpass any setbacks. Through his leadership role on the cross country team and his friendships, Veyd found that maintaining a hardworking attitude can help him overcome any obstacle. He hopes that he can pass this on to his teammates and leave a legacy of improving the outlook on running.
"I want the team to grow," Veyd said. "We've always had a small team, so I really want it to be one of the bigger sports on campus. I want people to not hate running and see it as a punishment, but to actually enjoy it."
In Veyd's footsteps, the path forward is clear: pursuing excellence, inspiring his teammates, and a reminder that in every mile, anything is possible if you put in the work.