School meeting recap 9/9/22: Quadchella, Dance Production and emergency drills
Associated Student Body (ASB) President Kris Estrada (12) opened the school meeting yesterday.
The ASB Student Events Committee, led by Ella Lan (11), Jacob Huang (12) and Sam Parupudi (10), started their announcement off with a recap video of the most recent Quadchella event that occurred last school year on April 22. At Quadchella, students and faculty can sing, dance and perform for their peers during a selected long lunch. A Schoology announcement will come soon to articulate the details and provide a link to the audition form. Sign-ups close at the end of the day on Oct. 9.
Computer Science Department Chair Dr. Eric Nelson provided preliminary information about Castle Bravo, a nuclear bomb design test performed in 1954. Elaborating on the event, Nelson introduced the Critical Issues Forum (CIF), a nuclear nonproliferation organization, where students can tackle challenging issues regarding international safety in occasions involving nuclear weapons. The first CIF meeting took place yesterday at 12:55 p.m. in Nichols 312. Students can email Dr. Nelson at [email protected] for questions or more information.
Socioeconomics Club officers Mir Bahri (12) and Rahul Santhanam (12) announced their introductory kickstarter event during which interested students can participate in a mock debate addressing the prompt, "Is it wrong to steal a loaf of bread to feed your family?" and reading an English translation of "La Siesta del Martes" by Gabriel García Marquez. The meeting will take place next Tuesday at 12:45 p.m. in Main 5. Students are welcome to bring their lunches, and free snacks and drinks will be provided.
Research Club officers Brian Chen (12) and Alex Lan (12) introduced the Synopsys Information Session for students to learn more about the process, deadlines and preparation tips. The event took place yesterday at 12:45 p.m. in the Nichols Auditorium. For questions about the Synopsys process or the Research Club, students can email [email protected]. 
Learning, Innovation and Design Director Diane Main and upper school mathematics teacher Jeanette Fernandez clarified the process for teachers to assign makeup assessments for students. Lunch time Test Center takes place on B and D days excluding Fridays in Dobbins 108, and teachers should communicate with Main or Fernandez in advance. A Detention Test Center is available in case the times at lunch do not work and should be set up with the respective detention proctor.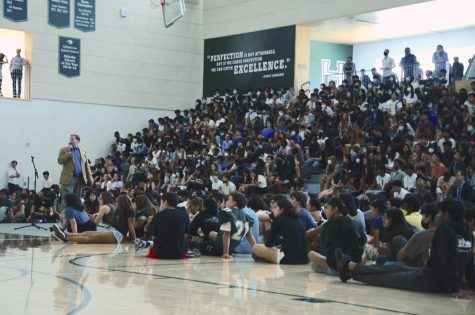 This semester's Conservatory representatives Richard Zhang (12), Samvita Gautham (12), Luke Mehta (11) and Sam Parupudi (10) reminded students about Dance Production auditions, which will take place this Saturday from 2 p.m. to 4 p.m. in the Rothschild Performing Arts Center (RPAC). Yesterday was the last day to sign up for auditions, and the representatives urged interested students to sign up via the link on Schoology. Students can earn 0.5 P.E. credits for participation in the dance show and can email either upper school dance teacher Rachelle Haun at [email protected] or upper school dance teacher Jill Yager at [email protected] with questions. 
The Eagle Update began with a promotional video for Harker Athletics filmed by BB Ajlouny (12). Zain Vakath (12) and Abhi Namala (12) then led the school in the "put your eagles up" chant and delivered the recaps of the most recent athletic events.
On Tuesday, all three water polo teams defeated Homestead High School in their league openers. Thursday's match against Los Altos was postponed, but the girls will play Aptos and the boys will face Menlo today.
On Wednesday, Girls Junior Varsity and Varsity volleyball teams defeated Willow Glen High School, and the frosh and sophomore team played Milpitas High School, losing to the team in a very close match. The teams faced Santa Cruz High School yesterday, and the Junior Varsity team will travel to the Milpitas tournament today.
Abhi continued by prompting those who are interested in girls basketball to attend an information session, which occurred yesterday during long lunch, in the Team Room in the Athletic Center. 
In a golf match against BayView Golf Club, Kimaya Mehta (9) made a hole in one for the first time in school history. Alison Yang (10) maintains a leading score, and the Girls golf team remains undefeated 3-0. 
Yesterday at 7:30 p.m., the football team played their home opener game against San Jose High School, with a win of 27-15. 
Upper School Dean of Students Kevin Williamson concluded the meeting with a talk about the popular app BeReal and reminded students to confirm that those in the photos are aware of the fact. He continued by breaking down the processes for various emergency drills and announced that an earthquake drill will take place next Tuesday and evacuation drill will take place next Thursday. He walked students through evacuation procedures and led the members of the school through a simulated evacuation of the Athletic Center.