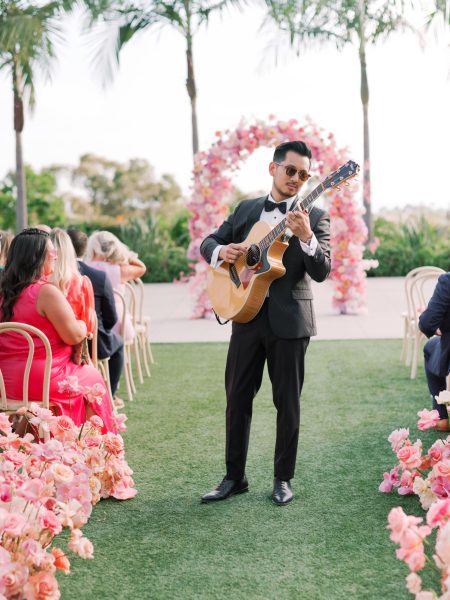 Guests sit before pink and white flowers adorning the wedding chuppah. Down the center of the aisle, to the rapt attention of the audience, stands one man with his guitar. The song begins softly, sweetly, familiar to most; a solo guitar carries the melody. Destination wedding guitarist Moses Lin spends 30 to 40 hours on each song he performs, crafting the perfect backdrop to the couple's special day.
"I think of myself as the movie soundtrack," Lin said. "If you have a great movie scene, but awful music, no one's gonna feel anything. But if you have a really awful scene, one that's just lame, but you have that perfect soundtrack, people are just going to be weeping either way. So I'm the movie soundtrack, and I'm here to make them feel all the feelings on their day."
Lin's musical journey started at age two-and-a-half as he listened to his mother play the piano. He remembers when she first realized his perfect pitch, or the ability to identify or re-create any note without another tone for reference — a 'cheat code' for musicians.
"My mom was practicing one day," Lin said. "When you play a piece, there's that last note. Apparently, I crawled up on the piano bench and I hit that same note [she did]. She hit another note and asked me what it was, and I just crawled up and played it again. That was what started it all. My mom was like, 'Okay, you need to take piano lessons. You need to get into music,' because I had that ability."
Lin's parents sent him to piano lessons when he was three years old. In later years he also picked up the violin. Though a classically trained musician, he taught himself the instrument he fell in love with — the guitar.  
"The style that I do is my own technique that I've created," Lin said. "A lot of it is watching other people on YouTube and figuring it out, but a lot of it is just, 'Oh, I'm trying to play the song and I'm trying to do this and this at the same time, how about I just create a technique that allows me to do that.'"
Playing music well into his college years, Lin also posted videos of himself playing the guitar on YouTube. Originally on track to graduate early from college, he dropped out of school before his final semester to pursue his dreams as a musician. Upon gaining traction on the social media platform, he decided to take the leap and fully dedicate himself to his musical career.
"People always think growth is linear, but it comes in spurts," Lin said. "You plateau for a long time, then one thing happens and you grow really fast. Then you plateau for a bit. Growth comes in step-jumps."
After leaving school, he privately taught students the guitar. While coaching twelve students, he tried to grow his YouTube channel on the side, posting videos of him playing the guitar. A single call diverted his plans.
"I got a call one day from Disneyland," Lin said. "They were like, 'Hey, we saw your YouTube videos. We think you're amazing and we'd love for you to perform it down to Disney. Would you be free to audition sometime?' I had never performed live. I didn't even have the equipment. So I went out, bought a bunch of equipment and just went to this audition. That was the first moment I realized that I could make money performing."
After the Disneyland performance, Lin started to grow his brand as a performer and live entertainment. After performing in various restaurants and hotel lobbies, someone in the audience asked Lin to play for their wedding, a gig that set Lin on the path to his future career. 
"It was the vibes," Lin said. "The vibes were just amazing. Everyone was so happy to be there. It was the best performance ever. Everyone loves it. I did that one wedding and realized that I loved weddings. So I doubled down on weddings and decided that it was my thing, just to see how far I could take it."
"
I'm the movie soundtrack, and I'm here to make them feel all the feelings on their day.
— Moses Lin, destination wedding guitarist
Many guests at the weddings he performs at tell him they've never experienced such a show, a live guitarist performing from reception to cocktail hour. He takes pride in being able to offer something unique to wedding performances.
"I go home super fulfilled," Lin said. "Because I made that happen. I created this experience. I've had couples that call me three years after the wedding and they're like, 'Yo, we had some friends over last night and we were talking about our wedding and your name came up,' and they're still talking about you three years later. That makes me really happy, where I'm able to be a highlight of their day."
With so many years of experience, Lin encountered some out-of-the-box requests, the most difficult one being modifying a video game soundtrack into a guitar arrangement: as avid fans of the videogame Kingdom Hearts, the couple requested Lin to arrange an orchestral version of a song from the game's soundtrack. Though he usually works with pop songs in simpler melodies, he took on the challenge of deciphering the melodies and harmonies within the orchestral arrangement.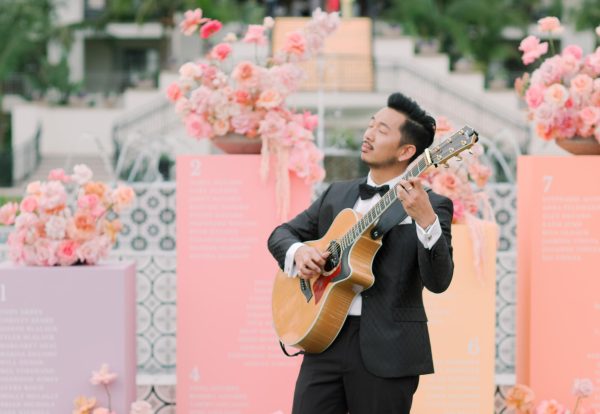 Though Lin used to feel apprehensive about going onstage during his high school performances, he grew out of his fears by accepting mistakes and not letting them bother him. He reasons that mistakes impacted him so much earlier on in his musical career because he'd only performed a few times in high school, so each mistake carried greater weight.
"I've done over 1000 performances at this point, so I've made many mistakes," Lin said. "Eventually, you make enough mistakes that nobody notices or cares about, and you realize that it's not a big deal. The important thing is to not let your nerves rob you of the joy of performing, because performing is fun. It should be fun."
Lin recently began coaching other live performers in  making a career out of music. Rather than focusing on his growth as a musician, he thinks of himself as a "businessman first, musician second."
"I'm definitely an industry leader in the live entertainment space," Lin said. "I started pivoting into coaching recently. Now I have musicians all over the world that reach out and they want me to teach them business, how to leverage weddings to make a lot of money. That's been really rewarding, to watch other people succeed."
Of course, he wouldn't be working on his brand if he did not truly love the work that he does, the people and memories that he inspires. With the vibrancy and energy during a wedding, Lin enjoys connecting with guests and newlyweds through his music.
"Everyone's having a wild, great time," Lin said. "When I get guests singing or dancing, or I get that one person crying at the ceremony, those are just moments where I'm really connected with these people, and I was able to give them an experience that they'll never forget."