Humans of Harker: Passion in compassion
From fellow actors to close friends, Harper Brada brings out the best in others
It was freshman year when Harper Brada (12) took a leap of faith and auditioned for the upper school's fall play. Although he had a few years of prior experience with theater, he knew that acting at the high school level would be much more challenging. When he saw that he was the only ninth grader in a cast of juniors and seniors, Harper felt a mix of nervousness and excitement, not knowing that this was just the beginning of a long journey in theater.
Harper kickstarted his upper school acting career by taking the Study of Theater course in ninth grade. Upper school theater teacher Jeffrey Draper, who taught Harper in that class, recalls immediately recognizing Harper's ability to bring characters to life as the class explored William Shakespeare's "Hamlet."
"Harper had a really great way of dropping into character and bringing the story to the audience in a very dynamic and specific way," Draper said. "He was passionate, and he meant what he said. He translated this imaginary world written 400 years ago and put it into his voice, body and emotions."
While participating in the fall play in ninth grade, Harper experienced a more competitive side to theater for the first time. He was initially nervous to work with older and more experienced actors, but gradually bonded with upperclassmen who performed in the same shows as him. Harper recalls how thankful he was for the compassion and support that they offered, which allowed him to grow as an actor. 
"It was a big step up," Harper said. "I was with the seniors who were crazy good, and I was able to learn from basically professionals. It rubs off on you a little bit when you want to meet their level." 
As Draper continues to work with Harper for each year's fall play, he has observed firsthand how Harper's work ethic has resulted in increasingly dynamic and compelling performances. Draper was particularly impressed by Harper's portrayal of one of the main characters in this year's production of "You Can't Take It With You."
"Seeing him be able to — with nothing in his way — drop into being the lead of the play really impressed me," Draper said. "He really was the central emotional character that we follow, and we feel what he feels. He really methodically built a great performance."
Though Harper has evolved into a more seasoned actor through the years, last year's fall play presented a unique challenge that tested his adaptability and resilience. Due to COVID-19, all actors were required to wear masks, limiting their abilities to project their voices and display their facial expressions as they would under normal circumstances.
"Mask acting was terrible," Harper said. "All of your emotions lie on your face, so it was really problematic. It was hard to tell the quality of a performance from the actor's point of view, no matter how well you were doing."
Despite those challenges, Harper still played his part in a successful production of that year's production. Long-time friend Johnny Kuehnis (12) admires Harper's dedication and resilience, especially in difficult situations. Even while acting in the fall play and directing David Fulk's "The Potman Spoke Sooth" for the Student Directed Showcase (SDS) as a senior, Harper still made time for his friends.
"He really didn't have time to take his foot off the gas in the hectic time that we were in, but he still managed to get everything done, persevere and push through it because he likes what he does," Johnny said.
Both as a member of the theater community and in his personal life, Harper remains true to his mission of spreading kindness to everyone around him. During difficult times for his friends, he feels an innate responsibility to talk to them and offer support. 
"What I've found more gratifying and more of an accomplishment than acting would be just being nice — being someone to lean on and being good to my friends, at least when I can be," Harper said. "I really make a point of trying to be easygoing because I think it has a positive impact on people I know." 
Close friend Sophia Bronder-Chang (12), who has known Harper since kindergarten, appreciates his willingness to lend a listening ear to others. During quarantine, she bonded with Harper through video games such as Among Us, which allowed her to appreciate Harper's compassionate and understanding nature.
"The beginning of sophomore year was when Harper and I started to talk again," Sophia said. "We became incredibly close again. I know I can always talk to him — I can always text him about whatever I want, even if he doesn't care about the topic."
Through overcoming challenges and learning from others both on and off the stage, Harper has been able to see for himself the value of resilience in pursuing one's dreams. However, his ambition extends beyond personal achievements, as he continually inspires and uplifts those around him.
"I truly think anyone can do something great, but it's another thing to encourage greatness around you," Harper said. "I feel a responsibility to make things go smoothly and be friendly with everyone. If you have the ability to do good, you should, even in small ways."
About the Contributor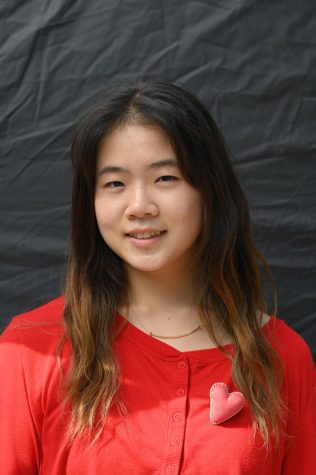 Jessica Tang, Photo Editor
Jessica Tang (12) is the photo editor for Harker Aquila, and this is her third year on staff. This year, Jessica looks forward to using new equipment to...