Humans of Harker: The power of presence
Abhi Namala connects his peers through mindfulness
Three seconds. Abhi Namala (12) takes a couple of dribbles.
Two seconds. He shoots.
One second. The ball rattles off the rim as Abhi falls, but the referee's whistle sounds for a foul.
Without looking at the scoreboard, Abhi knows the score is tied 55-55. The clock reads one second, and victory is one free throw away. Abhi has one last chance to secure a win for the white-clad Eagles. It'll either be a bucket or a miss.
He releases the ball from his hands with practiced ease, and it neatly swishes through the hoop, locking in the victory for Harker.
The last three seconds of this basketball game perfectly encapsulate Abhi's journey with the sport: steady determination, sheer talent and unwavering leadership.
Abhi first discovered basketball at age 6, when he received a LeBron James jersey as a gift. While he had dabbled in many other sports previously, basketball especially caught his eye.
"Automatically I thought, 'Basketball is the new sport. Let me watch it,'" Abhi said. "I watched the NBA finals, and I immediately thought, 'The entire court, the ambience, playing for fans, everything is awesome.'"
Inspired by what he saw on the screen, Abhi dropped by his local YMCA and began playing recreational basketball. Within only two years, he was playing alongside students four grades higher than him.
"I knew that this could be something I could pursue outside of just a recreational YMCA [hobby]," Abhi said. "After sixth grade, I started taking it seriously. I joined the Amateur Athletic Union (AAU) and played for a club team outside of school."
Yet another changing factor in Abhi's life was his admittance to Harker. Even before entering ninth grade, Abhi already began integrating himself into the upper school basketball program. Over the summer, he attended small league practices for a month and a half. Alfredo Alves, upper school assistant athletic director and Abhi's basketball coach, recalls how Abhi "held himself well" despite being a young eighth grader at the camp. 
Less than a year later, the COVID-19 pandemic forced Harker to adopt a remote learning format, which proved to be both a blessing and an obstacle to Abhi. Although the basketball season was canceled, Alves and other coaches held workouts on campus for student athletes, which Abhi consistently attended. Alves noted Abhi's rare enthusiasm and determination to maintain his physical activity over remote learning.
"I remember getting emails from him: 'Are we going to come out? What are we going to do? What's the basketball season looking like?'" Alves said. "He was really hungry to get going and to stay in shape, whether or not we were going to have a season. He was one of the first kids that was reaching out and taking advantage of all the workouts."
Abhi's resolve for improvement extends beyond himself to the team around him as well. His unique ability to foster an inclusive environment earned him the role of co-captain of the varsity boys basketball team for the past two years. As a leader, he ensures that each team member has opportunities to reach their full potential as a player.
"We have a sophomore on our team right now," Abhi said. "Whenever he makes a mistake, we're not like, 'Wait until next year.' We're saying, 'Okay, let him play. Let him develop. Let him learn from his mistakes.' Once you're in those shoes, you have to stay calm, stay mindful, analyze the situation and do what's best."
KJ Williams (12), Abhi's teammate and childhood friend, attested to the positive energy and encouragement Abhi brings to practice, as well as his relationships with others, every day.
"He's a great teammate and a great leader," KJ said. "People look to him for guidance, especially the younger guys. As a friend, he's someone I've always trusted and I always will trust. If Abhi's your friend, you know that he's always going to be there for you."
Off the basketball court, Abhi's sociable and outgoing nature makes him a prominent figure on campus. As Abhi's adviser for the past four years, upper school mathematics department chair Anthony Silk appreciates Abhi's eagerness for speaking up. Silk rarely finds himself needing to start a conversation among his advisees, as Abhi's affable personality does the work for him.
"Connection is really what he brings," Silk said. "He will make sure that everybody is a part of something. He will talk to everybody and be interested in what everybody has to say."
Similarly, close friend Sara Wan (12) noted his compassion and genuine interest in everyone around him. After meeting each other through a shared Spanish class in junior year, Abhi and Sara have constantly supported each other.
"As a friend, he cares about every single person," Sara said. "Whenever I need someone to talk to, he's always there to be there for me. And it's not just me: it's for anyone that he knows and for all of his friends."
Throughout high school, Abhi has adopted a guiding principle in life that focuses on the present moment. When the COVID-19 pandemic struck, he took time to reflect on himself, observing his own thoughts, actions and speech in a variety of past situations. 
Soon, Abhi began reading religious texts, finding great value in their thought-provoking lessons. He was particularly struck by a section of the Bhagavad Gita, in which a man is faced with the classical dilemma: a branching train track with a hundred people on one side and five family members on the other. 
"The man is debating whose side he should be on, right versus wrong, and there you learn that there is no objective truth," Abhi said. "It's all what we make it and what we see it as. The main thing you learn here is just doing what you have to do. I need to yell at my teammates when it's needed, but consciously. You say, 'In this moment, what works here? What will make this message go through?'"
Whether learning in the classroom, hitting the courts or meditating in solitude, Abhi strives to see life as a series of moments strung together. By focusing on the present for each step of his journey, Abhi places trust in the path that lies ahead and maintains a positive attitude.
"Staying in the moment, whether that be at practice or in game, and not worrying about what other people think — it helps," Abhi said. "That's one facet of my life that's going to stay."
About the Contributor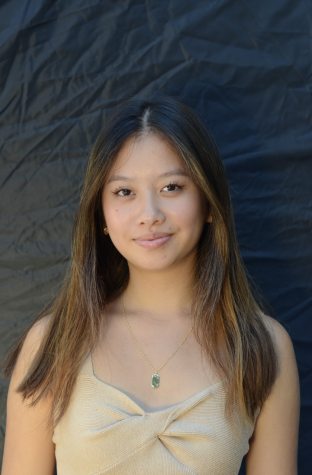 Sabrina Zhu, Winged Post Co-Editor-in-Chief
Sabrina Zhu (12) is the co-editor-in-chief of the Winged Post, and this is her fourth year on staff. Sabrina hopes to capture more campus life through...