Humans of Harker: Forging success
Anishka Raina helps her community through service, on and off the court
It's hot out, Anishka Raina (12) recalls. As Charlize Wang (9) guards the net, Anishka waits at the service line, watching the Menlo pair on the other side. The referee's whistle cuts through the darkening sky. With the kind of ease that comes only from repetition, Anishka sends the ball hurtling across the court. One by one, the points roll in. Semifinal exhaustion hangs in the air, sweat beads across her hairline and down the smudges of eye black on her cheeks. Accompanied by the steady roar of cheering teammates, all there is to do is play.
Anishka's journey with Harker tennis ended that day with a flurry of victories, teammates and coaches, but it began years ago with a tennis clinic and a fourth grader. Her parents had signed her up. She was always an active child, bouncing from sport to sport every season, but as the years went by, only tennis stuck.
"It brings a lot of happiness to me because I've been doing it for so long," Anishka said. "[I] step on the court and know that [I'm] going to start working hard, going to get in the mindset to play [my] best tennis."
Tennis doesn't always come easy, though. The semifinal match was far from the first tough win Anishka faced. In an individual league tournament during her sophomore year, facing a far superior player, Anishka lost the first set 6-0. However, as longtime coach John Fruttero reminisces, Anishka didn't let the loss get to her.
"Through her hard work, determination and strategy tactics that we came up with, she was able to come back, win the next set and win the third set tiebreaker, which showed her ability, her willingness to sacrifice body [and] mind, [to] never give up mentally, and to always do the best that she could," Fruttero said. "That's a tribute to who she is and what she's willing to sacrifice."
Without an easy way to communicate with coaches or switch out, the player must bear the brunt of the pressure in a tennis match. More often than not, the battle is a mental one rather than one of pure physicality.
"One of the lessons [the coaches] teach us is that when you're tired and when you end [feeling] like you want to quit, you need to work harder and give it 10 more minutes, and then you're going to be done," Anishka said. "Put your all into every ball and focus on the current shot. And don't think about the future, right? Because if you hit a good current shot … the other person might hit the ball in the net."
Beyond the individual, tennis provides Anishka with a close-knit family of a team. High school varsity tennis may start off as a group of 10 to 15 individuals, but over the course of a season's worth of daily practices, games and joking around, the players create an inseparable team bond.
"You're doing it for more than yourself, for your team," Anishka said. "Obviously [tennis] is an individual sport, but you're really doing it for your team. I play doubles normally, and it's [about] talking with [my] partner and encouraging my partner. My partner encourages me too, [with] that camaraderie."
As varsity team captain and the only senior, Anishka serves as a midpoint between coach and team. Whether captaincy means leading practices or speaking to teammates about their struggles, she has settled into the role comfortably. For Fruttero, choosing her to be captain was an easy choice.
"She's a great motivator," Fruttero said. "She's a great leader. She's transparent. She gets along well with everybody. She's always team first. She's always been willing to play whatever role was needed to help the team out, whether it be singles or doubles higher [or] lower in the lineup and willing to practice with people worse than her."
Although her run playing for school tennis ended, Anishka remains heavily involved in the program. As the middle school tennis season approaches in the spring, she's finishing up preparations for a group of varsity players to help Fruttero out during games and practices.
"Kids look up to her, kids feel at ease with her," Fruttero said. "As such, she's able to get kids to cooperate and perform. She can be tough when she needs to, but her go-to is to lead by example."
The same service and work ethic learned as a team captain and assistant coach on the court translate to the rest of Anishka's life, from serving as Key Club vice president to creating an engagement model for children with autism.
"We obviously have very privileged lives — being able to give back to the community and actually make an impact [is what drives me]," Anishka said. "Because when someone thanks you for something or when you realize you're actually doing good, it's a really nice feeling."
For Anishka to achieve what she has, academically and otherwise, she's learned to lean on other people as well. As teachers and friends will attest, she's become unafraid to reach out to teachers and become proactive in overcoming her weaknesses.
"The journey of Anishka is this growth into a very successful student," upper school chemistry teacher Andrew Irvine said. "The growth of maturation, the open mindset versus the closed mindset. Like many things, chemistry takes time and dedication, and with effort, you can get there too. And Anishka could tell a lot of people about that journey."
From her start in Harker kindergarten to her final months as a senior, Anishka has unequivocally brought optimism and spark into the lives of the people around her. Sara Wan (11), Anishka's shadow buddy and tennis teammate turned close friend, recalls laughter-filled memories, including one time when Anishka accidentally cheered for the wrong team during a match.
"Whenever someone's having a bad day, she always knows how to cheer them up," Sara said. "Her strength is being able to always have energy to spread and share with others and helping them have the best day."
Regardless if she's on the court or in the classroom, Anishka aims to spread her optimism and positivity to those around her.
"I want to be remembered [as] someone who always makes people happier, [puts] a smile on their face," Anishka said. "If you're walking down the hall, wave at me."
About the Contributors
Alison Yang, Assistant A&E and Lifestyle Editor
Alison Yang is an assistant A&E and lifestyle editor for Harker Aquila and the Winged Post, and this is her second year on staff. This year, Alison...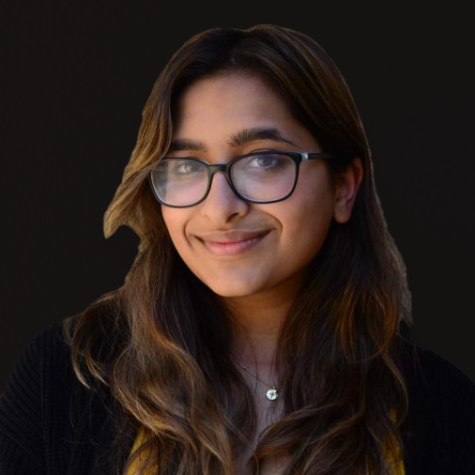 Esha Gohil, HoH Co-Editor-in-Chief and Aquila Photo Editor
Esha Gohil (12) is the co-editor-in-chief of Humans of Harker and the photo editor of Harker Aquila. This is her fourth year on staff, and this year she...