Quadchella strengthens bond of Harker community
Tunes and laughter fill the air as upper school students and faculty gathered to watch Quadchella, a semi-annual showcase that featured 12 members of the Harker community and their talents, in the Quad during lunch on Oct. 19.
From dramatic poetry reading to instrumentals and singing, the participants put on an engaging performance for their audience. The Community Events subcommittee of Student Council worked for a few weeks leading up to the date to organize the event, starting with sign-ups and auditions at the beginning of October.
"The lineup this year was amazing," master of ceremonies and organizer Sam Parapudi (10) said. "Quadchella is one of those performances where we heavily emphasize the stage presence and entertainment aspect of a performance. We were so lucky to have gotten auditions from people who had exactly that quality: the ability to put on a show."
Starting the show, Fern Biswas (10) powerfully sang "Set Fire to the Rain" by Adele, and Performing Arts Production Manager Brian Larsen followed with a vocal performance of "Me and Julio Down by the River" by Paul Simon. As lunch went on, the cluster of students watching in the quad quickly grew into a full crowd. Shreya Balakrishnan (12) and Layla McClure (10) then performed a captivating cover of "Pearl" by Mitski, with Shreya singing and Layla playing the electric guitar. After Shreya and Layla, Ritu Belani (11) drew laughter from the audience with their stand-up comedy.
"Audiences for stand up comedy are amazing because they want you to succeed," Ritu said. "They want to laugh. They want to be entertained…[Quadchella] felt like a really beautiful event. Everyone's just coming together. It was an amazing, uplifting experience."
To conclude the first half of the show, math teacher Chris Davies began a guitar rendition of Green Day's "Good Riddance." From the silent crowd, fellow math teacher Micheal Wilt began singing along, making his way to the stage. Soon after, Simon Kirjner (9) jumped in with his violin. Though it seemed like spontaneous collaboration, it was actually orchestrated by the three well before the event.
"I recruited Mr. Wilt a few weeks earlier," Davies said. "I knew Mr. Wilt likes to sing, so I asked him what songs he would like to sing. We have very diverging music tastes from each other, but we found a few songs that we liked to sing, and ["Good Riddance"] was one of them."
After the trio's cover stage, Rupert Chen (12) put on a unique performance with his bagpipes, Saanvi Bhargava followed with singing "Royal" by Lorde, upper school psychology teacher Julie Turchin delicately performed "The Kind Of Love You Never Recover From" by Christine Lavin and English teacher Christopher Hurshman and Learning, Innovation and Design Director Diane Main covered "Closer to Fine" by The Indigo Girls with both performers singing and Hurshman playing the guitar.
Wrapping up Quadchella, seniors Jacob Huang, Samvita Gautham and Sawyer Lai showcased a dramatic and rhythmic reading of "Green Eggs and Ham" by Dr. Seuss, and finally, Miki Mitarai (11) closed with a cover of "My Girl" by The Temptations.
"It was amazing and the performers in particular [were outstanding]," audience member Yasmin Eminovic-Miceli (10) said. "Specifically, I [enjoyed] Sawyer and her troupe of rappers. It was a very exciting performance and it got me very motivated to watch future Quadchellas. I absolutely adore the talent encased within the Harker community."
Quadchella offers a platform for talented Harker students to extend their skills even further and opens an opportunity for the Harker community to come together.
"Like most students around campus, I love music, and I also love Harker Spirit and having fun," Davies said. "So, I thought that I could contribute some music and some fun and bond with the community in that way."
About the Contributors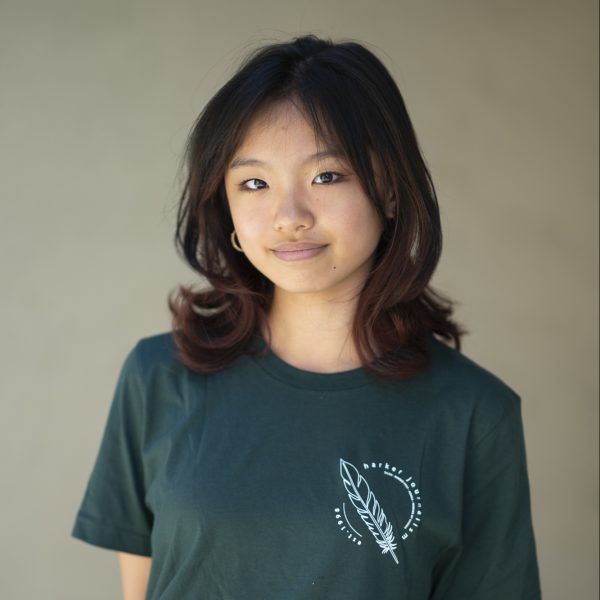 Alison Yang, Co-A&E and Lifestyle Editor
Alison Yang (11) is the co-arts and entertainment and lifestyle editor for Harker Aquila and the Winged Post, and this is her third year on staff. Alison...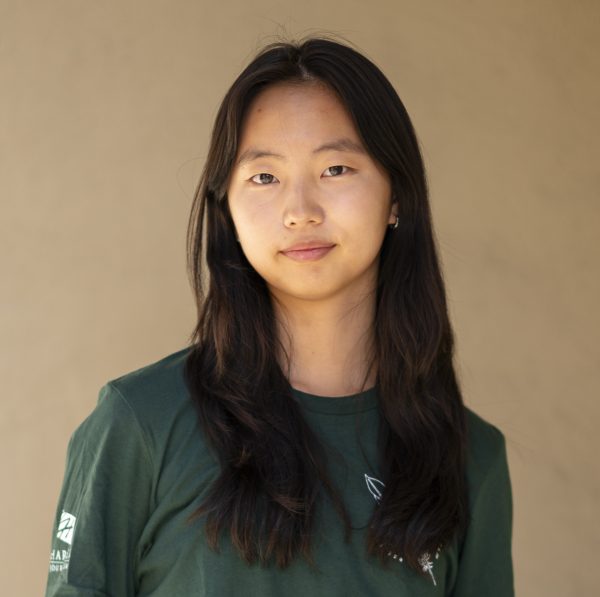 Young Min, Co-A&E and Lifestyle Editor
Young Min (11) is the co-arts and entertainment and lifestyle editor for Harker Aquila and the Winged Post, and this is her third year on staff. Young...