Humans of Harker: Channeling life through beats
Jerry Peng listens to the lessons in music
If you hear a rhythm, you may see Jerry Peng (12) nearby, tapping out the tempo with his heel. His mind focused, eyes closed and head nodding synchronously with his foot. For Jerry, life moves to the beat of music. It defines who he is and how he conducts his life.
"Music is my life," he said. "Every single day, I'm always doing something related to music, whether it be listening, playing, making it and sometimes mixing it. It's always been a part of my life."
His journey began at the young age of four when his parents introduced him to the world of music with his first lessons in keyboarding. He shifted from piano to violin and finally to the viola, which he has been playing in the orchestra all through high school.
For Jerry, these instruments are not just possessions, but they are the true essence of who he is.
"My biggest keepsake would be my violin and viola," Jerry said. "It's the physical thing that I've always kept. I lose stuffed animals and toys, even books and binders from all my classes, but seeing my violin laying in the corner of my room, just reminds me of all the memories I've had with it and mentally prepares for what's to come in my future."
Jerry credits his success to his parents, teachers and coaches for pushing him and teaching him the value of studying, practicing, and following ethics.
"If my parents did not kickstart me, I'm sure I wouldn't have pursued music as intensely as I have for the past 15 years of my life," he said. "I'm really grateful for them to have done that for me.
But, while he has had a lot of support, he learned that true art is learning to create and play for himself not others.
"When I was young, I used to quiver," Jerry said. "I would be so scared of going up on stage and performing, because everyone in the audience had huge expectations of me. I would think 'How can I make my parents and friends proud and still play a piece they will enjoy and love?' That used to be my mentality. But, now it's at a point, where of course, I still am nervous every time I step foot on stage, but now it's more about exploring the musicality of each note. I overcame the stage fright through multiple performances."
When he finally made the transition from worrying about pleasing the audience to enjoying the process for himself, he felt a sense of freedom in expression that comes from self-acceptance.
"Now, I play music for myself — I'm up on stage doing it just for me," he said. "I just think I'm at home and practicing. Stage fright used to be one of the biggest obstacles I had to overcome, but with my new mentality, I found my path by being independent."
As self-acceptance is a priority for Jerry, he finds that some of the best memories are created when he makes and shares music with a community of like-minded people. He is grateful to be a part of the talented orchestra all through middle and high school — a place that has taught him teamwork, collaboration and discipline.
"Orchestra is always a great way for me to play pieces in an incredible setting that most people will never get to experience," Jerry said. "We have 94 students this year, and I think to myself 'How often do we get this experience to play with this set of people?' I realized I get to do it every other day of the week. That really stood out in my mind."
His growth and position in the orchestra has evolved from third seat to section leader. In his sophomore year, he became the principal of his section. However, he definitely had some growing pains.
"I would prioritize having fun with my friends in my section than learning the pieces and getting the section to be better," Jerry said. "By junior year, I saw the need to change my attitude by focusing and setting an example for the underclassman. I really started to take responsibility and started caring about my section. I made sure people in my section knew what they were doing."
His journey has evolved from playing music to creating it as well. He started by taking songs apart and analyzing the beat. Then, he started experimenting with making music in 6th grade, when he got his first DJ controller.
Now you can hear Jerry entertaining the crowds as he DJ's at lunch or works on mixes for the spirit rally or the Harker upper school dance production. He is proud of his journey and now makes and publishes his own songs.
"People started viewing me as a dedicated artist and a producer music," Jerry said. "People now come up to me when they need a mix in songs. It's really placed my mark in Harker. I want to be remembered for that guy who did music and made music. That's really all I want. Music has taught me more than just a melody, it has taught me perseverance, dedication, leadership and gratitude — and those lessons spill over into all aspects of my life."
He has taken this passion of learning, leadership, and serving outside the classroom.
As a member of BAYMS (Bay Area Youth Music Society) since third grade, where he plays at community centers twice a month to spread joy by sharing his talent.  He was one of the first 10-15 members of this large organization and now is section lead.
"It's a big commitment learning new songs and performing every other week — but one that I find rewarding and fulfilling," he said.
Constantly challenging himself — he is currently on the second round of auditions for the San Francisco Youth Symphony.
As for his future plans, Jerry wants to study computer science and engineering, but he definitely plans on joining an ensemble in college.
"Music is an outlet for my artistic creative freedom. I really want to retain music as a way for me to continue my path," Jerry said. "Music is my life."
About the Contributors
Anjay Saklecha, Senior Copy Editor
Anjay Saklecha (12) is the Senior Winged Post Copy Editor and Columnist. This is his fourth year on staff. He was the Copy Editor last year and former...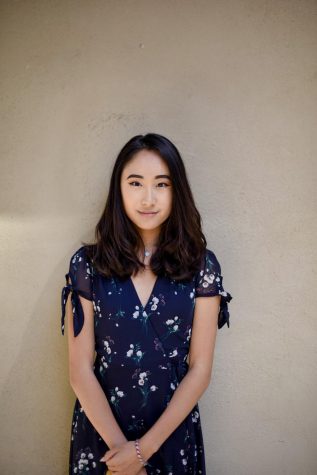 Kathy Fang, Editor-in-Chief
Kathy Fang (12) is the editor-in-chief of Harker Aquila. This is her fourth year on staff. From covering local marches and protests to initiating Harker...