Humans of Harker: By my own terms
Arohee Bhoja paves an individualistic path
With her Apple pencil leaving a final vibrant shade of orange, Arohee Bhoja (12) saves her abstract sunflower sticker to Procreate, updating her stock on Redbubble shortly afterwards. The other designs on her profile which meet her eyes consist of the same bold colors, a plethora of reds and pinks inside lovable shapes that derive inspiration from Glossier. Drawing has always been cathartic for Arohee, as she refuses to meet others expectations, but rather expresses her own creativity, which many have been drawn to as a result of her sticker shop.
Due to the pandemic granting Arohee free time, she was able to expand her passion for graphic design and calligraphy into making stickers. Her website, Stickers By Arohee, donates all her profits to the NAACP Legal Defense and Educational fund in an effort to repay her gratitude for the education she received as the daughter of immigrant parents.
"Everyone should have access to education. I've had access to good education my entire life, and it is something that I'll always be grateful for. Especially when you're younger, your education sets the foundation for your worldview, how you perceive things and how you interact with other people," Arohee said.
Although Arohee has outstanding talent in design, she doesn't allow it to become something she feels required to do. Through her time in high school and particularly through her experience in orchestra, her awareness of the expectations put on every student has increased, and she vows to treat art as solely a creative outlet.
"With a lot of things, especially in high school, there's a performative aspect, and most of the time that can be stressful and can put expectations on you. With art and calligraphy, though, I haven't had these expectations because it's been mostly just for me," Arohee said.
Her sister and close friend Arushee Bhoja ('19), a sophomore at New York University (NYU), admires Arohee for her decisive attitude. Despite being in college, Arushee's relationship with Arohee is still strong, and she appreciates being able to see these changes to her personality firsthand.
"She's a really passionate individual when it comes to what she cares about, and very opinionated. For example, if there's something she does not like, she will make that clear, yet if she does like it, she'll put her all into what she's doing," Arushee said. "That's definitely a trait that sets her apart from even college students I know."
The summer before her senior year, Arohee interned at University of San Francisco (UCSF), unaware of the benefits that would stem from her time there yet desiring to engage in another interest of hers: bioinformatics. She was invited to a conference to discuss her study of endometriosis, and in the following months, a paper reflecting on this project will be published. Albeit nervous, Arohee confesses her excitement towards having her passion for bioinformatics expanded into a real lab space during her time at UCSF.
"When I was a sophomore, I did a program at UCSF called AI4ALL, which is teaching underrepresented groups, such as people of color and women in STEM, about AI and bioinformatics. Since UCSF is primarily a medical institution, we applied informatics machine learning to problems in healthcare … It was really interesting, so that was a field that I could see myself pursuing further," Arohee said.
Arohee's determination to reach her goals without hesitation is reflected in her personality too. Her friend since freshman year Varsha Rammohan (12) praises Arohee's ability to stay true to herself, despite the intensity of senior year.
"She has this ability to completely be herself without any inhibitions. She's really not afraid to show her true personality regardless of who's around her and what situation she's in. Especially in high school, students usually want to find a way to fit in, but Arohee's made a mold for herself, even if it's different from what other people are doing," Varsha said.
Although Arohee carves out what she wants to do, there have been occasions where she's surprised herself, such as winning California Junior Classical League's Overall Academic award, which recognizes academic achievement in Latin and the classics on a state level, for three years in a row. Having typically participated in competitions and exams simply for the experience, Arohee expresses her surprise at placing first in many of them.
"Placing first in the state for my division definitely surprised me. I didn't think I was able to do that. Then in my freshman year, I scored the highest at Harker for a national etymology exam, and that's also really surprised me because, a lot of the time, academic competitions are a stab in the dark and you don't know what's going to happen," Arohee said.
These instances have encouraged Arohee to practice and pursue more hobbies, since, whether or not her efforts pay off in a first place medal, learning is never detrimental. Arohee vows to do something she is passionate about for her future, whether a current interest or something that will bud in the future.
"Most of all, my goal in life is to do something that I'm passionate about. I don't really care what it is. Right now, I want to go into something like bioinformatics, drug research, pharmacology, or medical research. If that changes, though, I don't really care, I want to do something that I care about," Arohee said.
About the Contributors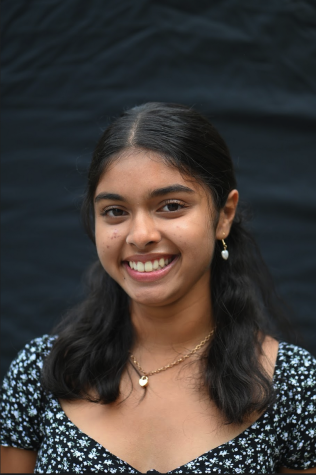 Lavanya Subramanian, TALON Co-Editor-in-Chief
Lavanya Subramanian (12) is the co-editor-in-chief of the TALON yearbook, and this is her fourth year on staff. This year, she looks forward to working...