Humans of Harker: Effort and expression
Alissa Gao focuses on their ability to perform
Reaching for the door handle with a welcoming smile one warm morning, Alissa Gao (12) pulls open the door to their backyard, their two dogs trotting close behind. The sun shining brightly on the back patio, they take a seat on the cushioned chair next to the table. With one dog directly next to them and the other around the corner, Alissa grabs their theater book, opens their laptop and gets to work.
"Performance is a very universal thing; you can do it in so many ways, and I think that every way is special and it communicates," Alissa said. "Communication is so important, especially now, and what better way to communicate than to force people to sit still for an hour and a half while you tell your story."
After moving between China and America throughout their childhood, Alissa finally settled in California when they were in seventh grade. Attending a new school in a completely different environment was a difficult experience to go through, and Alissa suffered from bullying. Despite their rough seventh grade year, the obstacles they faced ultimately led them to dabble in theater, which they decided to pursue at Harker the following year. 
"Theater saved my life. I want to write for it, I want to tech it, I want to perform on its stage, I want to direct its actors; I want to do everything for it. It has done so much for me, and I cannot help but use all of my creative power to try and give back to the institution," Alissa said.
Upper school theater teacher Jeffrey Draper, who has known Alissa since their freshman year, has watched them grow in both their acting skills and their personality.
"It's an honor to be able to watch the performers that I've worked with grow in their skills, but it's also great to watch young people grow into young adults, and [Alissa's] been impressive in the way that they've done both," Draper said. "The most notable thing I see in Alissa is a spontaneous, passionate energy. They are always engaging, always energetic, but when they're passionate and linked on to something, they're completely there, and give their all."
Alissa has acted in every upper school fall play and was selected as one of the Student Directed Showcase (SDS) directors this year. To best portray a character on stage, they study the character closely, using their mind to envision the character's emotional state. 
"I do a lot of exploration of the character, and I build the character from the inside out … maybe it's because of my interest in psychology, but I love exploring the inside first," Alissa said. "The second you switch into that mode where you're thinking about what happened to the character on stage, you really just feel the emotions of the character."
Alissa's interest in psychology stems from their own struggles when they moved to America. In going through this difficult time, they learned to prioritize not only focusing on themself, but also checking in with those around them. 
"One of the ways that you inspire people is by understanding them: understanding what works, and understanding what persuades them to reach their full potential," Alissa said. "I want to inspire [others] to take care of themselves and reach that height that I know that they can reach. Helping people gives me such a rush, so that's why I delved into psychology." 
Close friend Alex Kumar (12) noted their ability to reach out and communicate with others. As a naturally outgoing person, they developed many meaningful relationships with others. 
"[Alissa is] outgoing … and comfortable in front of people," Alex said. "Just talking with them is engaging. They're the kind of person that draw people out of their comfort zone and help them make connections."
In addition to performing in plays, Alissa also participates in Harker's speech and debate program. They were introduced to public speaking in their freshman year, when members of the Gender and Sexuality Alliance (GSA) asked them to speak to the upper school student body about their bisexuality for National Coming Out Day. The positive feedback from Alissa's speech freshman year motivated them to try public speaking and participate in speech and debate. 
"[Speaking at National Coming Out Day] was such a new experience, and I think that's what made me fall in love with performance even more than I was," Alissa said. "It's really empowering to know that your story can help people, especially because it was such a personal topic. My story was what inspired other people, and for me, that's all I could ask for."
Close friend Michelle Ning (12), who has known Alissa since eighth grade, recognizes how hardworking Alissa is in each activity they participate in and complimented their persistence.  
"You put anything in front of them, and they will do it to the best of their ability, and they will probably do it better than anyone you've ever seen do it," Michelle said. "They're just that type of person; once they put their mind to something, they will see it through." 
Between performing arts, speech and other extracurriculars, Alissa strives to put effort into everything they do. They proudly use high school as a time to explore different hobbies and succeed in finding their true passions.
"Anyone could be able to tell that I am one person that does want to try everything. High school, for me, is a chance to expand your horizons," Alissa said. "If I want to leave behind any legacy, it would be [to] try new things. I want to be known as the person who tried everything until they found something that worked, and it did."
About the Contributor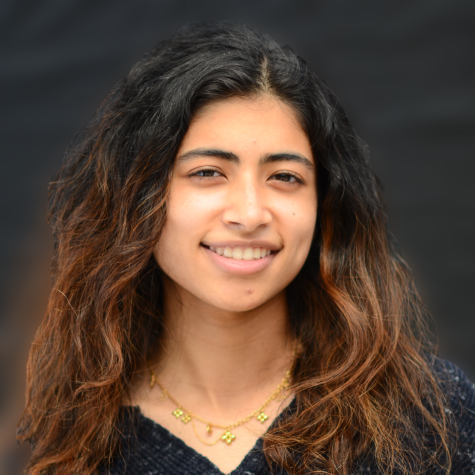 Anika Mani, TALON Co-Editor-in-Chief
Anika Mani (12) is the co-editor-in-chief of the TALON Yearbook, and this is her third year on staff. She enjoys traveling the world, trying out new restaurants...