"Remixed and Reimagined": Students and faculty prepare for the annual dance production
The stage lights up in a purple hue, silhouetting a group of dancers in the background. They pose as the music begins, before gracefully leaping towards the audience during Thursday's dress rehearsal.
The upper school will present its ninth annual dance show tomorrow at 7:30 p.m. and Saturday at 2 and 7:30 p.m. in the Rothschild Performing Arts Center. 175 students will perform in the production, with 25 dances, eight of which are student choreographed. This will be the second time the production is held in the performing arts center.. 
The theme this year was "Remixed and Reimagined," and the first half of the show focuses on remixing, while the second focuses on reimagining. All dances in the first act are accompanied by remixes of an original song, and the second act contains "reimagined" styles of songs, which include covers, acoustic versions and mashups.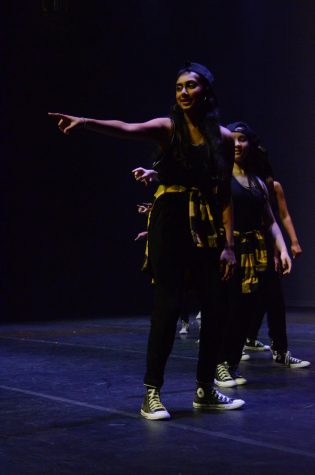 "I selected [this theme] because I think it allows for a variety of music, especially popular music," said Karl Kuehn, director of the show and upper school dance teacher. "Remixed and reimagined is more general and allows for choreographers to have free range for the music, as long as it's a remix or cover or interpretation."
Dancers have been rehearsing since the fall, when they were placed into routines based on their schedules and their performances at the audition on Sept. 14. The week before the show, students attended three hour rehearsals to prepare for the show.
Many new students to Harker are participating in the show.
"I'm enjoying it a lot," said Paulina Gicqueau (9), a new student to Harker. "I'm very happy with the dance that I'm in and the people that I've met.  I really like the environment they have." 
Some students are both performers and choreographers for the show. Choreographers need to choose costumes, props and stage designs. Sometimes it is difficult to get everything to work, but these details can add a finish touch to both individual dances and the entire show.
"[The costume] needs to fit the style of the dance and the movement. But it also needs to be in stock, it needs to be able to ship over in time, and it needs to be able to fit everyone in the dance. It also has to look good on everybody," said Haun.
Choreography class, an elective option, is taught by Rachelle Haun, upper school dance teacher. Students planning to choreograph a dance in the production are required to take this class. The elective was created nine years ago, in order to teach students to learn how to choreograph, which is a key part of dancing. Students would learn about other choreographers and analyze their tactics.
"We look at all the different things: we look at phrasing and the shape of the dance, we look at different ways to create meaning for dance and the importance of themes," Haun said.
Vance Hirota (12) has been dancing at Harker for 12 years now, and he choreographed a routine for both last year's and this year's productions. He took the choreography elective when he was a junior, which had a huge impact on his future in dance.
"I dance because I like being able to express myself through something that's not words, and [it gives me] an opportunity to showcase something I'm really passionate about," said Vance. "What drives me to choreograph is learning about new techniques and strategies because there's always something to improve on."
The eight student choreographers are seniors Anna Miner, Emiko Armstrong, Charlotte Blanc, Chloe Chen, Kai Ming Ang and Vance Hirota and juniors Kristin Tong and Zoe Kister.
In addition to the student routines, there will be one faculty routine. The faculty performers are Director of Alumni Relations Kristina Alaniz, upper school English teacher Christopher Hurshman, Assistant to the Dean of Student Affairs Amy Hauck, French teacher Agnes Pommier, vocal teacher Jennifer Sandusky, nurse Clare Elchert, history teacher Carol Green, Assistant to the Head of the Upper School Lori Villarreal, upper school Director of Learning, Innovation and Design Diane Main, Administrative Services Receptionist Luanne Stanley and Administrative Services Receptionist and Preschool to Grade 12 Director of Learning, Innovation and Design Liz Brumbaugh.
Tickets to the dance show are available at tiny.cc/danceshow2020.
Correction: A previous version of this article misidentified Zoe Kister (11) in the photo and incorrectly listed the student choreographers. The article has been updated to reflect these errors.