Soccer players sign letters of intent
Seniors Kailee Gifford, Joelle Anderson and Lyndsey Mitchell each signed official contracts to play for college soccer programs Feb 1.
Kailee signed to University of California Berkeley and will play for the Bears this fall.
"I fell in love with [soccer] 14 years ago, and not once have I regretted it, not even for a second," she said in a Facebook post this afternoon. "Thank you to everyone who has helped me turn this dream into reality, I am blessed beyond measure."  
Also staying in California, Joelle will play at Pepperdine University. She has played on the girls soccer team for the Upper School the past four years and looks forward to continue building her soccer skills. Outside of Harker, she has trained and played for an outside club.
"I'm very excited to start a new journey in the fall at Pepperdine, and I'm really excited to meet my new teammates and get to know them," Joelle said.
She sees college soccer as the next step in her soccer career.
"I hope to maybe play professional soccer when I'm done with college, so that's my main goal, but if not, I just hope I can continue to play soccer after college," she said.
Lyndsey will play at Nebraska Wesleyan University as a Prairie Wolf this fall. She has also played for Harker for the past four years, and additionally, plays outside club soccer too.
"I hope to have a lot of fun and meet new friends in college through soccer and I want to learn new skills. I think I can develop new skills in college soccer because it is a whole new level," Lindsey said.
She hopes her college coaching staff will facilitate her development.
"I'm really excited because the coaching is really specific to your position, and I'm really excited for that because I like developing my defending skills and my attacking skills separately and really focusing in separately on them," she said.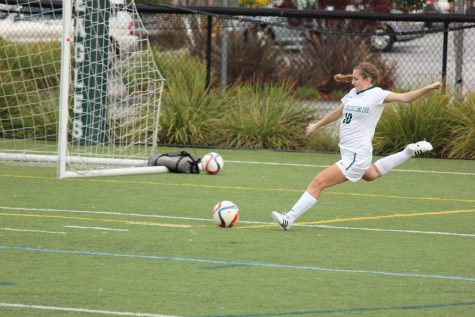 All three players will play their first college seasons this upcoming fall.
This piece was originally published in the pages of The Winged Post on February 21, 2017.