Varsity soccer games recap: week of 1/12
Boys soccer
Varsity boys' soccer team played two games this week.
On Monday, January 11, the Eagles won Monday's away conference game against Crystal Springs Uplands by a score of 4-2. Senior Omar Hamade continues to lead with the most goals this season, scoring both goals this game.
On Wednesday, the boys played against Menlo in a tough match, losing 0-3. Menlo Knights scored all 3 goals in the second half of the game. However, even after a tough loss, the boys continue to look forward to upcoming games with positive spirit.
The Eagles' overall record is 4-2-1 in the regular season, and they play their next conference game against Eastside College Prep on Wednesday, Jan. 20.
Girls soccer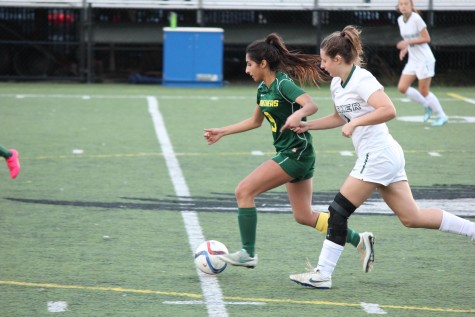 Ashley Jiang
The varsity girls soccer team lost to Sacred Heart Prep at an away game on Tuesday, Jan. 12. The final score was 8-0, with Sacred Heart in the lead.
Co-captain Anuva Mittal (11) reflected on her team's performance during the game even though they lost.
"The team that we played was definitely a lot tougher competition than last time because they had one national team player and then three very top club players so it was a hard match, but I think we held it strong the first half [and] we played well," she said. "In the next few years, hopefully the team will get better as they develop more skills."
The varsity girls soccer team lost 2-1 to Castilleja on Jan. 14 at an away game.
In the first half, Castilleja scored two goals; in the second half, Harker was able to score a goal, bringing the score up to a 2-1 with Castilleja in the lead.
The team will play against Notre Dame today in a home game at 3:30 p.m.