Humans of Harker: Engineering dreams
Grant Sims launches into worlds of learning and collaboration
Launching rovers to Mars is always a tense process for NASA, and some of the most critical moments are those just before the rover touches down. When NASA sends the rover its last commands before landing, the "seven minutes of terror" begin. In these seven minutes, the team operating the rover can only hope for the best.
Grant Sims (12) remembers observing his screen intently in February of 2021, anxiously awaiting updates on the new Perseverance rover. When the NASA scientists deemed the rover's landing successful, Grant couldn't help but feel a vicarious sense of joy and relief wash over him.
Grant has always harbored a keen interest for engineering, which, after Grant watched the movie "Apollo 13," combined with a burgeoning passion for aerospace. When Grant later watched a YouTuber attempt to design a model rocket that would land automatically, he felt inspired to construct a rocket of his own, improving upon the previous endeavor. 
Yet, building the rocket wasn't easy. Grant first learned how to use computer-aided design (CAD) to design the rocket. After with 3D-printing its body, he also installed many electronic components into the rocket. But the greatest challenge he faced was with the software. While previous attempts used a stricter formula-based approach, Grant aimed to employ a more flexible machine learning solution, and to accomplish this feat, he spent hours teaching himself the basics of machine learning. For Grant, this proved to be one of the most enjoyable and significant aspects of the project. 
"It's been a lot of fun," Grant said. "This journey, teaching myself machine learning, has opened up for me in terms of opportunities and new ideas to explore."
Despite facing such difficult challenges, Grant's unwavering perseverance paired with his interest in aerospace engineering drove him to carry the project to the finish line. Though Grant steadily became more busy as his high school years progressed, he always found time to continue learning and tinkering. 
"It's Grant's passion," close friend Robert Zhang (12) said. "Sometimes, I'll see him working at 3 a.m. for no reason except to work on some aerospace project because he really wants to finish it."
Grant acknowledges that failure is the first step to success: he has yet to test his rocket, whose body and electrical components could potentially break in the launching process. But what Grant believes is most important — and what he cherishes the most — are the experience and new knowledge he has gained from the project.
"I expect the rocket to break on the first try," Grant said. "But with projects like these, the final test is just something at the end you do to see if it works. The main takeaway is the experience of building it. If it lands, that's wonderful, but if it doesn't, everything I've learned from the project is still there."
Upper school computer science and physics teacher Dr. Eric Nelson witnessed firsthand how Grant's dedication and experience tackling technical projects helped him go above and beyond in his Neural Networks semester project. 
"He managed to complete the semester project, but the big thing was that he did more than just what everybody else did," Dr. Nelson said. "He did the extra piece which he had to figure out on his own."
As Grant delved into engineering, he realized that through collaborating with fellow aerospace enthusiasts, he could contribute to larger-scale projects. In his sophomore year, Grant began working for the NASA Langley Research Center, helping them expedite complex computations. He found another type of joy in connecting with his colleagues while pursuing a shared goal.
"It's great to be able to be a part of that team," Grant said. "Everybody's supporting each other and helping each other. There's a sense of camaraderie: we're all working on this project together. It's a great experience to be able to connect with these people and work with them."
Grant takes these lessons learned and imparts them onto his peers, openly sharing his own knowledge and experiences in engineering. Whenever his friends need support, Grant never hesitates to lend his time to offer them guidance.
"Grant really likes helping," close friend Johnathan Mo (12) said. "If I ever had questions about physics, I remember he would sit down and try to do the same problem. That was really helpful."
Fueled by his curiosity, Grant propels himself forward as he continues to explore the realm of aerospace engineering. With his determination and drive, he launches himself and his community to new heights.
About the Contributors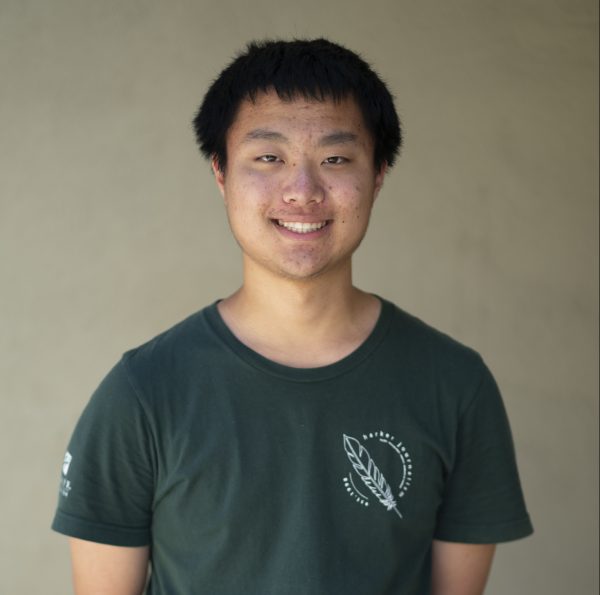 Andrew Liang, Co-News Editor
Andrew Liang (11) is the co-news editor for Harker Aquila and the Winged Post, and this is his third year on staff. This year, Andrew wishes to consistently...
Alena Suleiman, Aquila Co-Editor-in-Chief
Alena Suleiman (12) is the co-editor-in-chief of Harker Aquila, and this is her fourth year on staff. Alena wishes to interact with new people and work...