Humans of Harker: Symphony of colors
Avery Olson discovers herself through art
A white sailboat rests atop a tranquil sea, its reflection shimmering on the dark navy surface. Behind it lies an island with lush green hills, on top of which sit white houses with bright red rooftops. The entire bay settles below a clear blue sky, peppered with the texture of a paintbrush and a stroke of a rainbow. You are looking at one of Avery Olson's (12) acrylic paintings. This one in particular features a scene inspired by a photograph taken during a family trip to the U.S. Virgin Islands.
Avery began her journey as an artist in kindergarten and has continued ever since. In middle school, she experimented with various art forms, including ceramics, while maintaining a focus on her preferred mediums of drawing and painting. In addition to creating her own artwork, she also appreciates and draws inspiration from the works of other artists.
"I really like art as a creative outlet," Avery said. "I'm a very visual learner, so I think that also contributes to it. Even when not doing [art] myself, I like looking at it, like visiting art museums. Learning to do it myself, I feel like I can appreciate the work that other people put in."
Avery's garage functions as her studio, housing her paints, brushes, canvases and workstation. After sitting down at her desk and pressing play on her new favorite song, she doesn't begin painting straight away. Rather, she takes a few minutes to mentally adjust to her new project before settling into the piece. Once she does, her brushstrokes come naturally.
"If it's a blank canvas in front of me, I always feel a little bit anxious to start, but then once I get started, it flows and keeps going and becomes much easier," Avery said. "It's just getting over the hump to get started. Then, it feels easy and relaxing."
For most of her works, Avery draws inspiration from her own life and uses her own photo references, as she did for her painting of Saint John. Her simple yet intentional art style reflects her intimacy with the subjects she chooses, each one carrying a special significance. 
"I like to use personal references, like personal experiences and memories, throughout tons of projects," Avery said. "I've used pictures from my trip to New York with my sister [and] other family trips, like Saint John. For one project, I used my dog as my reference for screen printing."
Although Avery initially took the printmaking elective in her junior year because Advanced Drawing did not fit into her schedule, she gradually grew more comfortable with the new medium and found ways to incorporate her personal style into her work. For instance, she used the photo of her sister in New York as a reference for a relief print, a form of printmaking that prints negative space around subjects rather than the subjects themselves.  
Upper school visual arts teacher Pilar Aguero-Esparza observed Avery's growth, specifically in the printmaking class, as Avery navigated unfamiliar challenges. At the same time, Aguero-Esparza knew that Avery's previously acquired strengths, such as her patience and attention to detail, would prove to be valuable assets for printmaking. Along with these traits, Aguero-Esparza hopes that Avery maintains her individuality in both her art and her life.
"[Avery's works] are more everyday," Aguero-Esparza said. "They're personal. They're quiet, so they remind me of Avery. They're authentically hers. That's something that's continued for her. She's not a showy person. She's a fun, creative person, but it's always within. It's always something that's close to home."
Like most artists, Avery frequents art museums around the country, admiring the range of talent on display. Afterwards, she sometimes applies techniques from other artists' works to her own pieces, expanding and improving upon her own skills.
"In Claude Monet's 'Water Lilies,' there are lots of dark purples, blues and greens, and I really liked using those colors," Avery said. "That's something I've also been able to explore in the [AP 2D Art and Design] class — the use of color. It's been fun to look at different artists and see how they use color and integrate that into my own works."
Her close friends, such as Anja Ree (12), noted how Avery's creativity seeped into her other passions, whether it be opening a Disney-themed social media account or curating a video compilation of Spirit Week memories. Anja, also an avid Disney fan, admires Avery's positivity towards those around her.
"When she made [the Disney Instagram account], we all thought it was so cool," Anja said. "She does these vlogs and she expands creatively and in all sorts of different directions. She's also a very positive person. Whenever one of us is feeling down or has a big test, she's always like, 'It's okay, you're gonna do great.' She's always that positive voice for us."
Avery doesn't compartmentalize her interests, but rather seamlessly incorporates them into her art. For instance, she centered one of her recent projects around the impact of music, which she listens to while working in her garage and at concerts.  
"I want to be able to express my connection to make it more personal in that way, so one of my questions [for the project] was about the emotions I feel through listening to songs, using colors and shapes to evoke what I'm feeling when I listen to music," Avery said.
Even though she thrives in both the quiet of her garage and the thrill of a concert stadium, Avery values the time she spends with those close to her. Good listeners put her most at ease. She exhibits this trait herself, much to the gratitude of her friends. 
"It's really hard to find a good friend who's also a really good listener," close friend Vasudha Subramanian (12) said. "Even if she doesn't relate to what you're going through or your problems, she'll still be able to help you with it somehow, which is a really great strength of hers. She can really connect with you and make you feel included and welcomed."
Avery has found that her creative outlets contribute to her empathetic nature. Dancing at concerts, painting at her easel or visiting museums with family and friends allow her to open a part of herself to the world. 
"Art classes create a community with other artists," Avery said. "It's much easier for me to talk and be more outgoing when I'm talking about something I'm passionate about. Even when we're working on projects, everyone's talking or having conversations. Looking at art also starts conversations. It's a way to start talking."
About the Contributor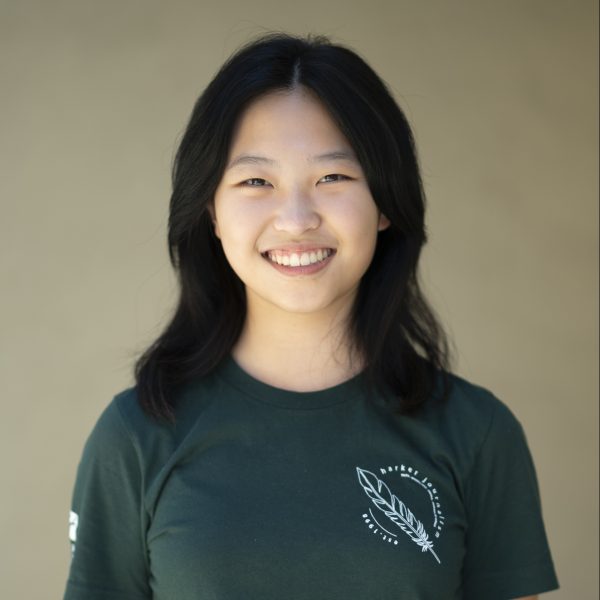 Desiree Luo, Aquila Co-Managing Editor
Desiree Luo (12) is a co-managing editor for Harker Aquila, and this is her fourth year on staff. This year, Desiree hopes to interview new sources and...