Class of 2015 holds foosball tournament
The newly-elected Class of 2015 Treasurer Nikhil Reddy announced that the first-ever Varsity Foosball Tournament will be held towards the end of this school year.
Though foosball is not traditionally considered a high school sport, it is becoming an increasingly popular hobby. The International Table Soccer Federation (ITSF) holds an annual foosball tournament, in which teams from across the world compete against each other.
The idea for a Foosball Tournament originated from Class of 2015 Secretary Jason Jeong (11).
He came up with the suggestion after planning on starting a Varsity Foosball Club with Nikhil for the upcoming school year.
"There's something really special about foosing with everyone and getting a huge crowd," Nikhil said. "I can't explain the feeling, but it's almost like you have the whole class behind your back and it's an intense battle with your really good friends."
The tournament will follow a "bracket-style doubles single elimination event." Students are expected to choose their teammates and team names prior to the game. The winning team will earn a $20 gift card to a store of its choice. Additional rules entail: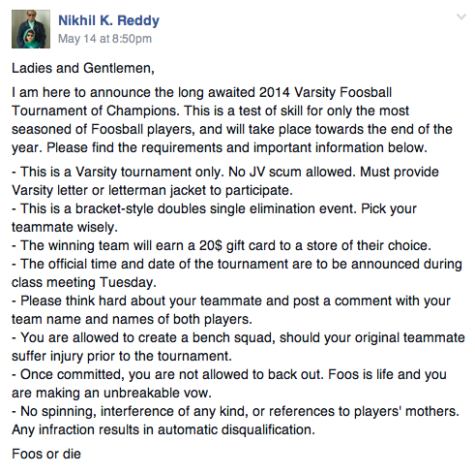 Many students enjoy playing foosball and take advantage of the foosball table located in Shah, where most juniors spend their free time.
"I think that everyone enjoyed the competition before the creation of the tournament but now it's time to decide which dynamic duo or team in this case is the best and this tournament allows just that," participant Brandon Aguilar (11) said. "Foosball brought people in the class closer together and helped us bond in a way."
The official time and date of the games will be announced during the next class meeting on Tuesday.
About the Contributors
Shannon Su, Harker Aquila Managing Editor & Executive News Director
Shannon Su is the Managing Editor and Executive News Director of Harker Aquila. She joined the program as a reporter her freshman year and has held many...