Humans of Harker: Dress to express
Charlie Molin analyzes culture through creation
"Hey, I'm still waiting for one of those shirts," someone shouts from across the hallway at the tall figure walking down the hallway.
He laughs, looking back over the shoulder of his bleach-stained black sweatshirt. "Okay," he replies, eyes squeezed in a smile. Even a year after its closing, clothing from his brand are still in demand.
Charlie Molin (12) wears many hats: captain of the volleyball team, photographer, clothing designer.
"Charlie is an experimenter," said visual arts teacher Joshua Martinez, demeanor pensive, reflective, even a bit melancholy as he reflects back on the student he's had since freshman year. "Everything I've seen Charlie do has been a product of him being willing to try stuff out that he has no idea whether or not it's going to work."
"I think creatively, at least, he's a very collaborative person," Charlie's friend of thirteen years, Andrew Skrobak (12) said. "And as a person…I don't know how to describe him. He's kind of hard to figure out."
Creativity is definitely something that characterizes Charlie. His interest in photography began in the strangest of places: a trip to the zoo with his family. There was an old camera Charlie's family used on trips, which they also brought to this particular trip.
"I asked my parents if I [could] use it, and from then on, I got really interested in documenting the things around me," Charlie said.
Storytelling, as Charlie describes it, is something that intrigues him both within his daily life and within his artistic practices.
"Definitely storytelling is one of the main things I find interesting with photography, because I like making certain photo albums of specific events, and just kind of keeping that for myself to look back on," he said.
In that sense, Charlie doesn't limit himself to photography. One of the things that characterizes his artistic practices is his use of many different mediums, often at the same time. Whether it's painting on photographs or combining photography and fashion, Charlie isn't afraid to blur the lines between art for the sake of storytelling.
"I think the success of Charlie so far has been his willingness to be okay with that, and then to let the final product be part of the learning process," Martinez said.
The philosophy carries over into his clothing.
"I think there are a lot of consistencies with how he functions as an artist and how he is as a person," Andrew said. "His art informs who he is as a person, and I think you can find parallels."
Charlie's fascination with fashion and clothing began in middle school, when he discovered Pink Dolphin, a brand that uses pop art in many of its designs.
"That's kind of that brand got me really into fashion, and I guess since there my sense of style, what I'm interested in, kind of grew from there," Charlie said.
The "DIY mindset," as Charlie describes it, is very appealing to him, the idea of making something completely unique to yourself and tailored to your style threw Charlie into the fashion world.
"I think it's just cool, because no one else will be able to have the same thing that you're wearing…like everything you wear, it'll be completely unique. You won't be able to find it somewhere else," Charlie said. "I don't know what it is about that, but it's just that,
I guess, not really exclusivity, but just being able to express yourself in a way like no one else will be able to is something that's cool."
And then, two years ago, Charlie began, for whatever reason, making his own clothes.
"I was just really into that idea of making clothing that I thought was really cool and being able to share that with everyone else."
The interest cultivated organically, transitioning from cutting apart and piecing together clothes he got from thrift stores to full on silk-screen printing his own designs and cutting his own patterns. In sophomore year, the inklings of an idea for a clothing business as an outlet for him to express himself began to form.
With this idea, however, came the challenge of figuring out how to orchestrate not only the business, but the making of the clothing. It began with the research, buying the clothing wholesale, finding someone to silk screen print the designs. However, though a lot of trial and error, Charlie eventually succeeded in setting up his shop online and rolling out his products. It was a lot of work, but, in Charlie's opinion, worth it for the experience.
"A lot of these different factors I hadn't thought about before was stuff that helped me," Charlie said. "So it just gave me a lot more experience about what kind of stuff goes on in that industry."
Martinez commends his ability to persist and regards his drive and commitment to creativity as one of the key factors of his success.
"He's always been doing stuff on his own, which I think is another strength of his, that he's not just waiting for the assignment or time in class to work on something," Martinez said. "He's working on it at home, like building silk screening setups in his living room or over the summer going to LA and working as an intern for different clothing brands, like he's gonna do it even if there's no academic space to do it."
Much of Charlie's influence for fashion comes from recontextualizing designs and the juxtaposition of certain graphic designs. He draws much of his inspiration from other artists, for example, he'll be scrolling through Instagram, see something that he likes, and then save it for future reference.
"I think it's a good thing that he can take inspiration, and then, ultimately, motivation, from these super established fashion houses or designers and kind of create his own spin off and find his own voice for the direction of what the culture is doing," Andrew said. "I think he's just really interested in the inner interconnections of culture."
Andrew, who often works with Charlie in a creative environment, speaks on his ability to construct a vision and execute it.
"He's not afraid to give his own direction, and he's also willing to admit when he's wrong," Andrew said. "I think when need be he can take control of what he wants and execute."
Despite the sometimes nerve-wrackingly long periods of time it takes for Charlie to complete a piece, a product of the time-consuming art of producing clothing, Charlie always ends up stitching together the pieces of his imagination to create something unique and incredible.
"I think on his end, he's sort of like polishing these little moments of inspiration," Martinez said.
When asked what fuels Charlie's art, Martinez commented on Charlie's curiosity and interest in culture.
"I think it's curiosity," Martinez said. "I think that he sees things happening in culture and looks for ways to possess them from his point of view, and so just simply being willing to kind of go from the position of what ifm and then not worry so much about the destination has yielded some really cool results and it will continue to do so as he goes on, if he can maintain that willingness to not totally be defined in the moment of creation, he will surprise himself."
So back to that moment in the hallway. It's April, and in the lower corner of Shah lies Charlie's newest clothes exhibit, Bleach, Dye, and Silk Screening. He's wearing the same bleach-spotted sweatshirt he'd dubbed his favorite just a few months earlier. It's something so simple, just a black hoodie he thrifted a while back, and subsequently proceeded to pour bleach all over it.
"I just wanted to do something different with it," Charlie said. "I didn't really care if I messed it up at that point, because that's kind of what experience is about, you know, you just have to go for it sometimes."
About the Contributor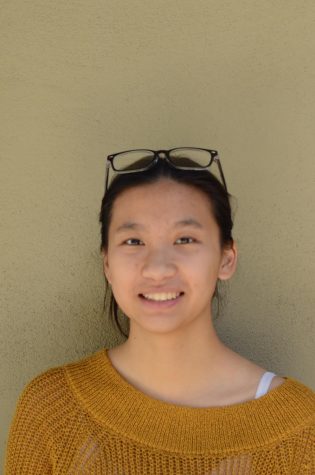 Nina Gee, Winged Post Managing Editor
Nina Gee (12) is the co-design editor for the Winged Post. This is her fourth year on the Harker Journalism staff. An aspiring filmmaker and avid storyteller,...