'Repair, restore and renew America': Presidential candidate Marianne Williamson brings her vision to the Bay Area
Over 300 people gathered for a town hall meeting in the restaurant and community space Manny's in San Francisco on Thursday night. Some of the people fanned themselves with navy and pink "Marianne 2020" posters. Some had brought copies of Marianne Williamson's books. Others wore bright pink hats inscribed with the Democratic presidential candidate's name. All waited in anticipation of hearing Williamson speak at her first town hall in San Francisco thus far in her campaign.
When Williamson entered the room, the audience erupted in cheers. For the next 45 minutes, the self-help author, activist and spiritual advisor to Oprah Winfrey spoke about her vision to "repair, restore and renew America" to the San Francisco crowd.
While Williamson polled at close to one percent on RealClearPolitics.com this morning, which is below the two percent in four polls required to qualify for the third Democratic debate, the room overflowed with people. While Williamson lacks political experience compared to the other Democratic candidates and has been criticized for her previous stances on anti-vaccination, her emphasis on love and spirituality resonated with many across the nation, and in last night's crowd.
Many in the audience cheered when she spoke on eradicating the country's "darkness," namely racism, sexism, xenophobia and the like.
"You can't hit darkness with a baseball bat and expect to get rid of the darkness," she said. "You have to turn on the light. […] You have to drown it out with a more powerful song. It's not just a matter of we will do this with this policy or that with that policy, as important as those issues are."
Under the "Issues" tab of Williamson's campaign website are the words "The Issues Aren't Always the Issue." The candidate has said in previous Democratic presidential debates that policies and plans are not enough to heal the nation, but rather the moral fiber of the nation must change. In San Francisco, Williamson called for the public to "wake up" by being politically involved.
"Not only do you have to wake up in order to elect a Democrat, not only do you really have to wake up to elect me, you have to wake up and stay awake," she said.
Her message extended to high school students as well. In an interview with Harker Aquila after the event, she urged high school students to become informed and engage with the election, whether it be through voting or volunteering.
"Learn. Read. Listen to the candidates, read up on the issues and then listen to your heart and do what you think is best in America," she said.
The issues she did speak about at the event included reparations, creating a Department of Peace and reforming campaign finance. During the second Democratic presidential debate hosted by CNN on July 30, Williamson pledged $200 to $500 million dollars to paying reparations if she were elected president. In the same debate, she called any amount less than $100 million "an insult" to African Americans.
Following the second presidential debate, Williamson gained over 8,000 new followers on Twitter, bringing her to a total of 2.7 million followers. In comparison, frontrunner Sen. Elizabeth Warren of Massachusetts has 2.9 million followers. From Twitter, Williamson often reinforces her idea of combining spiritual morality with policy surrounding immigration or the economy.
"There's a saying that every problem comes bearing its own solution & that's true of America today," Williamson tweeted. "We'll heal by aligning our economics, domestic & international policies with an ethical core."
Williamson's stance on reparations appealed to attendee Horace Thomas, who supports both Democratic candidates Kirsten Gillibrand and Williamson for their stances on reparations. On her campaign website, Gillibrand pledges to establish a congressional committee dedicated to studying the implementation of reparations.
"She spoke wonderfully on bringing people together, you know, unity and justice for all," he said.
Williamson also spoke extensively on social justice for Native Americans, speaking out against the Keystone Pipeline in South Dakota and other infringements on native land. As president, Williamson promised to strengthen tribal self-governance by allocating more funds to tribal infrastructure and education.
"You can't have the future if you aren't willing to clean the past," she said. "That's why we have to deal with this in terms of race. We also have to deal with it in terms of Native American justice."
Williamson's vision of a new America also includes improved conditions for children by addressing chronic trauma and investing in education. To that end, she proposed instituting a Department of Children and Youth targeting problems faced by children in areas ranging from job preparation to a reformed juvenile system. Williamson's campaign first released the plan for a Department of Children and Youth on July 28, calling for the agency to work interdepartmentally with all of the "different government entities" that affect children's lives.
In terms of foreign policy, Williamson advocated for creating a federal division called the Department of Peace, focused on international development, mediation and aid.
"Our national security program should be a robust partnership, a far more robust partnership between our defense and our people," she said.
Williamson also emphasized the need for public funding of federal campaigns and reforming the current campaign finance system. Being less than 5,000 individual donors short from the 130,000 donor threshold, Williamson herself has yet to qualify for the third Democratic presidential debate, though she gained popularity from the first two debates. After the second presidential debate, Williamson became the most Googled presidential candidate in 49 states.
At this point, the majority of Williamson's campaign donations come from small individual contributions. Although Williamson's lack of political experience could be seen as a disadvantage in the larger presidential runoff, supporter Brenda Kelley appreciates Williamson's outsider perspective. She hopes that Williamson would qualify for the third debate without relying on large donations.
"I want her to prove by what she's doing that we don't have to have this expensive system that drains money away from what we need, and what we need to do is just believe in the people," she said. "If she can do it, then we all can do it after she gets elected."
Williamson's next stops on the campaign trail are in Scotts Valley tonight and Santa Barbara tomorrow. On Wednesday, she appeared at the East Bay Church of Religious Science in Oakland. Her campaign's California state director Steven Band believed that her reception last night boded well for future events in the state.
"We would love to do SF again," he said in an interview with Harker Aquila. "Seeing how much enthusiasm and support we have, we know we're coming back to SF."
Williamson will return to San Francisco on Aug. 23 to speak at the First Unitarian Universalist Church of San Francisco. The link to sign up for the event went live on her campaign website today.
About the Contributor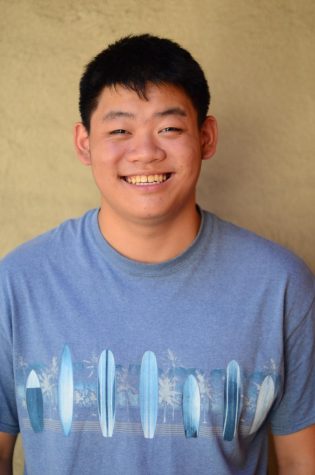 Eric Fang, Winged Post Editor in Chief
Eric Fang (12) is the co-editor in chief of the Winged Post. This is his fourth year in Harker Journalism, and he hopes to hone his skills as both a writer...