NBA season to resume on July 30
It's back. After being on hiatus for five seemingly endless months, the NBA is set to return on Thursday at the Walt Disney World Complex in Orlando, Florida, after the 2019 – 2020 season was suspended on March 11 due to the coronavirus. 
The 22 teams participating will play eight games each to complete the regular season and determine playoff seeding. Afterwards, the playoffs will be held in the normal best-of-seven game series format, starting on Aug. 17 and ending on Oct. 13. The schedule for the remainder of the season can be found here.
As outlined in the 100-page document the league sent to players, the NBA has developed a series of protocols for testing and maintaining player safety within the so-called "NBA Bubble." As soon as players arrived in Orlando, they were forced to quarantine in their hotel rooms for more than a day and test negative for COVID-19 twice. 
Throughout the remainder of the season, players will be tested regularly and are not allowed to enter other players' hotel rooms. Players who test positive will be forced to stay in a separate isolated location. These players can return to play in full capacity if they obtain consecutive negative tests after testing positive. Earlier this morning, the NBA league and players' union announced that no players have tested positive for coronavirus since July 20.
"I'm super excited that the NBA is back, and it'll be interesting to see if the new environment affects the players' game," said Gigi Chan (11), an avid NBA fan and a member of the girls varsity basketball team. "But most importantly I'm glad that the league is taking proper measures to keep players and fans safe."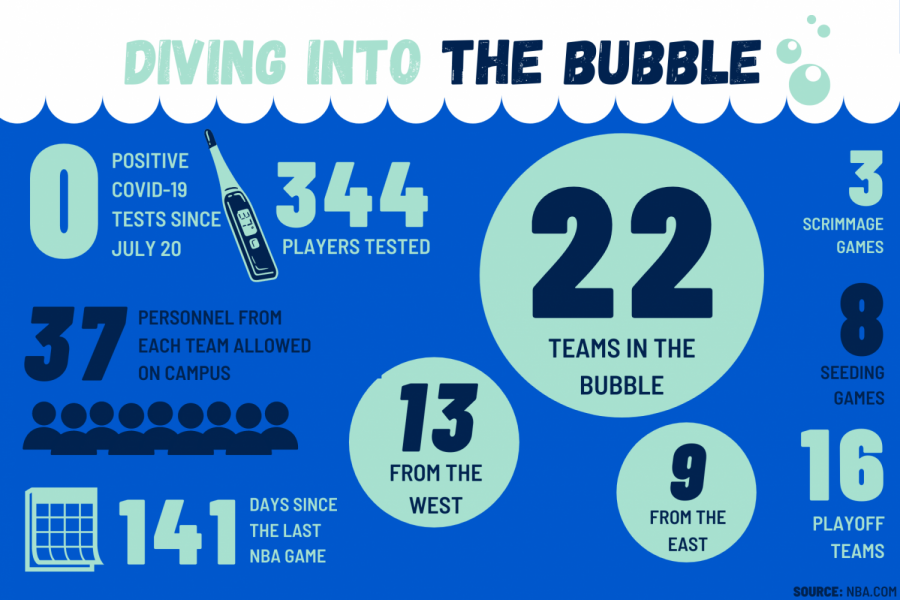 Games will be played without fans, and face masks will be required. Players are not required to go to Orlando, and many have opted out due to concerns about safety or social justice. Those who have been prohibited from playing due to health concerns will be compensated; however, players who voluntarily opt out will not be paid for any missed games. 
Among these players are Indiana Pacers point guard Victor Oladipo and Brooklyn Nets center DeAndre Jordan, who have opted out because of concerns over injuries and COVID-19, and Nets point guard , who has opted out due to his belief that basketball will interfere with the Black Lives Matter movement.
Inside the bubble, players will have access to various forms of entertainment, and facilities such as barber shops will be available to address personal needs. Many players have taken to activities such as fishing, cornhole, and golfing to pass time, and some, most notably Matisse Thybulle and JaVale McGee, have even begun vlogging their bubble adventures on their personal Youtube channels.
"It's cool that they have decided to start the season again," said Matthew Chen (10), a member of the varsity boys basketball team. "It will be weird not seeing anyone in the stands. There won't be as much energy, but I'm happy I can watch basketball." 
Teams will retain their records from March, with the Milwaukee Bucks residing at the top of the Eastern Conference and the Los Angeles Lakers atop the West. Six teams will be eliminated after the initial eight game stretch, leaving eight teams in each conference for the playoffs, as usual. 
If less than four games separate the eight and ninth seed in either conference following the completion of the regular season, the two teams will compete in a play-in tournament for the last playoff spot.
Games will kick off at 3:30 p.m. tomorrow with the Utah Jazz facing off against the New Orleans Pelicans. Then, at 6:00 p.m, the Los Angeles Clippers and Lakers will battle it out to close out the NBA restart's opening night. Fans will soon see whether their teams will be able to pick up where they left off three months ago.