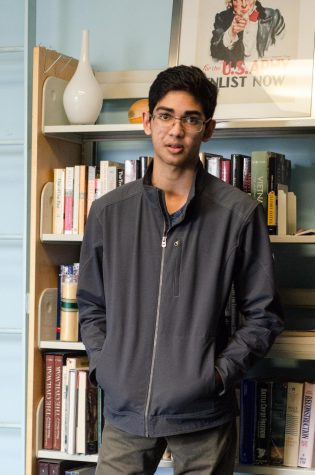 by Sara Yen, Asst. Features Editor

January 28, 2019

Filed under Class of 2019, Humans of Harker, Online Exclusive
What makes a leaf a leaf? How can you be sure that a green, organic structure hanging from a plant is indeed a leaf? On a rainy Friday afternoon in Dobbins, Logan Bhamidipaty (12) answers these questions while gesturing to the hanging verdant plant next to him. Supporting his reasoning with the ideas...
Wednesday, April 10

Varsity Boys Volleyball

Harker 3 - Mountain View 0

Tuesday, April 9

Varsity Girls Lacrosse

Harker 14 - Mercy Burlingame 5

Tuesday, April 9

Varsity Softball

Harker 13 - Notre Dame SJ 5

Tuesday, April 9

Varsity Baseball

Harker 9 - South San Francisco 11

Monday, April 8

Varsity Boys Golf

Harker 199 - Sacred Heart Prep 215
Loading ...