Onigilly brings modern fast food and Japanese tradition together in Palo Alto
When it comes to the most popular bustling streets infused with eateries and stores in the Bay Area, Palo Alto downtown's University Ave is undoubtedly perched at the top of the list. There's always a uniquely continuous flow of people in University Ave, from the morning shuffle of office goers to the evening chatter of families blended in with melodies of street jazz in the air. At lunchtime, the cafés of Palo Alto control the activity and business, coming from every conceivable cuisine and dramatic ambiences. In this lively mix, it would be easy to miss the comparatively simple new arrival just off of High Street that somehow manages to bring yet another unique style to the Palo Alto gastronomy.
Onigilly, situated at 164 University Avenue, merges fast food with traditional Japanese cuisine to bring customers their signature dish "Japanese gourmet rice balls," a Californian version of Japanese onigiri. Starting as a street cart in 2010 in San Francisco, Onigilly opened in Palo Alto as a restaurant just this summer on June 11.
In the café-esque interior, spherical lamps hang from the ceiling above rectangular white tables that surround the main counter, where employees take orders and then cook and assemble the onigiri in a customer-order style like Chipotle. Up against the window is a small bar-like counter for customers to sit down for a casual and quick meal. To its right, a station with utensils, napkins, water and seasonings sits under the bright green triangular symbol of the restaurant.
The main dish, onigiri, is constructed to be a convenient package that you can eat with your hands. First, customers choose the fillings or "flavors" for their onigiri; these range from eight seafood options including snow crab and unagi, or freshwater eel, to three meat options to a eight off-beat vegetarian options including renkon, or spicy sauteéd lotus root, and natto, a sticky mix of fermented soybeans.
The flavor is inserted between two triangles of tightly packed sticky rice, and which is then all wrapped in nori, or a sheet of dried seaweed. These onigiri come in different sets along with side dishes like tempura and fried chicken, vegetables like yams or daikon radish, and traditional Japanese sides like miso soup or edamame.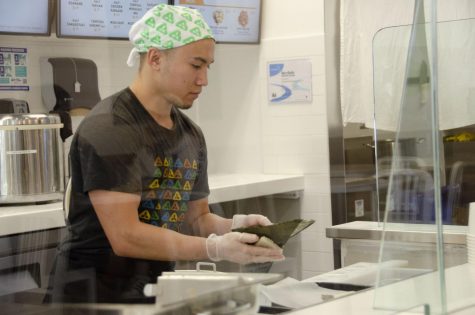 Onigilly's menu also sports two main dish soups: zosui, a Japanese brown rice soup, and a tofu noodle soup, which both come with the customer's choice of an aforementioned flavor and other toppings. For light meals, customers can instead opt for either the rice bowl, salad bowl, or tofu noodle bowl, which come with an assortment of vegetables and a choice of a flavor.
For such innovative offerings, Onigilly's pricing is reasonable and affordable, even on the cheaper side for a place like University Ave. The sets of onigiri range from around $7.25 to $12.15, depending upon the number and flavors of the onigiri and the type of set. Bowls, which are large portions, average around $13, while the smaller soups average around $5. Most sides are around a dollar or two and thus can be added to any meal without making it much more pricey.
Overall, the food choices of onigiri offer a wholesome and balanced meal for anyone, with or without dietary restrictions, given its customizability: pairing together the onigiri, bowls, soups, and sides make for a delectable set unique to each customer. If you do decide to visit Onigilly to try out something new, you can trust that a healthy, tasty and innovative creation will be waiting for you after you order at the end of the polished counter at 164 University Ave.