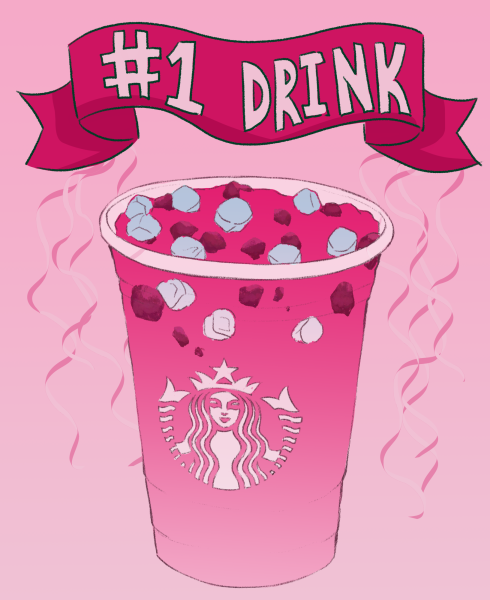 As soon as school ends, Harker students trek to the Starbucks at the corner of the Lion Food Center in flocks, filling the cafe with streams of constant conversation. If you are like me, your parents either don't let you consume exorbitant amounts of coffee, or you are setting boundaries for caffeine intake (congratulations!). In any case, I have a solution. Below is a list of my five favorite low-caffeine Starbucks drinks. Whether you need a refreshing beverage while studying or simply want something to sip on while talking with friends, these drinks will be the perfect addition to your day.
5. Pink Drink
Coming in at number five is the infamous Pink Drink that, quite literally, broke the internet. It's an iced, coconut milk-based beverage infused with fresh fruit and a low-caffeine strawberry acai base. The drink began as a secret menu item but quickly became so popular that Starbucks adopted it as a full-time beverage in 2017. I find that the coconut milk, while important in creating an overwhelmingly Instagrammable drink, sometimes curbs the flavor of the original strawberry refresher. TikTok, however, has found a variation of the drink that makes it much more palatable. Next time you go to Starbucks and don't know what to order, try a Pink Drink topped with mocha sweet cold foam — it tastes like chocolate-dipped strawberries. Satisfaction guaranteed.
4. Caramel Ribbon Crunch Frappuccino
Next on the list is the Caramel Ribbon Crunch Frappuccino: a blend of milk, coffee, ice and exorbitant amounts of caramel syrup. This heavenly drink includes small pieces of buttery caramel that provide a crunchy texture. Topped with fluffy whipped cream, it is reminiscent of a milkshake with a unique Starbucks twist. Sometimes, however, the sweet flavor of the drink can leave my taste buds frazzled. Asking for the frappuccino with reduced caramel sauce can help remedy the flood of sweetness.
3. Iced Peach Green Tea Lemonade
Third on my ranking of Starbucks drinks is the Iced Peach Green Tea Lemonade. What is there not to like? It's a blend of three of my favorites: peaches, green tea and lemonade! When melded together, these three flavors make a balanced drink, refreshing and light. In general, I find myself reaching for this beverage when I want to switch up my order and need a reliable option. It is low on artificial sugar, but the subtle sweetness from the peach juice and lemonade still allows for a great medley of flavors. Of course, if you prefer your drinks on the sweeter side, you can ask your local barista to add a few pumps of liquid cane sugar.
2. Iced Passion Tango Tea
Runner-up to my favorite drink is the Iced Passion Tango Tea, a vivid, cardinal-colored drink with a base of hibiscus and faint notes of lemongrass, passion fruit and apple. The best part: it's completely caffeine-free! At 0 calories, this drink is one of the most diet-friendly options on the Starbucks menu. If you prefer a slightly tangy flavor, simply order the lemonade version of the drink, which retains all hibiscus notes and enhances the flavor with tanginess.
1. Mango Dragonfruit Refresher
Finally, my absolute favorite drink at Starbucks is the Mango Dragonfruit Refresher. To be honest, this beverage first enticed me because of its beautiful hue; the mango, white grape and dragonfruit teas create a striking fuchsia color, and the diced fruit sprinkled in the drink looks enticing. Once I took my first sip, I was hooked. The drink contains the perfect ratio of sweetness and a subtle tart flavor that blends with the mango puree. The pieces of dragonfruit also add a satisfying crunch. To amplify the flavor, many people order the refresher with coconut milk, a concoction commonly called "The Dragon Drink." Others add additional scoops of dried berries or turn the refresher into a frappuccino with the inclusion of a crème base. No matter what variation you order, this drink is THE ultimate non-coffee Starbucks beverage.