Historic snowfall strikes Bay Area mountains
Additional reporting by Shareen Chahal, Kinnera Mulam and Isha Moorjani.
A historic California winter storm brought snow and hail to the Santa Cruz Mountains starting Thursday, closing Highway 17 and preventing up to 104 students and faculty from attending school yesterday, according to upper school front desk receptionist Celeste Jenkerson.
Six inches of snow fell above elevations of 1500 feet Friday morning in the Santa Cruz Mountains, located about 10 miles from the upper school campus via Highway 17. According to the Santa Cruz California Highway Patrol, Highway 17, which brings residents in Santa Cruz into the Valley, was closed from Scotts Valley to Los Gatos yesterday morning due to downed trees and power lines. Traffic was redirected to nearby routes, and the highway was reopened yesterday evening after roads were cleared.
"It's definitely a frequent occurrence to sometimes be worried about traffic conditions or whether I'm going to be able to get to school when there's a bad storm, but the road has been closed now for 18 hours, which I think might be the longest that it's ever been closed in the 10 or 11 years that I've lived here," said Rhiannon Sikand (11), who could not attend school yesterday due to highway blockages. 
According to Jenkerson, 13 teachers and 91 students were absent from school yesterday, though not all due to the closure of Highway 17 or weather conditions. In some classes with absent teachers, students received a notice to attend class in a different room or to complete work posted on Schoology.
"Fortunately, I'm not an AP teacher, so I'm not trying to get everything done by an end date," said upper school business teacher Michael Acheatel, who lives in the Santa Cruz mountains and did not attend school yesterday. "In business, there's no end to the curriculum, but there's definitely adjusting."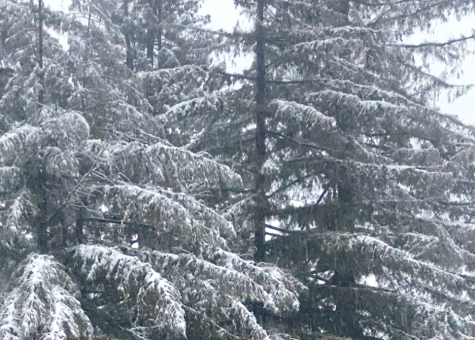 The National Weather Service issued a freeze warning for San Jose that took effect from midnight last night until 9 a.m. this morning, warning of "sub-freezing temperatures as low as 28 [degrees Fahrenheit.]" The service also issued a Frost Advisory that includes the cities of Santa Cruz and Fremont. Currently, a "Special Weather Statement" is in place in the Bay Area from Monterey to Napa as they advise citizens in the area to take precautionary measures.
"Residents across the region should avoid travel in the higher elevations as crews continue to address road issues and power outages," the National Weather Service said in the statement. "Rain and snow showers will continue. As temperatures drop tonight, many locations across our forecast area will be at or below freezing. This means the potential for black ice on the roads becomes a dangerous threat for motorists even along the valley floor. Protect people, pets, plants, and pipes."
Approximately 121,783 California residents also experienced power outages as of today. The storm has hit much of the West Coast, with blizzard warnings in Southern California and nearly 11 inches of snow in Portland, Oregon. Blizzard warnings are in place for both the Southern California and Sierra Nevada mountains. 
"With COVID, once school pivoted to going online, that became our new normal," upper school head Paul Barsky said. "Now that we're offline, and back on campus, that's our new normal. But if more weather events come up, how do we pivot back and forth and still be able to have that normal flow of the classroom? I think something that's going to be increasingly an issue for administration in all schools is how we deal with more and more weather events."
The National Weather Service currently forecasts light snow in the Santa Cruz Mountains from Sunday evening to Monday morning as well as showers in San Jose until Tuesday night.