Global Reset: Fighting for a cooler future
Students create climate activism opportunities for youth
"The seas are rising but so are we."
Waving signs streaked with color, protesters filled the sidewalks of downtown San Jose as they marched through the city. Drivers in the streets showed their support through rhythmic honking to the crowd's chants.   
The Silicon Valley Youth Climate Strike 2022 took place on Earth Day, April 22, and hosted over 100 people. Green Team members and Harker students were amongst the attendees and joined the crowd as they walked a mile from San Jose City Hall to Plaza de Cesar Chavez.
"Climate strikes are really important not only to show other people like policymakers that we are committed, but also to show our community about what they can do and about how they can help be a part of this movement," Green Team Treasurer Shreyas Chakravarty (10) said. "The main importance of a climate strike is that it demonstrates the organization of the climate movement, and it demonstrates our commitment to our goals."
Green Team has taken multiple environmental activism steps such as their divestment project, which they've been discussing with the Harker Investment Committee since last year. Divestment is a movement to encourage large corporations to divest from the top 200 publicly traded fossil fuel companies globally and switch to more sustainable sources. Just the top 100 of these companies produce 71% of global emissions, according to a 2017 study by Carbon Majors. Green Team has maintained communication with the Investment Committee and sent updates to the Harker Diversity Steering Committee members to work towards their divestment goal, already planning more meetings in the future. Currently, 12 cities have joined the Divestment movement, including Los Angeles and London.
During this summer, various other students also worked on their environmental contributions by organizing events and spreading climate change awareness. Started by Chapter President Shareen Chahal (11), Students for Society (SFORS) is a student service organization that currently focuses on environmental causes. 
The six-person Harker branch of the organization, including juniors Chief of Human Resources Rhiannon Sikand, Chief of Public Relations Jasmine Ishikawa and Co-Chief Marketing Officers Ishani Sood and Sonya Apsey, is currently recruiting more members and hosted an inaugural recycling event on July 30 at Homestead High School. Sustainable businesses as well as policymakers including Sunnyvale Mayor Larry Klein and Cupertino Vice Mayor Liang Chao also attended. At the event, people came to drop off their recyclables and support the local businesses there. SFORS is now focusing on taking all the donated materials to recycling centers in an effort to encourage proper recycling. According to the 2021 annual U.S. Environmental Protection Agency (EPA) report, the current recycling rate –– the ratio of recycled items to the number of recyclables –– in the U.S. is 32%, barely a 7% increase since 1960. This year, the EPA released a statement detailing their goal to increase the country's recycling rate to 50% by 2030. 
"Even though recycling is known to be an effective bulwark against climate change and helps reduce the use of fossil fuels in production, it can maybe be difficult to navigate if you're not sure what can be recycled or how to dispose of recyclables," Rhiannon said. "We just wanted to make it an easier process and help inform and educate residents about how recycling is effective in the fight against climate change."
For the school year, SFORS is planning to host seminars to educate Bay Area students about climate change and spread the word about how to combat it. Additionally, they encourage all Harker students to sign up on the SFORS spreadsheet for volunteering at future events. 
Green Team has also begun planning out school year activities for Harker Day and Earth Week. Shreyas hopes that this year, the club can focus more on how people can change their lifestyles to reduce harm to the environment. He enjoyed helping with similar Green Team activities last year such as the Buy Better Boba sale, designed to reduce plastic waste, as well as the Succulent Drive on Harker Day. 
"I'd love to explore taking a deeper step into helping people reform their own lives," Shreyas said. "I'd like to see something that's much more informative, and a lot deeper, something that can have a much larger impact maybe."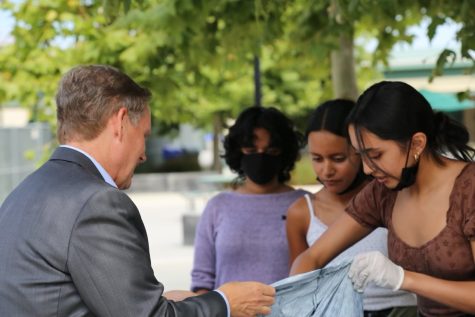 Like SFORS, the Harker-based nonprofit Change the End prioritizes climate action per Co-Founders Ayla Apsey (12) and Ada Praun-Petrović's (12) goal to raise awareness for the cause. The nonprofit consists of six members –– seniors Ayla, Ada, Paulina Gicqueau, Avantika Vandanapu, Laurie Jin and Richard Zhang –– who have worked together to coordinate multiple events such as last year's Alameda Creek Trail cleanup in January and their most recent event, the San Jose Heritage Rose Garden gardening day in May this year.
The team hopes to soon host a hike at a local nature preserve protected by a council member or senator to educate others about policies put in place to protect preserves. While Change the End coordinates events for students to attend and volunteer at, Ada encourages students to explore other organizations and opportunities; however, Ada explains that research is a key part of climate activism, since not all climate change-based organizations are aware of the state of important issues such as divestment and recycling. 
"When you actually do research into what's going on with climate change and what's going on with the political scene and climate change, you would be shocked to find out how bad things really are –– and it's not stuff that's often talked about," Ada said. 
In addition to Green Team, SFORS and Change the End, there are multiple local environmental activism organizations that anyone in the Harker community can join. Shreyas, Ada and Rhiannon all encourage students who are interested in climate activism to act now.
"People who are interested in making a difference on a smaller scale don't really know where to start, don't have a guide for how they can help, and the answer is to just jump into it," Rhiannon said. "The main thing that anyone can do beyond just turning the tap off while they brush their teeth or using a beeswax wrap instead of plastic wrap is to just get out there: say something or do something because no one else is going to do it for you."
About the Contributors
Kinnera Mulam, Winged Post Co-Editor-in-Chief
Kinnera Mulam (12) is the co-editor-in-chief of the Winged Post, and this is her fourth year on staff. This year, Kinnera hopes to get to know all the...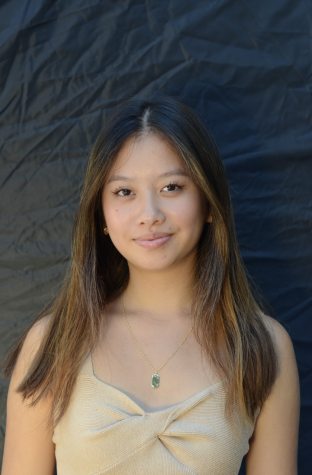 Sabrina Zhu, Winged Post Co-Editor-in-Chief
Sabrina Zhu (12) is the co-editor-in-chief of the Winged Post, and this is her fourth year on staff. Sabrina hopes to capture more campus life through...