Green Team relaunches 'Buy Better Boba' initiative during Earth Week
Additional reporting by Kinnera Mulam and Katelyn Zhao.
Green Team sold bubble tea in reusable jars and straws in front of Manzanita Hall during lunch last Tuesday and Friday as part of its "Buy Better Boba" initiative during Earth Week. 
Created in 2018, the initiative encourages upper school community members to reduce their use of plastic waste, which causes pollution and negatively impacts the environment. Specifically, stores often package and sell boba, a popular drink among students, in a plastic cup along with a plastic cover and plastic straw. 
"We wanted people to see that they could use stuff at home, such as mason jars, and use metal straws to get their boba," Green Team Vice President Gary Ding (11) said. "That way, they're using one container instead of throwing out a bunch every time they buy boba."
This year, Green Team purchased the boba from Breaktime Tea, a boba shop located in Campbell. Together, a jar, straw, straw pouch and boba cost $8, and a boba refill in the same jar cost $6. By the end of lunch on Friday, the jars were sold out. 
"I feel like plastic waste, it's something that I [produce] a lot [of], so buying glass jars instead of plastic cups is something that was an improvement for myself," Shanaya Dhawan (10), who purchased the boba on Friday, said.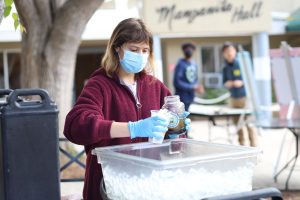 Through the "Buy Better Boba" initiative and other projects throughout Earth week, including the Earth Day Raffle and the clothing drive in collaboration with the Muwekma Ohlone Tribe, Green Team hopes to promote sustainability in students' daily lives. 
"I think people don't realize how much plastic they can actually cut out of their lives," Green Team Secretary Siddhi Jain (10) said. "There are so many alternatives to plastic these days like beeswax instead of plastic wrap and stasher bags instead of zip locks. Evaluate where you're using plastic and then evaluate what [changes you could make] to help you use less."