Pulse of the People: Youth demand environmental action at local climate strike
April 27, 2022
Ten upper school students attended the Silicon Valley Youth Climate Strike 2022 for a march and speeches in downtown San Jose on Friday, Earth Day, at 4 p.m. 

Green Team members and Green Team advisor and upper school Spanish teacher Diana Moss organized the trip. The event was the first strike the Green Team attended this year, but they hope for more students to join and to attend more similar events next year, according to Green Team.

"It was just good to get a sense of all the other youth involved in the movement and also have Harker students going to the climate strike, so they could also have more awareness of what's going on," Green Team Vice President Gary Ding (11) said.

The Sunrise Movement organized the strike, which had about 100 attendees in total, as a youth organization aiming to bring awareness to climate change and specifically focusing on halting fossil fuel consumption as well as establishing the Green New Deal in the next 10 years. Since its founding in 2017, the organization has hosted multiple similar climate strikes.

"I hope that people attending this rally can really be energized to take part in the climate movement moving forward," said Ella Norman, a sophomore at Stanford University and a political team co-lead for the Sunrise Movement. "Hopefully we get noticed by the politicians and people, and they see that we're calling for climate action now."

Sally Zhu

Attendees, including mostly students but also adults, first gathered at San Jose City Hall to listen to Sunrise Silicon Valley Hub Coordinator Ambika Ramadurai, Hub Member Emilie Lespinasse, Actions Team Lead Pourya Bayzaie, Creative-Communications Team Lead Karuna Chandran and Solidarity Team Lead Sanjana Satishkumar Actions give speeches, encouraging attendees to invite more people to such events. 

The Muwekma Ohlone Tribe of San Francisco followed by speaking on the harm done to land due to fossil fuels and performing a short song. Since 1989, the tribe has hoped to gain Federal recognition and continues to gain support for the tribe. 

On their way to Plaza de Cesar Chavez from City Hall, traveling down East Santa Clara Street, South Second Street, and San Fernando Street, strike attendees chanted songs relating to halting climate change and waved self-made signs in the air.

At the plaza, volunteers stationed and ran booths around the area while a series of speakers took the stage, delivering speeches on the importance of youth activism and encouraging others to take action to stop climate change. Amongst the speakers was Chair of the Amah Mutsun Tribal Band Valentin Lopez who spoke on the importance of preserving Indigenous lands. 
Lopez emphasized the significance of speaking out, saying "Your voice, your energy, your power –– that is so meaningful today," to the crowd. Serving as the chair since 2003 and holding the position as a Native American Advisor to the University of California, Lopez hopes to share his history with as many as possible.
"Santa Cruz was recognized as one of the most biodiverse landscapes in North America," Lopez said in his speech. "What happened to that? We've got to come back to indigenous stewardship of the land. That has to be the way of the future."
California State Sen. Dave Cortese (D-San Jose), representing District 15, took the stage. Cortese continues to work on passing and advocating bills regarding environmental change such as SB 1291 earlier this year which asks for the State Air Resources Board to reach zero greenhouse gas emissions by December 31, 2045. Cortese has introduced eight other bills in the process of approval.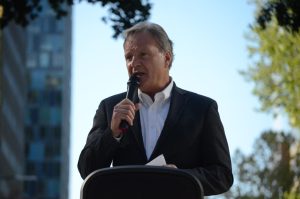 "One of the things I learned is that our state senator, Dave Cortese, he really cares about the climate movement," Gary said. "For him to show up to such a grassroots event like this, I think that really says a lot about his priorities."
During the strike, Cortese marched with the group from San Jose City Hall to Plaza de Cesar Chavez where he delivered a speech on his admiration for youth commitment and passion for stopping climate change. 
"It's Earth Day today," Cortese said. "It really should be Earth Day every day now until we get the climate issue solved. There are bills in the legislature right now that are trying to tackle the problem and trying to make sure that California's a leader in the country and around the globe."
Climate protests have taken place around the nation in recent days, such as in Palo Alto, especially as oil prices continue to rise and natural disasters hit various regions of the country. Ella recommends that, in addition to attending these protests, student activists can call for more change by engaging in local organizations.
"Join a local climate action organization, whether it's a club at your school or your local Sunrise hub, there are just so many ways to get involved," Ella said. "The way that we win this fight is through collective action."