Global Reset: "No Planet B"
Students, faculty join millions worldwide on strike at rally for climate action
September 22, 2019
As a student speaker dressed in a red shirt finishes her speech and steps away from the microphone, the vast crowd of mostly young people erupts in cheers while waving brightly colored handmade signs with slogans such as "I'd be in school if the planet were cool" and "The climate is changing so why aren't we?"
As the crowd dies down, a new student takes his place in the middle of the floor.  Dressed casually in a white T-shirt and jeans, he brings a blue and white megaphone up and chants, "Fight, fight, fight, fight, a healthy planet is alright!" with a confident and passionate voice. 
Protesters begin joining in, chanting louder and louder. The crowd claps and stomps to the rhythm as well, and the plaza of San Jose's City Hall echoes with the sound of their protests.
Last Friday, 28 Harker upper school students, 10 middle school students and nine faculty members took a bus from Harker and traveled to downtown San Jose after school to join other young activists in participating in a historic worldwide youth climate strike to raise awareness about the environmental situation of the world. 
These worldwide protests were inspired by 16-year-old high schooler Greta Thunberg, a Swedish environmental activist who raises global awareness about climate change and degradation. She strives to push politicians to take action against the global crisis, by going on a school strike every Friday. Over her time as an activist, she has inspired millions of teens and young adults around the world to stand up and take action on behalf of the planet's future. According to the estimates from the organizers of the Global Climate Strike movement, over 4 million people worldwide participated in last Friday's strikes, whose sequel is scheduled to take place next Friday.
The upper school Green Team organized an after school shuttle to the protest, which upper school students were allowed to take to the rally if they had previously turned in the required permission slips. Many students from other schools who came to the rally did not attend school in support of the strike.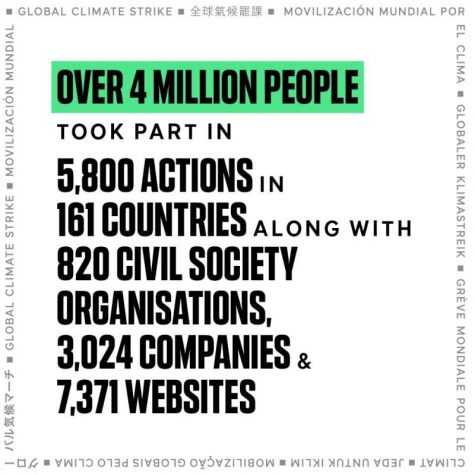 "I think that youth have the biggest stake in this issue. As the future, we have the biggest role to play when addressing this crisis as well as the biggest role to play in raising awareness and coming up with viable solutions to address this. That's why I think it's important for youth to be involved," said senior Sriya Prathuri, who attended Friday's rally.
The strike began at 2:45 p.m. with a march starting from Diridon Station in downtown San Jose and ending outside city hall in downtown San Jose, where a collection of speakers, student and adult, demanded that the government take action against the rapidly worsening problem of global warming. The march was straight down the east-bound side of the road through moving traffic. Traffic stopped to let the marchers through, and many drivers were honking and cheering in support as the crowd passed.
Along the way, student marchers sang protest songs and shouted chants calling for governmental action to protect the natural environment against industrial exploitation, especially protesting the Trump administration's lax policies regarding environmental protection. This past week, the Trump administration announced a plan to cut back California's right, protected by the Clean Air Act of 1970, to set its own clean air standards for vehicles.
"
Youth have the biggest stake in this issue. As the future, we have the biggest role to play when addressing this crisis as well as the biggest role to play in raising awareness and coming up with viable solutions to address this.
— Sriya Prathuri (12)
"The youth don't have an option to deny the changes that are happening to our climate, and they are the ones that inherit the world and all of its challenges that just keep increasing. Change has already happened, we just need to figure out how we are going to change to meet it," said upper school history teacher Byron Stevens, one of the faculty members who joined students on the bus. 
After the march through downtown San Jose, protestors convened in the City Hall plaza for a rally, where about a hundred protestors were already waiting. Harker students and faculty also met the marchers at the City Hall plaza at around 4 p.m., when the speaker lineup began. Even though the rally was led by youth leaders, people of all ages showed up. Among young adults and teens, some parents marched with small children while other adults and older generations also demonstrated their support.
"It's amazing to see all those people stand up because students have a voice that they sometimes don't realize that they have. When I stand up and say we need to be doing something about climate and taking action, there's all kinds of associations that people make about who I am or what my motive might be that sometimes shut down the conversation. I think that students can have those conversations in a way that adults are more open to than if I am trying to have that same conversation," said biology teacher Dr. Kate Schafer, one of the faculty advisors for the upper school Green Team. Like many teachers and students across the globe, Dr. Schafer took part of the day off to attend the rally and show her support.
Teenage speakers from Bay Area schools were joined by state assemblymember Ash Kalra and Sam Liccardo, the mayor of San Jose. Both talked about the current climate problems and changes that need to be made in American government. Liccardo drew attention to a recent move by the city council to declare a climate crisis after a popular referendum was brought to the council's attention, and Kalra plans to implement certain bills to decrease the rate of climate change.
"[There are] a number of bills of other bills I've introduced, including one that had to do with tropical deforestation. I have a bill to remove those small shampoo and conditioner bottles in hotels, I have a bill that protects migratory bills and I'm supporting a number of other bills such as ones phasing out single use plastic, getting electric cars and phasing out fuel vehicles, and on and on. So there's a lot more that we need to do, but I'm not going to stop," Kalra said in an interview with Harker Aquila.
Across the world, in over 150 countries, youth activists are mobilizing to organize "Fridays for the Future" climate strikes, following Thunberg's lead. Students and adults alike joined the movements, skipping work and school to advocate for greener environmental policies, especially turning their attention to changing the minds of politicians and fossil fuel lobbyists. 
"Our whole movement is around trying to change the conversation around climate change, change the way that we monetarily value nature and change the way that our society and humankind interacts with the planet, and eventually stop climate change. Basically, the main point is we're trying to get politicians to take decisive, comprehensive action regarding the climate crisis," said Jamie Mindin, a junior at Saint Francis High School and a co-leader of the San Jose rally.
The next set of climate strikes will be held worldwide next Friday, Sept. 27. In the meantime, from school-based Green Teams to worldwide protest organizations, young activists continue to fight for climate justice, mobilizing in all corners of the globe for a cleaner, greener future.
"This is going to be our planet next," said Harker middle schooler Savitha Satish (6), who attended the rally with the middle school Green Team. "We need to do something before it falls to waste."
This article has been updated on Sept. 25 with fixes to stylistic issues.