New Zealand students tour Harker for a day
A group of students from New Zealand visited the Harker campus on Tuesday and toured classes, participated in lab activities, and socialized with Harker students. The students, all girls, all attend various schools, but attended the "Innovative Young Minds" summer camp last summer in Hutt City, New Zealand.
The girls are visiting the Bay Area for ten days, and after arriving on Friday night, they attended Harker's Research Symposium with buddies from Harker's Women in STEM (WiSTEM) club, who led them around the area and explained the various exhibits. Thus far in their visit, they have toured Stanford University, Microsoft, Nvidia, Apple, and various other tech companies. While on campus, each student had a student guide, who took them to various classes and showed them around.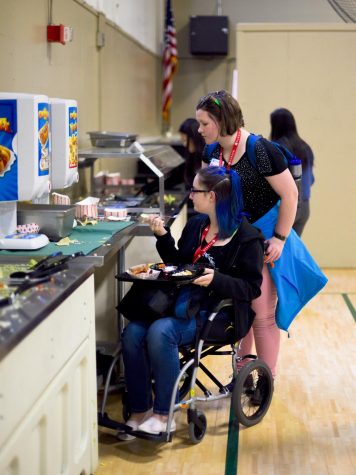 To start off the students' day, Upper School Division Head Butch Keller hosted a welcome breakfast. The girls were then given two options, to either partake in biotechnology labs, run by biology teacher Matthew Harley in Room 330, or to create an LED greeting card and explore computer science with computer science teachers Anu Datar and Marina Peregrino in Room 301. After they attended the various labs, the foreign students watched ASB Speeches, and then were given another option of either attending a tour of the research lab with science research teacher Chris Spenner and discussing scientific and research interests, or partaking in a physics lab, led by physics teacher Lisa Radice.
During lunch, the girls were given a tour of the campus and ate lunch, followed by the last period of the day, in which they were given the option to explore titration curves and analytical chemistry with chemistry teacher Robbie Korin in Room 324, or see an anatomy table demo and learn more about human anatomy with science department chair and biology teacher Anita Chetty.
To end the day, WiSTEM members hosted a social from 3:30 – 4:30 p.m. to allow the New Zealanders to socialize with both Harker students and learn a little about Harker as well as more about Californian culture. They ended the meetings with hugs and the exchanging of gifts, ending with final goodbyes.