Near Mitra reception celebrates nine scholars, gathers schoolwide support
John Near and Mitra Family Scholars and Chen Lin Mentors celebrated their projects at the Scholar Grant Reception in Nichols Hall on April 25 from 4:15 to 6 p.m. 
Current seniors in the program recently showcased their research at the Near Mitra salons on March 13, 14 and 16. This year's salons featured four Near and five Mitra scholars, each presenting a three-minute speech of gratitude and reflection during the ceremony. Projects under the Near program emphasize United States-related topics, whereas those under the Mitra program concentrate on worldwide history and relations.
Before the event, students enjoyed food and refreshments, stopping by to support their peers. Attendee Gordon Chen (12) came to watch friend and Mitra Scholar Emmett Chung (12), commending his passion for his project.
"I remember I was out with Emmett, and he was working on his salon," Gordon said. "In that moment, I realized how hard he's been working on all this, [but he] still set aside some time for me. I admire how hard [the scholars] work, having to balance this giant project with all their other commitments and still be amazing people."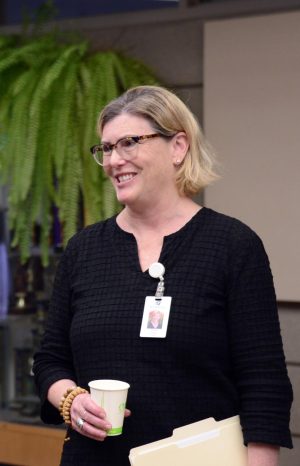 In the Nichols Auditorium, program co-director and history teacher Donna Gilbert opened the event by thanking the Near, Mitra and Chen Lin families, as well as Director of Office of Communication Pam Dickinson and Executive Director of Strategic Initiatives Joe Rosenthal, for their contributions to the program. 
After the introduction, Near Scholars took the stage alongside their mentors. Rahul Mulpuri (12) reflected on his exploration of how the evolving musicality of Japanese Americans in World War II influenced modern Japanese music culture, which he pursued under the guidance of  upper school vocal music teacher Jennifer Sandusky and upper school librarian Meredith Cranston. He recalled how integral of a role his mentors played in his year-long research journey.
"The mentors provided great advice whenever I needed content fixes, to make the essay cohesive, or to help decide whether or not a passage needed alterations," Rahul said. "They are really there to guide you and steer you in the right direction rather than to give you a specific prompt for you to follow."
Stephen Xia (12) described his experience through a video played at the ceremony after an introduction from mentor and upper school history and social science teacher Chris Gatto. He delved into the lives of low-income residents in San Francisco and how racial injustice led to the downfall of Manilatown in the 1970s.
Third of the Near Scholars, Austina Xu (12) presented her summary alongside upper school English teacher Charles Shuttleworth and library director Lauri Vaughan. Her project discussed poems by Allen Ginsburg and T.S. Eliot and compared the post-war and post-modern stylistic choices in writing.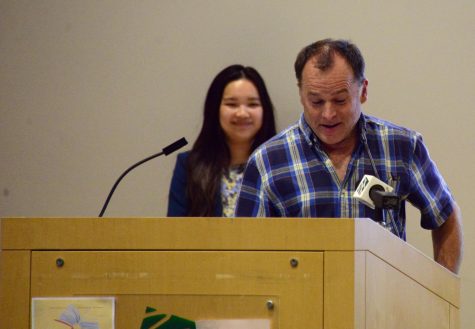 With gratitude to Director of Journalism Whitney Huang and upper school librarian Amy Pelman, Sabrina Zhu (12) concluded the Near Scholar presentations by recalling her journey investigating journalism during the civil rights movement and the impact reporting had on the rights of Black citizens.
Gilbert then transitioned to welcoming the Mitra Scholars to the stage. Emmett, Cranston and upper school history and social science teacher Matt McCorkle summarized their research on the effects of Turkish guest workers on German politics in 1990. 
Michelle Jin (12), mentored by upper school history teacher Byron Stevens and Vaughan, then presented her research paper on Kim I'-Sung's Language Reform Campaign.
Following, Gilbert played a video of Alex Lan (12), who could not attend the event in person. Mentored by Cranston and upper school history and social science teacher Chuck Witschorik, Alex provided insight into his research paper on how Peru's "gastronomic revolution" encouraged economic and social healing post-civil war. 
Sarah Mohammed (12), alongside Vaughan and upper school English teacher Nicholas Manjoine, followed with a reflection on their year-long efforts to research how views of Muslim communities around the world echo Foucault's model of the panopticon.
Isha Moorjani (12) closed the scholar presentations with a recap of her investigation of the effects of external influences on Castilian Spanish on the cultural split between Argentinian and Chilean Spanish. Her mentors, Vaughan and upper school Spanish teacher Isabel Garcia, also commented on Isha's journey and efforts.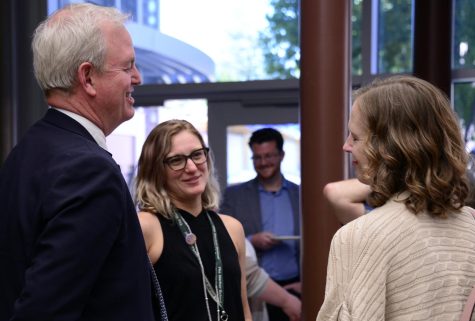 Students and faculty around campus took an interest in the work of the Near Mitra Scholars, and many underclassmen are often inspired to pursue similar research themselves. Attendee Jason Shim (10) admires the work ethic of this year's scholars and hopes one day to follow in their footsteps.
"​​I can tell that they've been working hard at this," Jason said. "You can see in their project statements. You can tell that they definitely care about the projects that they're pursuing."
To end the ceremony, Rosenthal commended the diligence of the scholars and thanked the Chen Lin endowment and the faculty mentors for their generosity. He then invited the scholars to the stage to officially sign their papers, completing their research journeys.
After the ceremony, Rahul expressed his excitement to see the work of future Near Mitra scholars and provided advice for those who participate in the program.
"You should not procrastinate on the research project because it's so lengthy that you might underestimate how much time you will need," Rahul said. "Make sure that you're setting your own personal goals, not just going with broad milestones. Your work will pay off in the end."
The 2023-24 Near Mitra Scholars are juniors Dina Ande, Daphne Avkarogullari, Ritu Belani, Trisha Iyer, Sydney Ling, Mina Okamoto, Andrew Smith and Alena Suleiman.