Tree collapses outside Dobbins Hall, injuries being 'taken care of'
A redwood tree in front of Dobbins Hall fell to the ground and hit the library roof around 1:22 p.m. at the end of lunch today. Injuries resulting from the fall are being addressed, and the San Jose Police and Fire Department were called. 
Students within the library were asked to evacuate through the back exit and into Main Hall around 1:30 p.m. Faculty helped guide students to safe indoor spaces and created room for the fire department to arrive on campus. An ambulance arrived outside the library at 1:35 p.m.
Upper school Dean of Students Kevin Williamson delivered an announcement over the speakers at 1:40 p.m., instructing listeners to follow shelter-in-place protocol, stay indoors and avoid windows. 
At 1:53 p.m., Williamson made another announcement instructing students to head to the Athletic Center (AC). Advisors reported attendance to class deans before administrators provided further details.
"Thank you all for your patience, your attention, and your focus," Upper School Division Head Paul Barsky said to the school in the AC. "A tree by Dobbins fell in front of the library, and did some damage to the library. We will certainly stay away from that area. There were some injuries; they are being taken care of. I really do want to thank the faculty that were there for their attention, their hard work, and for making sure that everybody remains safe and sound."
Winds with gusts as fast as 50 miles per hour, part of an atmospheric river storm, blew the tree over. Northern California and San Jose have been hit by rain and snow storms starting from December, and heavy rain fell on campus throughout the day. 
Head of School Brian Yager requested that students not share images or videos of the tree and students on social media, before Barsky summarized the events of the afternoon. Students were dismissed from the Zhang Gymnasium at 2:22 p.m. and were instructed to return to their period six classes. After school activities, including sports practices, will continue as normal. 
The front entrance of Dobbins Hall will be closed until further notice, as the tree and debris are being cleared away. Williamson instructed students with class in Dobbins to enter and exit through the back entrance towards Nichols Hall.
Update on March 23, 2023: 
Barsky relayed information about the event and injuries to students and parents in an email late Tuesday evening. Two current Harker students and one admitted student visiting the campus were injured. 
"Thank you so much for your support and calm today," Barsky's email read. "Mr. Yager sent out a note to your parents, and I wanted you to know as well that because of the tree that fell outside of Dobbins Hall there were three students injured. One student was a recently admitted 9th grader who was here for Shadow Day. She was taken to hospital where she is getting the care that she needs. Because of privacy and confidentiality, we cannot share more information about any students' injuries, but they will continue to be well-taken care of."
Students and faculty helped sign a large card for the visiting student with notes during lunch yesterday.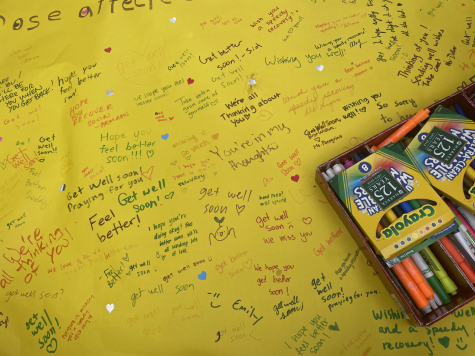 The front entrance of Dobbins Hall reopened yesterday morning, and maintenance staff are still working to clear the soil in the area. The library roof remains damaged and the building is closed. Administration has provided tables for students to work at in the auxiliary gym for the time being.